Live Blog: June 8 – Practice Day

Monday, June 8 – 8:15 PM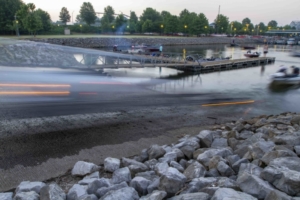 This will be the final blog post for today.  A reminder to all anglers, Official Practice concludes at 2:00 PM (CT) and everyone must be off the water at that time.  Registration will take place at McFarland Park from 10:00 AM – 6:00 PM.  Anglers will receive plenty of great products from our sponsors, snack bags to have on tournament day, and 306 Barbecue from right here in Florence, AL will be providing everyone with a to-go meal starting early afternoon.  Good luck out there, and we'll see everyone tomorrow!
Monday, June 8 – 7:20 PM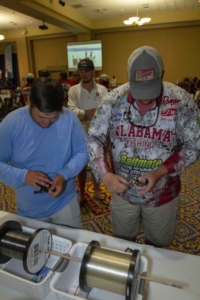 ATTENTION ANGLERS: Be sure to bring your favorite reel when you make your way over for registration tomorrow so you can spool up with some great Sunline!
Monday, June 8 – 5:55 PM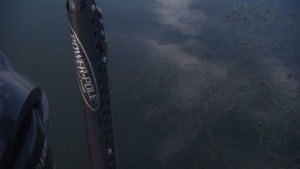 The other presenting sponsor of this afternoon's blog is Power-Pole.  Power-Pole has been a supporting sponsor of collegiate fishing for more than 14 years.  Through a variety of programs including a 20% rebate and certificates valued at thousands of dollars for big bass at certain events, Power-Pole works to ensure the future generations of anglers continue to carry on the great sporting tradition.  To find out more about the rebate opportunity, click here.
Monday, June 8 – 5:20 PM
We are looking forward to kicking off tournament action for the 2020 BoatUS Collegiate Bass Fishing Championship presented by Bass Pro Shops on Wednesday morning bright and early.  Pickwick Lake is regarded as one of the best summertime fisheries in the nation, and college fishing's best young anglers are hoping to unlock the lake's full potential.  Read more about the current conditions on Pickwick Lake in our feature article from earlier today: 'A Look at Pickwick & Wilson Lakes Leading up to the Championship.'
Monday, June 8 – 4:30 PM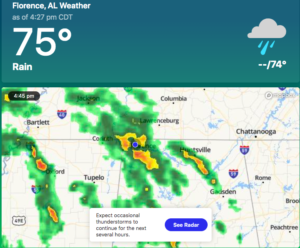 A steady rain is falling across the Florence, AL area at the moment.  It's probably been doing so for roughly an hour and is expected to continue on and off for the next 24 hours.  Tropical Storm Cristobal is moving through the south at the moment, bringing heavy rain to Louisiana, Mississippi, and portions of Alabama.  The long-term forecast projects that the system should move out of here by the time for Day 1 take-off on Wednesday.
Monday, June 8 – 4:00 PM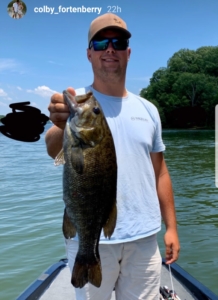 Colby Fortenberry found a nice smallmouth during practice yesterday!  That's a quality looking smallie!  One or two of those combined with several 3-5 pound largemouth will have a team in contention to win a National Championship.
Pickwick Lake has a healthy population of nice sized smallmouth bass.  A bonus smallmouth will go a long ways in helping a team to secure a quality limit of Tennessee River bass.
Monday, June 8 – 3:45 PM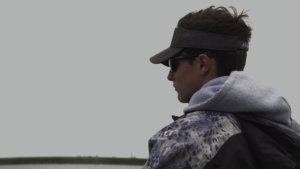 Wiley X is one of the presenting sponsors of this afternoon's blog.  In partnership with the Association of Collegiate Anglers, Wiley X offers a great discount program to anglers competing on the college trail.  Individual anglers are automatically eligible for a 30% discount off Wiley X sunglasses, and bass fishing clubs are eligible for a 50% discount off Wiley X sunglasses when joining the program.
For the Wiley X Team program, a team must have multiple anglers commit to purchasing / wearing Wiley X sunglasses, place the Wiley X logo on jerseys, and provide social media posts wearing Wiley X sunglasses and using #GoConfidently.
Apply for the discount code here.
Monday, June 8 – 3:10 PM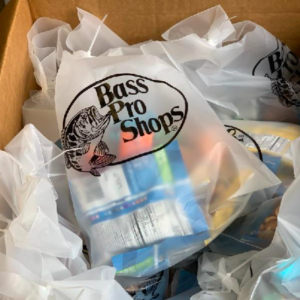 ACA staff spent most of the morning putting together snack bags for the anglers.  Competitors will receive snacks and water on both days of competition.  Filled with cookies, crackers, breakfast bars, and a variety of other items, these snack bags are comprised of the best boat food an angler could ever dream of!
Monday, June 8 – 1:05 PM
Welcome to the Live Blog for the 2020 BoatUS Collegiate Bass Fishing Championship presented by Bass Pro Shops!  The staff and crew have made it to Florence, AL and are beginning setup & preparations for the event to kick off on Wednesday.  Our Live Blog will be your resource to keep up to date with all things relating to Championship week.  Be sure to hit refresh on your web browser and check back every so often for updates through the end of the tournament!
https://www.collegiatebasschampionship.com/wp-content/uploads/2020/06/Screen-Shot-2020-06-08-at-10.17.55-AM.png
515
764
Shelley
https://www.collegiatebasschampionship.com/wp-content/uploads/2021/05/2019-BPS_CBFS_logo-300x179.png
Shelley
2020-06-08 14:01:06
2020-06-08 21:13:58
Live Blog: June 8 – Practice Day