Live Blog: Friday, May 26th – Championship Day From The Water

PLEASE NOTE THAT WE'VE BEGUN TO PREPARE FOR WEIGH IN COVERAGE.    THE REST OF THE UPDATES TODAY WILL BE ON THAT LINK BELOW.   SIDE NOTE LIVE VIDEO STREAMING COVERAGE OF THE WEIGH BEGINS AT 2:30  ON OUR WEBSITE OR ON FACBOOK.
Friday, May 26th 10:09
Tarleton's 2nd place team still only has 4 fish.   They continue to mix up their pattern by using Texas rigged 10 inch worms, crankbaits and Carolina rigs in 8-12 feet of water.   They are fishing clumps of grass that they marked in practice and are hoping around to a variety of spots.  They are catching a lot of fish today that are just shy of being keepers.
University of North Alabama now has five fish for around 10 pounds.   They seem pretty confident in their pattern as they are only using a couple of rods.  They had hoped to really key on a bigger swimbait to pull of the win today.  I expect we'll learn more about the keys to their pattern as the day goes on.  Tossing big baits like that lead to the possibly of big fish which can shake up the standings at any time.
Tuscullum College is having a decent day so far but is stuck on four fish for about nine pounds.   We're hearing they are also catching fish in a variety of manners.   They are fishing well.  As a small school they've had a lot of good finishes in past on the Cabela's series.
Friday, May 26th at 9:15 AM
We just got an update from Tarleton States 4th place team.   They've got 3 fish so far in the livewell for around 6 pounds.
Friday, May 26 8:36AM
Auburn just caught their fifth fish.  The camera teams are guessing they now have around 13 pounds.  Three of the five fish are just barely keepers which means that any four pound or better class fish will be large upgrades for them.   They are mixing up baits that their using in attempts to trigger their bites.
The 2nd Place Tarleton team has four fish for around 11 pounds.   So they've got a lot of room to upgrade.   This team caught a fish yesterday that was over 8 pounds.   If they can add one of that size sometime today they'll jump way up in standings again but those are not easy fish to come by.
University of North Alabama who was in 3rd place now has around 8 pounds on 4 fish.  With no kickers in the box so far they've got plenty of room to upgrade and a lot of time left in the day.
Our leaders from yesterday Tusculum college have said all along their fish have bit better in the afternoon and right now they've got three fish for around 7 pounds.    They remain very confident in how the day is shaping up.
We don't have any updates on the 4th place Tarleton team at this point so we don't know if their stuck on zero or have 20 plus pounds in livewell.
Yesterday, we heard one common theme.  They bit early and late.  It seemed a lot of teams caught limits in first hour of the day and then a mid day lull happened before a big late flurry happened perhaps due to all the current.
Friday, May 26th 7:30am
The fishing or should we say catching appears to be slower this morning overall. Yesterday, the teams we started on all pretty much caught fish right away. Today it's a different story so far as we're seeing a lot more casting, looking at sonar to locate the schools and even some head scratching going on. At this point only two of our top five teams have reported fish in at this point in the morning. However keep in mind we're also limited by cell coverage and perhaps some of those teams are just out of range.
If you follow bass fishing it's all about the adjustments and today will be no different.
Friday, May 26th 6:46AM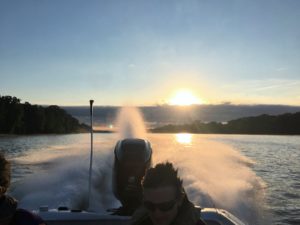 We should know shortly about the early bite for our contenders.  Both the anglers and our camera teams are racing towards starting spots now.  Some of the top anglers might not even make their first casts till nearly 7:15 or later today.   The current weather forecast calls for abundant sunshine and a high in the mid 80's with winds from the South-Southwest 10-20 mph.  That's another change in the conditions that we've seen all week long.   When talking to the anglers yesterday none seemed overly concerned at all about the change in conditions.   We shall see how it all plays out shortly
Lets take a look at what must happen for someone to come from behind to win.
A quick look at day one's standings show six teams that caught 18 or better pounds on day one.  That's quite an impressive day on the water by anyone's standards.   As we look deeper at those six teams we've got to ask the question… can any of them come from that far behind to win.  Sure it's possible however with three teams catching more than 23 pounds all three of those teams must fall below the 18 pound mark (it's possible) and one of the six teams must catch around 23 pounds (or more) to make up that ground.
The good thing a big final day charge can happen and we've seen it before.  In fact Austin Mize who fishes for The University of North Alabama and is currently sitting in 15th place with his partner Nathan Martin said he felt someone could catch 26 to 28 pounds on five fish this week.  However he really felt like it would happen on day one.    If any of the teams down to say 16 pounds did catch lets say 26 pounds that would give them 42 pounds.  Simple math then says the teams with 23 from yesterday would need around 19 pounds to match that tally.   Based on that any team from lets just say that any team with 16 pounds should be on the radar today.
Anything's possible on a fishery like Pickwick but eventually math has to come in to play on how much ground you can make up.
Friday, May 26th 6:17AM
Friday, May 26th 6:05 AM
A few random observations from the yesterday
The top three places are all separated by less than a pound.  We're talking about the weight of a few drops of water in some cases.   If today unfolds like yesterday culling for ounces will be huge.
Another observation of our top three is that each team caught their weigh fishing  fishing fairly different ways.  Which way will be the best today?   We'll have to see.
Tusculum college is currently the 21st ranked school in the nation.  Little known fact Tusculum is one of the oldest schools in the nation.
Two of the top five teams are from Tarleton State located Stephenville,Texas and both caught big kickers to anchor their limits.   Both teams said their not fishing anything like the other teams.  Question is did they unlock a shallow water bite?  Tarleton came into the event ranked 30th in the nation.
Auburn University came into the event ranked 11th in the nation.  Auburn  has had a stellar run at this event before and won it in 2016.  They are in position to defend last year's win here on Pickwick and become the first ever back to back school to win the BoatUS Championship.  To do so however  they'll likely either have to break the 25 pound barrier today or get some help from the four teams ahead of them.
The University of North Alabama which came into the event ranked 3rd in the nation is arguably one of the top five best bass fishing schools in the nation.  They are two time Cabela's School of Year winners and are once again in the hunt to win on their home waters.  Interestingly the duo in 3rd said they are the least likely members of the school teams that fished yesterday to be in the hunt to win while fishing ledges.  When asked why neither angler said their strong ledge fishing.  In fact both said they enrolled at UNA to learn to ledge fish better.
It's going to be a great day on the water on Pickwick.  Stay tuned for more insight from the day as we get closer to takeoff.
https://www.collegiatebasschampionship.com/wp-content/uploads/2017/05/Champ-Trophy_2017-1.jpg
600
1000
Shelley
https://www.collegiatebasschampionship.com/wp-content/uploads/2021/05/2019-BPS_CBFS_logo-300x179.png
Shelley
2017-05-26 05:24:00
2017-05-26 17:44:00
Live Blog: Friday, May 26th – Championship Day From The Water