Live Blog: 2017 Championship – Day 2 Weigh-In

There is a lot to keep up with on the water right now. We've got college boats running around all over the lake in search of either their fifth keeper or a few upgrades to their limits. What we know right now is everyone in the top five from yesterday has a limit now.
The rest are best guesses from the anglers and camera teams on exact weights so keep that in mind as you read this.
Auburn as of around 12:15 today was actively catching and culling fish. They've had the best day so far of any team from yesterday's top five. Right now estimates range from as low as 18 pounds to as high as 21 pounds for their limit. So with their yesterday's catch, that puts them up around the magical 40 pound mark. That's a wide range we know but it's a guess as we've not had coverage of them all day. They are certainly in the hunt to win it back to back for Auburn.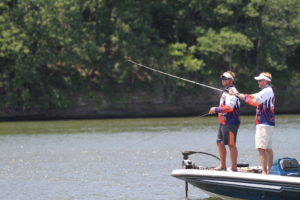 University of North Alabama team of Pennington and Mccarty appears to have around 13 to 15 pounds at this point. If that guess is right that puts them as high as 38 pounds thanks to that 23 pound limit yesterday. They won't check in till later today so they've got a lot of time to upgrade. You also have to wonder since none of the teams at the top have duplicated their success yesterday what the other UNA teams in striking distance are doing today. If any of those teams top the 23 pound mark, we could be looking at some fireworks and a come from behind win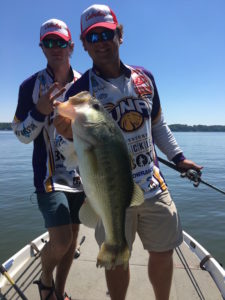 .
Now moving over to the Texas teams. The team Ebare and Seeton are steadily putting together a better limit. Our estimates have them around 14 pounds. Some guesses as high as 15. That would put them in the around 37 pounds overall. But they've got some small fish in the live well so a 4 pounder to them right now is a 2 pound cull thus they move up to almost 40 pounds. The 4th place Tarleton team of Sargent and Young have around 13 pounds to put them around 33 pounds overall. They're needing to duplicate that magical big bass bite they got yesterday to make up some ground. Pickwick has those kind of fish swimming in it which is a good thing for them.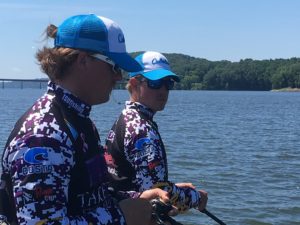 Dropping down to yesterday's leaders Tuscullum College has gone off the cell coverage area a bit lately and we've not gotten a good update from them in an hour. Right now based on what we've seen they are around but our guess is they around 13-14 pounds to put them at 36 pounds or so.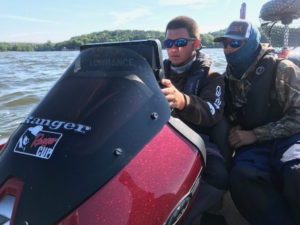 Looking deeper down the leaderboard, we've seen Arkansas Pine Bluff catching some good fish but needing one more big bite to jump from down around 10th place. Missouri State University had around 13 to 14 pounds earlier today and was looking to jump up from 8thplace.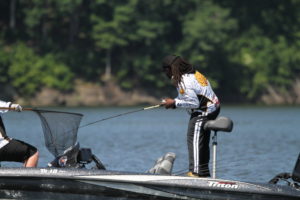 We don't have any intel at all currently on South Carolina State, Bethel and Wallace State who were all in the top ten yesterday.
https://www.collegiatebasschampionship.com/wp-content/uploads/2017/05/Entry10_Pic.jpg
600
1000
Shelley
https://www.collegiatebasschampionship.com/wp-content/uploads/2021/05/2019-BPS_CBFS_logo-300x179.png
Shelley
2017-05-26 12:00:11
2017-05-26 22:32:26
Live Blog: 2017 Championship – Day 2 Weigh-In