Live Blog: February 10th – Final Practice & Texas Team Trail
Check back here on Saturday, February 10th, for updates from the water as our collegiate anglers practice, as well as 7 collegiate teams compete in the Cabela's Texas Team Trail event!  Good Luck!

Saturday, February 10 – 5:30pm
Anglers are continuing to roll in for registration.  The field is expected to consist of over 200 collegiate anglers.
The weather is anticipated to play a major factor in tomorrow's event.  As we sit here now at weigh in, a steady rain is falling and has been for the past 30 minutes or so.  Rain is not the only factor to keep an eye on.  The forecasted high for tomorrow is set to be around 54 degrees.  One thing to note though, that high will be reached around 5am.  As the day goes on, the temperature will steadily dip.  By weigh in tomorrow afternoon temperatures could be into the low 40's.
As anglers dropped in for registration, one of the main talking points were the water temperatures.  Reports have the water being as warm as 58 degrees in some areas.  Conversely, early morning reports have temps in the upper 40s around 48 degrees.  With fish in a late wintertime, early pre spawn pattern, water temperature will greatly impact where the fish are positioned.
The rain that is coming down now will impact the fishing in a multitude of ways.  Current air temperatures are in the mid 60's meaning this fresh water entering the lake will be fairly warm and could help to raise those water temperatures.  Another impact that anglers will see tomorrow is the possibility for a change in water color.  Sam Rayburn is known for having decent visibility and fairly clean water throughout the system.  The rain that has fallen the past few days will muddy up the backs of creeks and pockets across the lake.  For anglers who are keying on the backs of creeks and in search of clean water, they could be in for a rude surprise come tomorrow morning.
Big fish live in Sam Rayburn, and it has been showing out throughout the week.  Fishing should be fun to track tomorrow!
Saturday, February 10 – 3:00pm
Festivities are getting underway here at Sam Rayburn as anglers are beginning to show up at registration for the inaugural "Texas Lunker Challenge" presented by Mossy Oak Elements.
This year's event sports a new format for the Cabela's Collegiate Bass Fishing Series. Competitors will fish from 7:00 am until 3:00 pm and each angler is allowed to bring one fish to the scales. The angler weighing in the largest fish will be the winner of the event, taking home a prize package worth $5,000.  The top 40 finishers will be awarded prizes.
Angler safety is a priority at all of the Cabela's Collegiate Bass Fishing Series events.  Due to projected weather forecasts for Sunday, all boats will be allowed to trailer to any ramp on Sam Rayburn to start their tournament day.  Anglers will come by the weigh in location beginning at 5 am to do a drive by livewell check.  Once a team makes it to their chosen boat ramp, they can launch beginning at 6:30 am.  First cast will be allowed at 7:00 am.
Continue checking the live blog for further updates and information.  As more anglers continue showing up for registration, there will be further insight and details about the upcoming Texas Lunker Challenge presented by Mossy Oak Elements.
Saturday, February 10 – 9:45am
The current radar is a good snapshot of the rain that's been falling for the last 12 hours. How this will affect the bite for the event is still to be determined, however many of the creeks feeding Sam Rayburn are starting to look pretty muddy.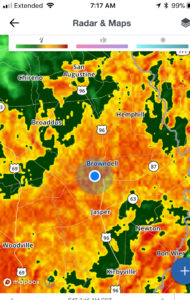 The one positive is this is a very warm rain which may warm many of the pockets up that were already holding a great number of pre-spawn female largemouth in the hydrilla.
https://www.collegiatebasschampionship.com/wp-content/uploads/2018/02/Blog-Practice_Day2.jpg
1080
1920
Shelley
https://www.collegiatebasschampionship.com/wp-content/uploads/2023/03/2022_CBFS_JM-White-300x194.png
Shelley
2018-02-10 06:26:33
2018-03-02 13:29:16
Live Blog: February 10th – Final Practice & Texas Team Trail