Live Blog: February 11th — Tournament Day!
Throughout the tournament day, we'll provide updates from the water, weigh-in, and prizes!

Sunday, February 11 2018 5:30pm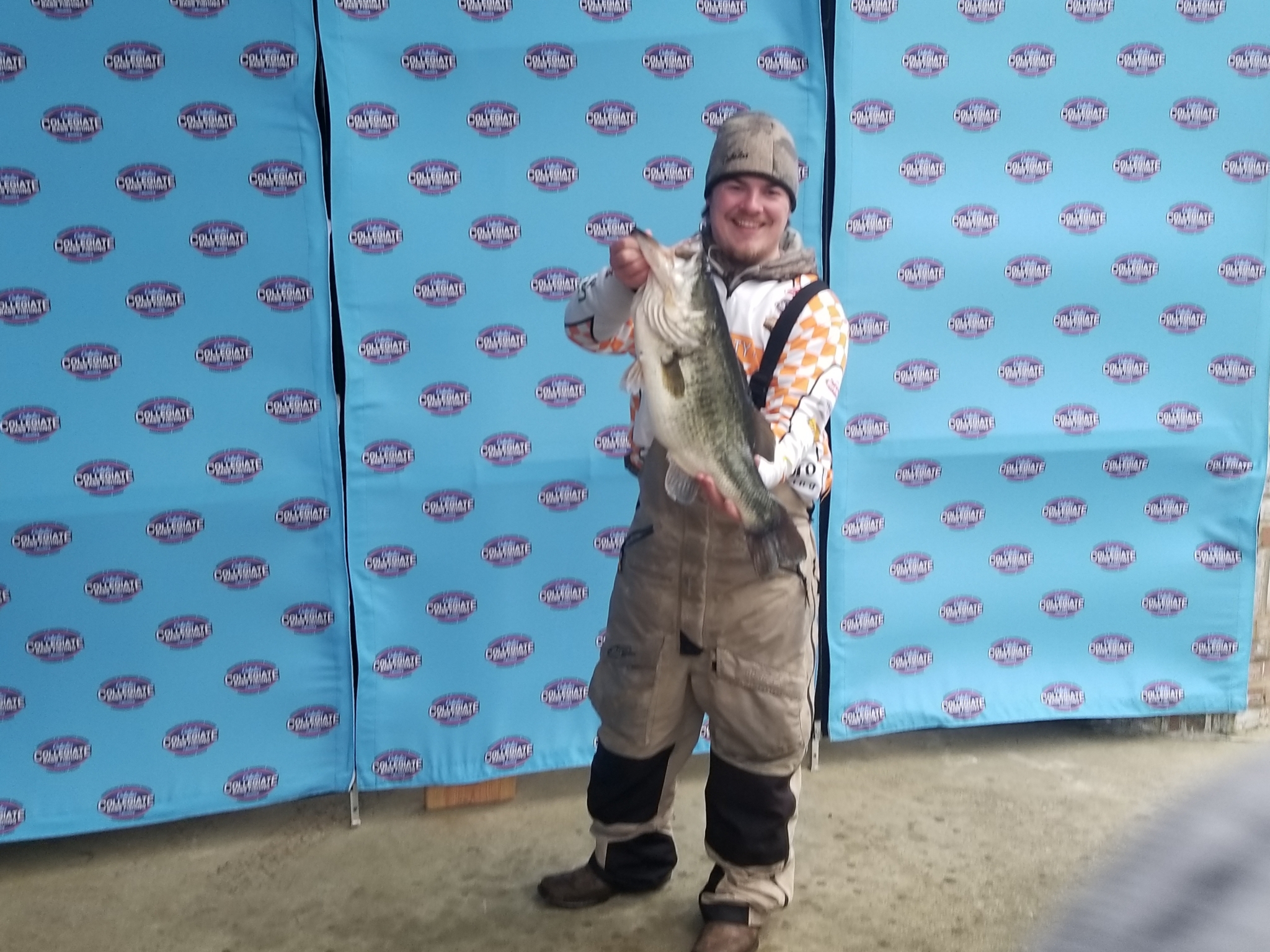 The scales are closed and prizes are currently being handed out here at the inaugural Texas Lunker Challenge presented by Mossy Oak Elements at Sam Rayburn Reservoir.  Given the conditions these anglers faced on the water today, the weights were very impressive.
The field consisted of 200 of the top collegiate anglers in the country.  Finishers in 1st through 40th earned various prizes worth a total of $20,000.  Scott Ellis from the University of Tennessee – Knoxville claimed first place, earning a prize package valued at $5,000.  The winning fish brought in by Ellis tipped the scales at 9.64 lbs, besting 2nd place by exactly one pound.
Payouts went all the way to 40th place, and was claimed with a 3.89 lb largemouth bass.  In true Sam Rayburn fashion, the lake showed why it is considered one of the best fisheries in the nation year in and year out.
One of the main concerns entering this competition day were the weather conditions these anglers faced.  Strong winds, cool air temperatures, and cloudy skies can typically shut a fishery down. As was evident with the weights crossing the stage today, that was not an issue.
A typical mid-February pattern on Sam Rayburn finds anglers fishing shallow grass with red rattle traps, jerk baits, and soft plastics.  From the reports received from the anglers, these were the tactics used to target those large pre-spawn bass.  The bait most commonly mentioned was a red rattle trap.  Anyone who knows Sam Rayburn, knows that is a go to bait on this body of water.
Thank you for following the live blog throughout the day today.  Follow our social media pages for pictures, video, and other content.  Also check back to the website for more content from this event.
Sunday, February 11 2018 1:55pm
Another team in the hunt for Cabela's School of the Year presented by Abu Garcia is Northwestern State University.  We have had several updates from this group of anglers throughout today.  Checking in with a nice fish around four pounds is Logan Laprarie.  A four pound fish is going to go a long ways today.  It's yet to be seen how a majority of the field fared out on Sam Rayburn, but a four pounder is a solid fish.
Weigh-in update:  Several anglers have arrived early for weigh-in.  A majority of the fish that have been brought to the scales are in the 2 pound range.
Sunday, February 11 2018 1:00pm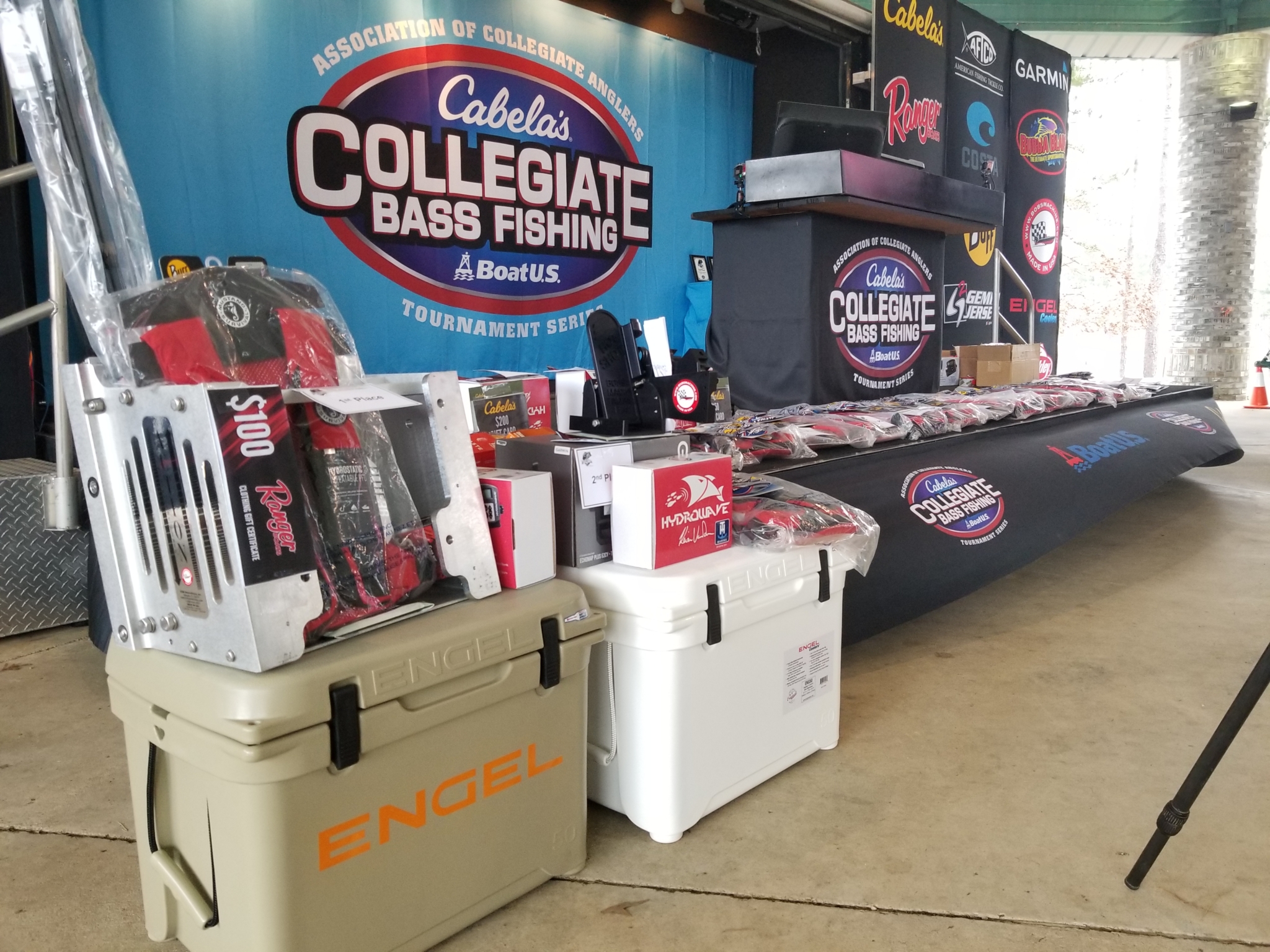 There has been a slow down in on the water updates since the late morning flurry a few hours ago.  The conditions outside are still about the same.  Cool winds and clouds have been the major theme of the day.
The full field of anglers have just under two hours left to fish.  Weigh-in will begin at 3:00pm and all anglers must be in line by 4:30pm.  All of the awards and prizes are set up and ready for the anglers to arrive.  It should be a fun weigh-in, to see what the anglers managed to catch!
Sunday, February 11 2018 11:50am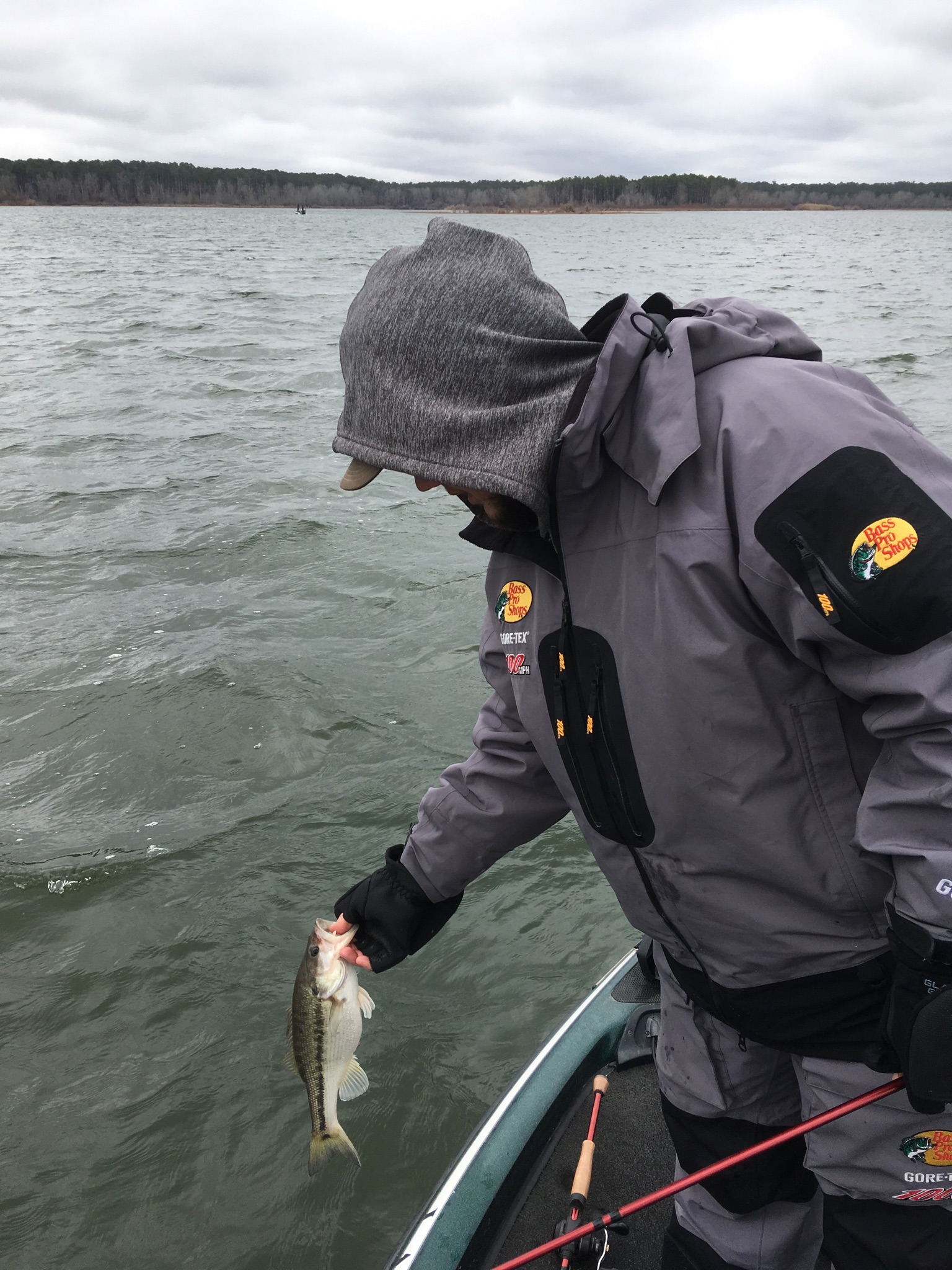 One of the top schools in the chase for the Cabela's School of the Year presented by Abu Garcia is the University of Louisiana-Monroe.  They are currently third overall in this chase for first place.  Seven anglers representing ULM are participating in today's event.
Pictured above is Hogan Beckley, releasing a small spotted bass.  Releasing that fish is a good sign for Beckley and the ULM team, meaning he has a better fish in the live well.  That fish is said to be about three pounds.  Bites are coming pretty consistently for Beckley and his partner Brandon Powers.
Another member of our crew spent some time this morning following Spencer Lambert and Tyler Craig, also from ULM.  Spencer has managed to catch just one fish, and is not one that will challenge for the overall lead.
Sunday, February 11 2018 11:40am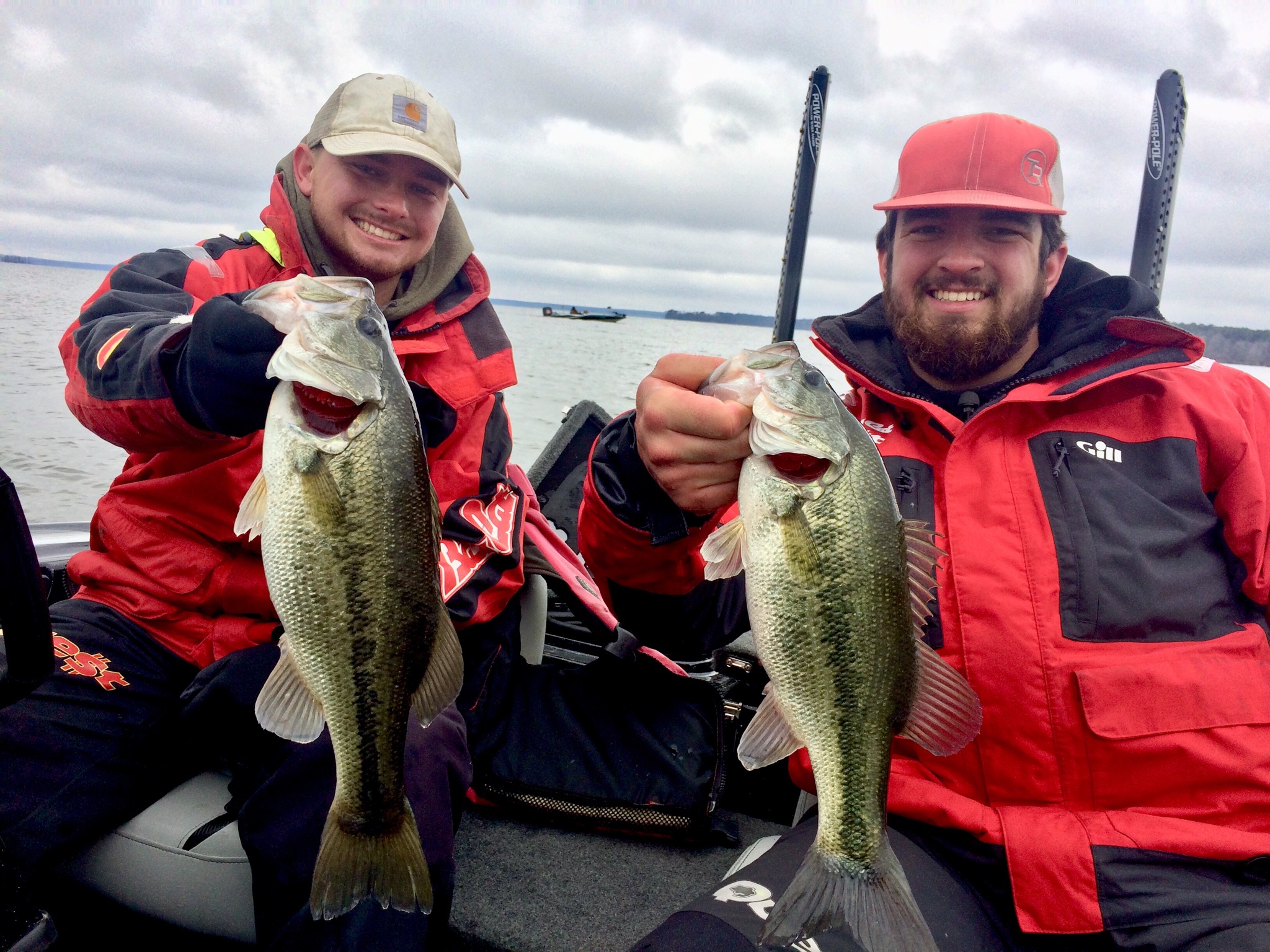 Here's another update coming in from on the water as some of our crew starts to get into better cell service.  This update is from Texas Tech University anglers Matthew Bowden and Kyle Kontar.  Each of them have a solid fish in the well.  Both fish are in the three plus pound class range.  Fish of that size will definitely be a player today with a chance to claim one of the top 40 prize places being awarded.
Sunday, February 11 2018 11:35am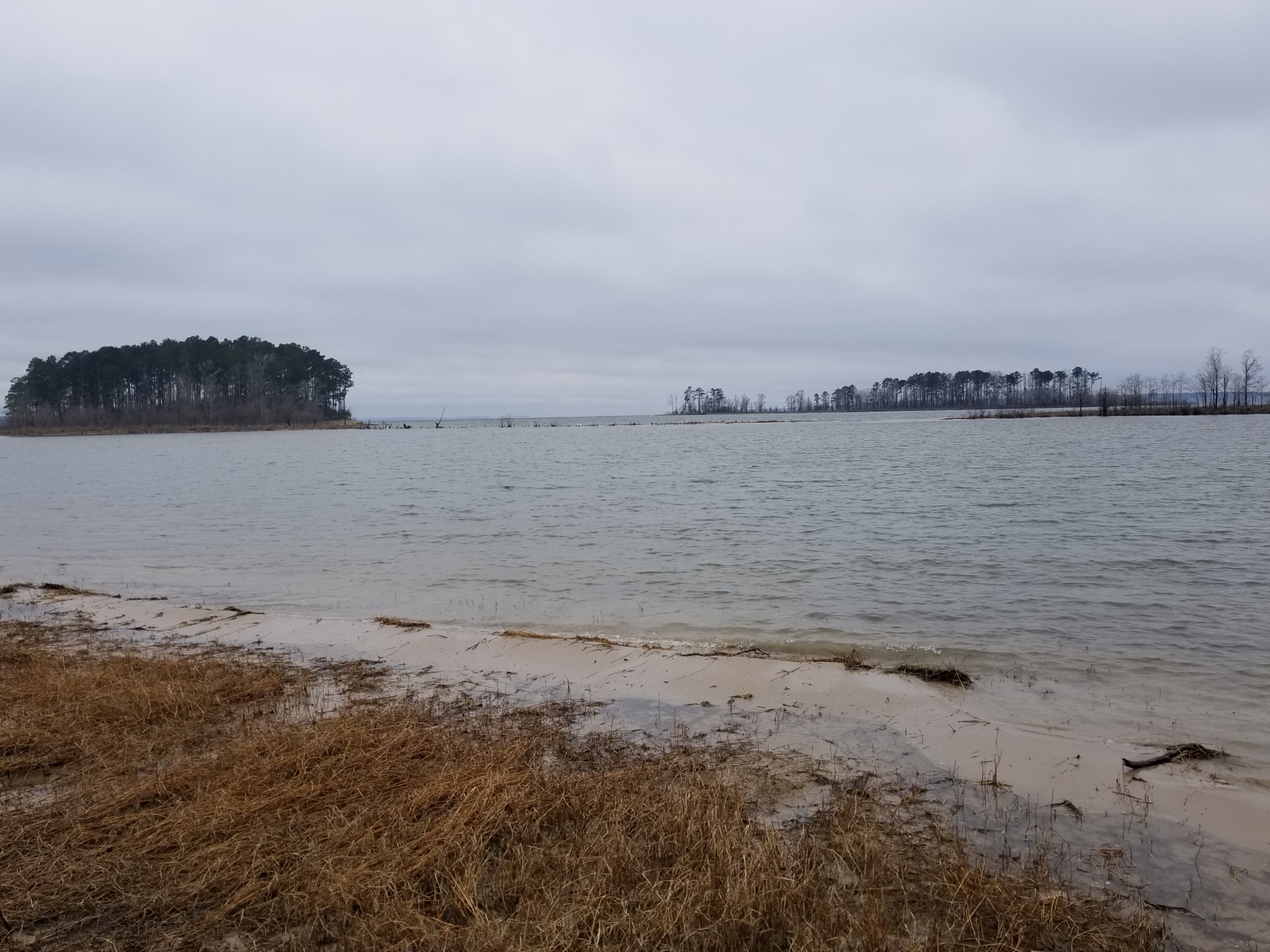 The fishing seems to be pretty slow throughout this morning.  At the midway point of the day we have reports of several fish in the five pound range, and one around eight pounds.
As is evident from the picture it's cloudy and windy, not to mention pretty cold out there.
We have a crew up north of the 147 bridge, and they are reporting seeing several teams fishing in the area.  The boats are focusing on shallow hydrilla in four to nine feet of water.  With the winds being stronger today, anglers may have some difficulty getting positioned on any offshore spots.  Look for the grass to continue to be a factor as the day goes on.
Sunday, February 11 2018 10:35am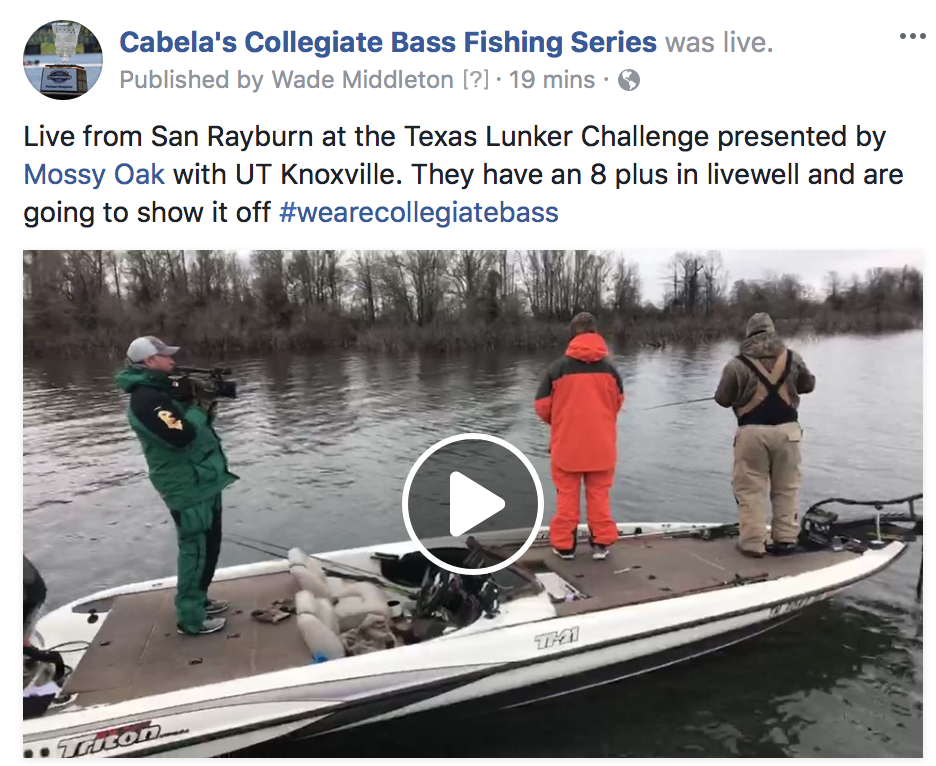 Members of our crew were able to catch up with Scott Ellis and Ronald Moore of the University of Tennessee – Knoxville.  Scott has caught the biggest fish reported this morning, estimated to be around eight pounds. He caught this fish on a lipless crank bait.  Scott has performed well in past Cabela's Collegiate Bass Fishing Series events.  He finished 2nd overall in the 2017 Big Bass Bash.
Follow this link to our Facebook page for on the water video of these anglers: https://www.facebook.com/CollegiateBassChampionship/
Sunday, February 11 2018 10:20am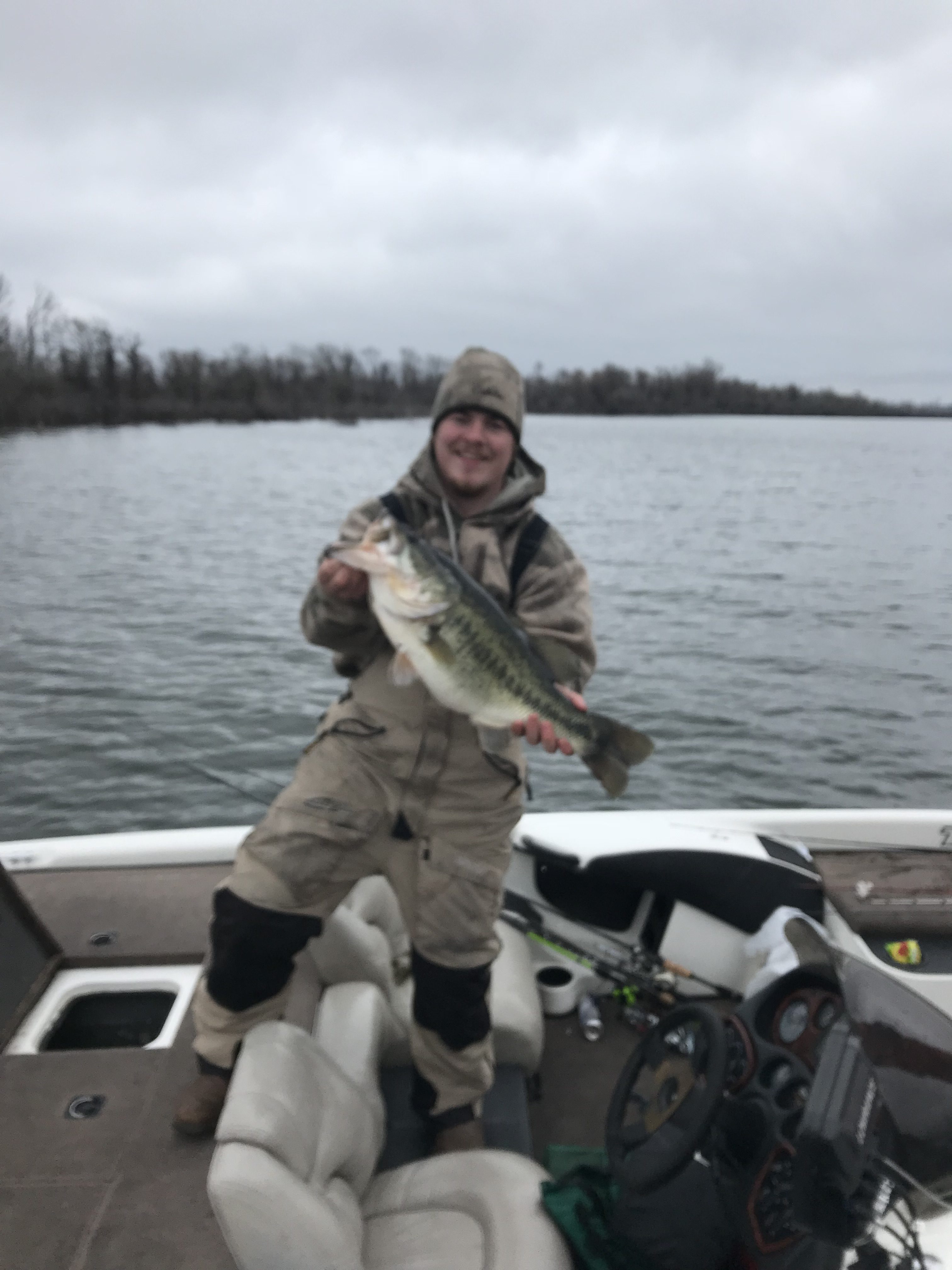 UPDATE : Here is the eight pounder caught by Scott Ellis from the University of Tennessee – Knoxville.  Very healthy looking fish with good color.  There are plenty more like this one that call Sam Rayburn home.
The weather conditions are holding about the same.  Winds are pretty strong out of the north with temps hovering around 40 degrees.  It does not appear temperatures will rise enough throughout the afternoon to impact the shallow bite.  Things are definitely tough out there and the lack of reported fish catches reflects this.
Sunday, February 11 2018 9:45am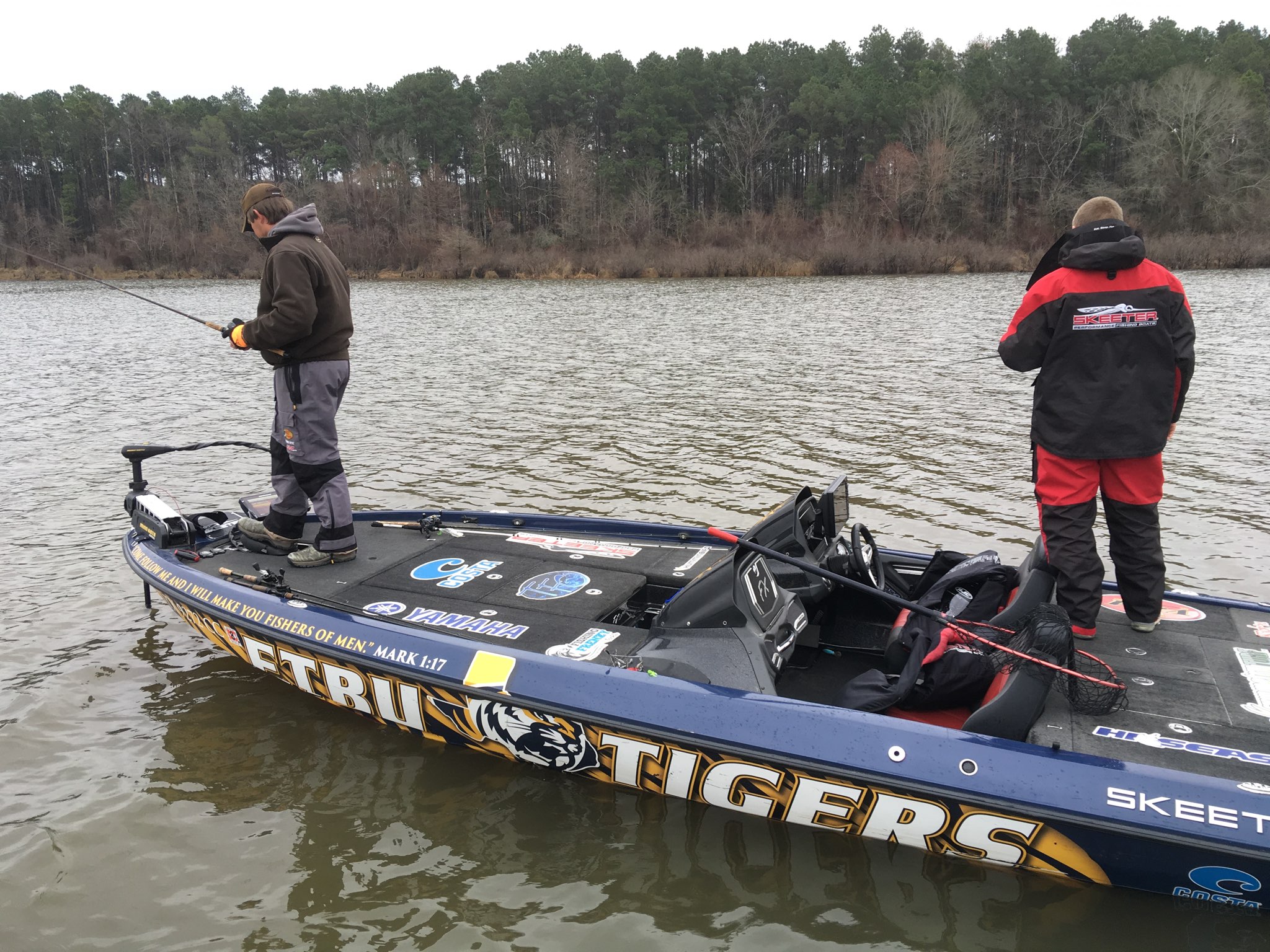 Pictured above are Jacob Keith & Mason Beatty fishing for East Texas Baptist University.  They started out the morning fishing deep and managed to catch quite a few fish, but all of them were small.  So far, Mason has one fish in the live well for about three pounds.  After fishing deep to start the morning, the ETBU team has moved shallow to fish grass in search of a tournament winning fish.
One other report from on the water involves an angler from the University of Tennessee – Knoxville.  They are said to have a fish over eight pounds.  This is the largest fish catch we have received word of this morning.  That is the class of fish it will take to place high in this event.
As reports continue to roll in, stay tuned to see if anymore big fish are caught!
Sunday, February 11 2018 9:00am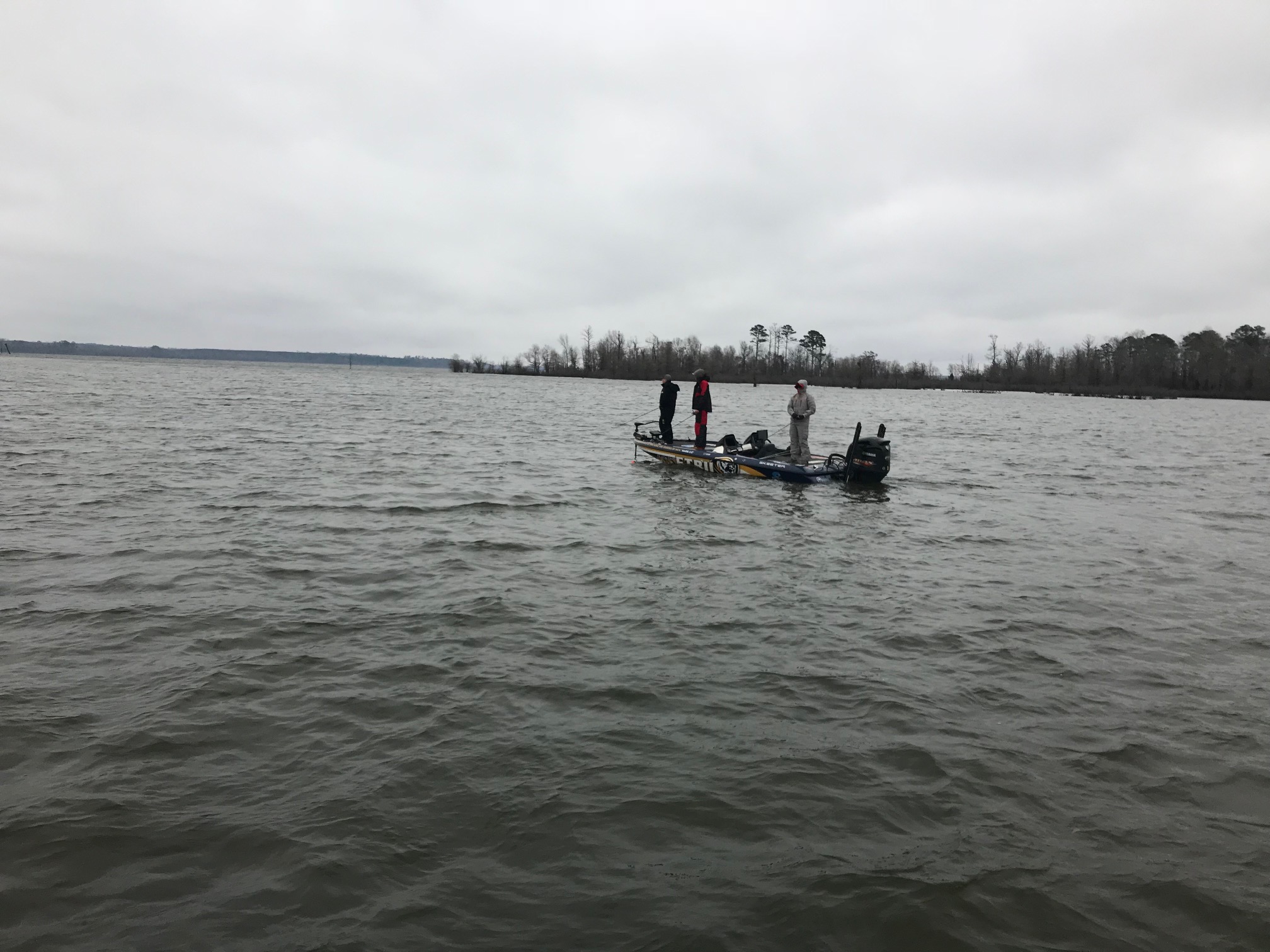 There have been several fish catches reported early on this morning, but for a large part of the field the going is tough.  Many anglers are mentioning the cold, and how it is impacting them.  The temperature has been falling steadily this morning.  At check in the temperature was about 48 degrees.  Halfway through this morning, temperatures have dipped to 41 degrees.
For pre spawn bass, cold fronts such as this can shut things down in an instant.  Yesterday, competitors in the Texas Team Trail event said they were catching fish both deep and shallow on a variety of techniques. Between yesterday and today, the water surface temperature has dropped five degrees. Those fish that were up shallow could pull back and key on deeper structure. For those college anglers fishing deep, they could have the best shot at catch one of those Sam Rayburn giants.
Sunday, February 11 2018 8:30am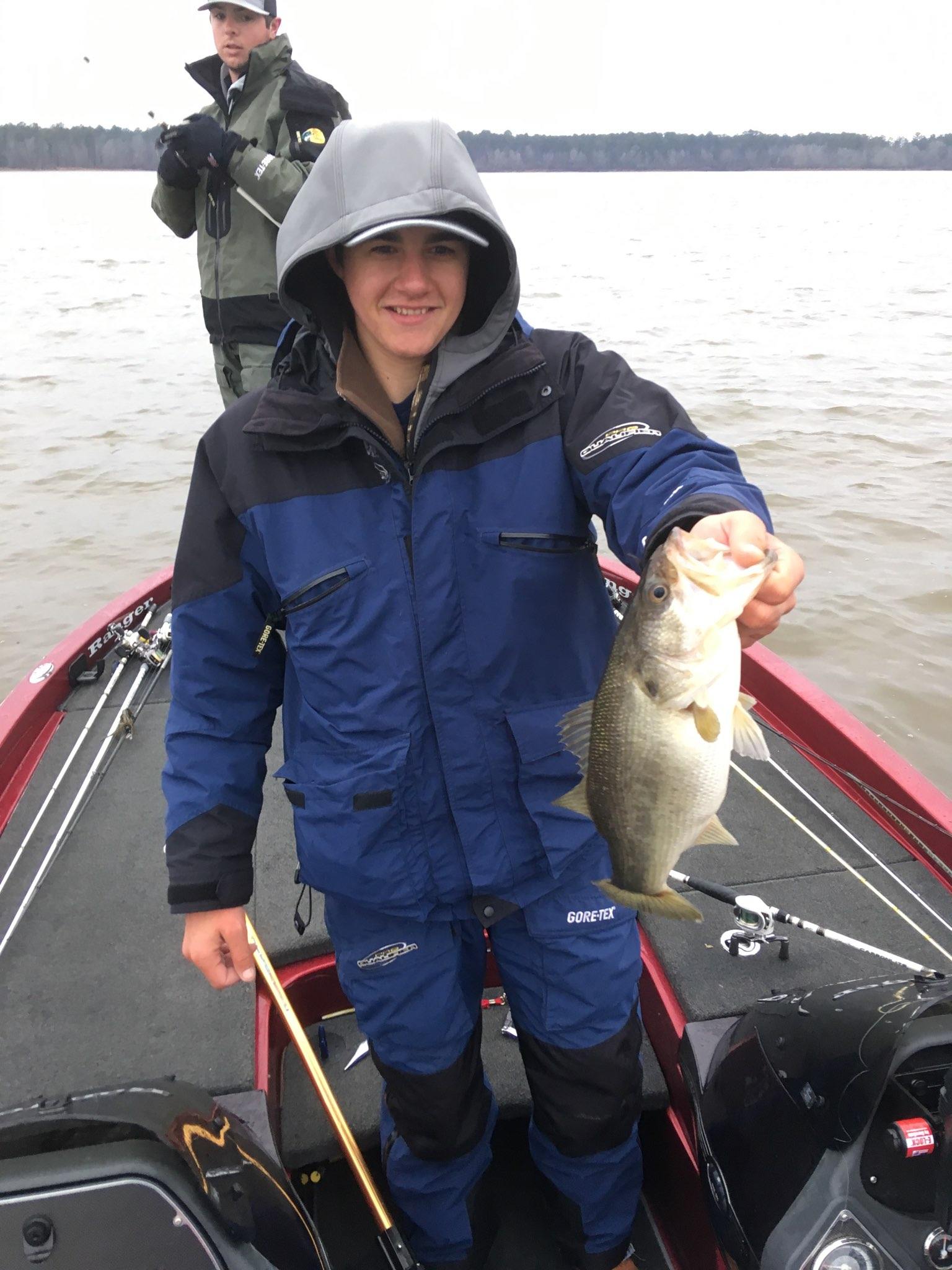 One of our camera guys is with the team of Ethan and Kyle from Northwestern State University.  They got to their early morning spot to find the water stained.  That did not seem to matter to this quality fish.  Estimates have this fish caught by Ethan weighing around 5 pounds.
The pair is fishing a rattle trap along a main lake point that is scattered with grass.
Sunday, February 11 2018 8:15am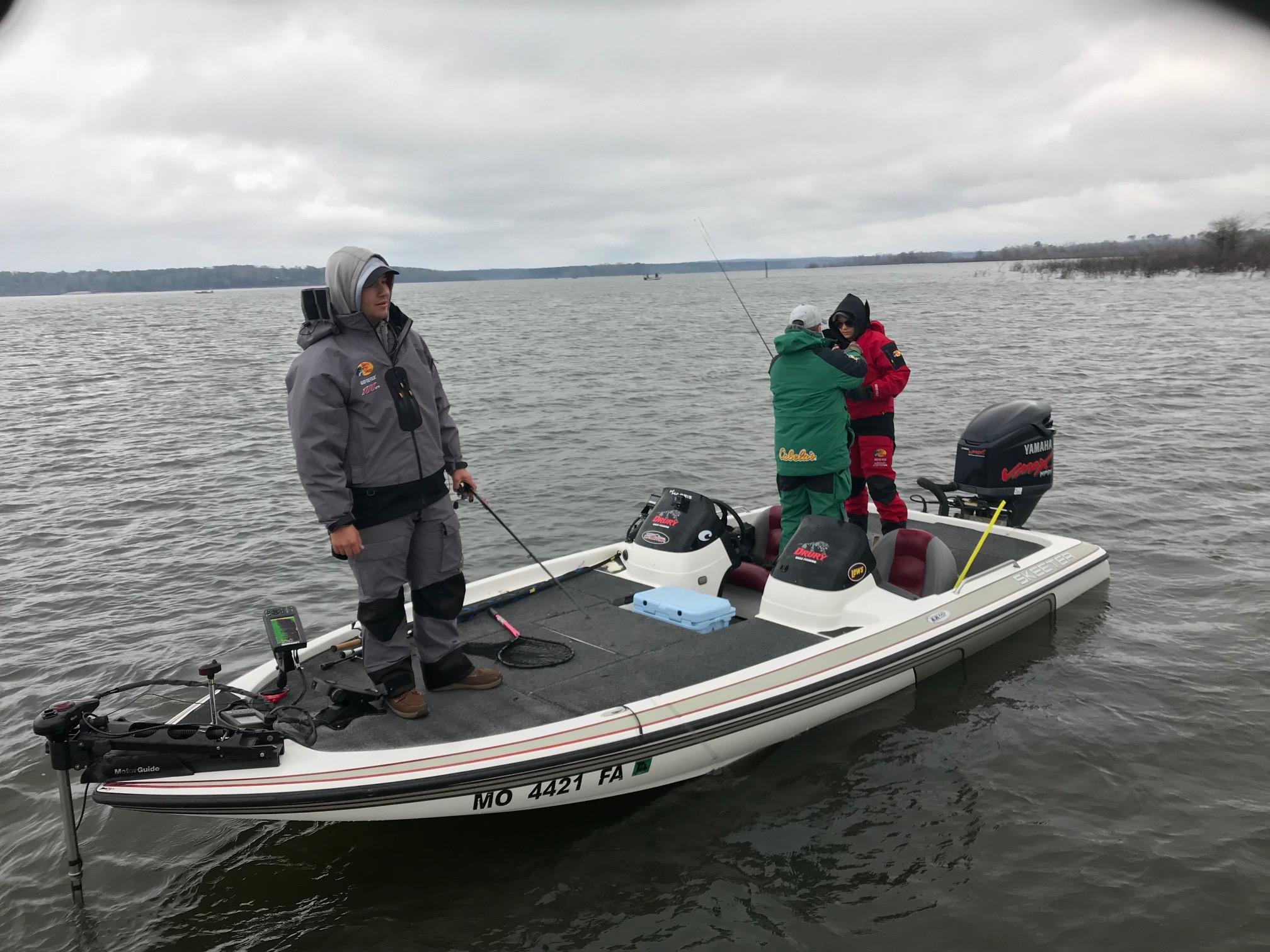 Anglers have made it out to their first spots and have been fishing for just over an hour.  Reports are starting to roll in of fish catches.  We will have those pictures and more information up shortly.
The water clarity is playing a factor early.  These teams are saying the water is considerably more muddy than what they found in practice.  Today the wind is also blowing pretty steady out of the north.  A strong north wind could muddy up the water even more.
Sunday, February 11 2018 7:00am
Good morning from Sam Rayburn Reservoir and the 2018 Texas Lunker Challenge presented by Mossy Oak Elements.  Today's tournament is a one day big bass event where each angler is allowed to bring one fish to the scales, and the largest fish at the end of the day will be the overall winner of this inaugural event.
As has been mentioned several times throughout the weekend, the weather will have a large impact on today's results.  Temperatures are in the low 40's with wind chills around 38 degrees.  Along with the 20 degree swing in temperature, the area around the lake received a good amount of rain yesterday evening.
Before the temperatures took a dive yesterday, the Texas Team Trail event at Sam Rayburn boasted a 290+ boat field in which a good number of fish came across the scales.  20 pound bags were very common, and three fish over 10 pounds were brought to the scales.  The big bass for the event weighed in at 10.23 pounds.
Sam Rayburn Reservoir is capable of producing giant double digit fish on any cast.  Now it's up to these college anglers to find them.  First cast will be at 7:00am.  Keep checking back with us throughout the day for more updates, pictures, and other information.
https://www.collegiatebasschampionship.com/wp-content/uploads/2018/02/Blog-TXLunkerTournamentDay.jpg
1080
1920
Shelley
https://www.collegiatebasschampionship.com/wp-content/uploads/2021/05/2019-BPS_CBFS_logo-300x179.png
Shelley
2018-02-11 06:31:13
2018-03-02 13:32:25
Live Blog: February 11th — Tournament Day!