Zainitzer Earns $500 Garmin Tournament Rewards at 2021 AFTCO Open

SAN ANTONIO, TX (October 18, 2021) – University of North Alabama angler Kyle Zainitzer is the winner of the Garmin Tournament Rewards contingency at the 2021 AFTCO Collegiate Bass Open at Lake Dardanelle.  Zainitzer, along with help of teammate Walker Sahagun, finished the event in 4th place out of an elite 216 boat field.  As the highest placing Garmin user competing in the first Association of Collegiate Anglers event of the 2021-22 season, Zainitzer receives a check for $500.
"Being awarded $500 for just running Garmin was really awesome to me," noted Zainitzer.  "Garmin is already an awesome unit to run, and being able to get extra money from running them makes them even that much better."
Garmin Tournament Rewards is a top-notch tournament contingency program that rewards anglers for using Garmin products on their boat during competition.  To be eligible for the $500 cash prize, an angler must be the highest placing Garmin user at a qualifying Garmin-sanctioned event. The boat must be equipped with 1 or more Garmin fixed-mounted marine electronics or trolling motor.  Qualifying electronics include Garmin GPS units, fishfinders, combo units, chartplotters and trolling motors.  Garmin Tournament Rewards is awarded at every ACA event.  Find out more about Garmin Tournament Rewards.
"Being able to earn money from contingencies is an awesome opportunity for collegiate anglers. It's an easy way to earn some extra cash, and just shows you that it pays to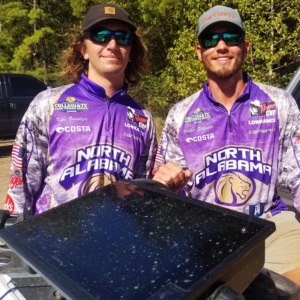 run the companies that invest in the collegiate level of the sport," added Zainitzer.  "Garmin runs a great contingency for college, by awarding $500 to the highest finishing angler that runs a Garmin. All these companies supply us with great products, so it truly is worth it to run them."
One of the main products that these anglers are using to qualify for Garmin Tournament Rewards is Panoptix LiveScope.  Livescope is a revolutionary product that gives anglers a live view under that water, allowing them to fish more effectively and efficiently during tournament competition.  Whether you are fishing deep ledges or shallow cover, Panoptix LiveScope will help you get more bites.
"Garmin Livescope has truly changed the sport of fishing. It helps me a ton with schooling fish, and also helps with smallmouth a ton. Livescope can also help with showing me that there are fish in the area, and that I might need to slow down and pick that spot apart," said Zainitzer.
College anglers are eligible for a significant discount on Garmin products, including Panoptix Livescope.  To apply for a discount code, follow this link.  Stock up on Garmin products now so you too can qualify to win the Garmin Tournament Rewards at your next event!
https://www.collegiatebasschampionship.com/wp-content/uploads/2021/10/KYLE-ZAINITZER.jpg
1000
1000
Kyle Curry
https://www.collegiatebasschampionship.com/wp-content/uploads/2023/03/2022_CBFS_JM-White-300x194.png
Kyle Curry
2021-10-18 14:32:09
2021-10-18 15:11:12
Zainitzer Earns $500 Garmin Tournament Rewards at 2021 AFTCO Open