Rounding out the Top Five
By Cody Levy
Falardeau Cashes in at Third
Weighing in only the second of two seven pound bass, the University of Tennessee Chattanooga's Dillon Falardeau 7.13lb bass anchored the school's Cabela's School of the Year Race efforts with a third place finish at the 2016 Cabela's Collegiate Big Bass Bash Presented by Berkley.
Coming into the event without a nailed down strategy, Falardeau set out to junk fish, or fish with a variety of baits in a wide range of techniques.
"We didn't have a set pattern in practice so we just decided to go junk fishing," said Falardeau. "I finally figured out that there were fish holding on shell banks in really shallow water so my teammate and I decided to try and find as many of those types of banks as we could."
Falardeau was limited in how far he could travel due to motor issues and was unable to make it to a spot he found in practice that he was confident in. The Rhode Island native never traveled further than two miles away from the boat ramp during the tournament, which he thought would limit his opportunity to cash a check, however, the engine troubles worked out in his favor.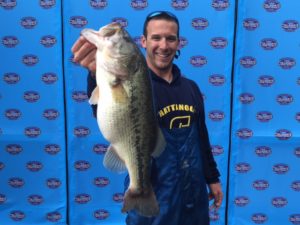 "While the water was way muddier than what we were expecting, the wind blew right into some of the creeks we wanted to fish which was a game changer. The conditions lined up perfectly for what we were doing and to me there's nothing better than a cloudy day with wind for fishing," said Falardeau.
Falardeau caught his 7.13lb bass on a sexy shad rattle trap on a point off of a gut feeling that ended up earning him first place in the Day 2 Session 2 Presented by Gill. For his effort, he won a new Gill IN12 Rain Jacket and a $200 Cabela's Gift Card.
Colberg Claims Fourth
Weighing in a 6.88lb bass, Pittsburgh University's Henry Colberg earned fourth place overall in the Big Bass event and second in the Day 2 Session 3 Presented by Cabela's winning $500 in Cabela's Gift Cards. The Pennsylvania native went into the event quite confident, coming out of a practice that yielded some very large Kentucky Lake Bass.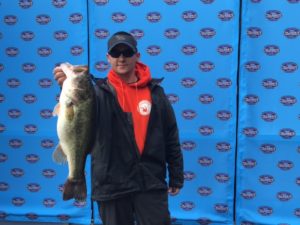 "Conditions made the tournament pretty tough on us through practice, but we still managed to figure them out really well for the tournament," said Colberg. "We caught quite a few in practice on jigs and crankbaits and I caught a nine pounder as well. I think the weather actually worked in our favor because they moved the fish out to a ledge we found that had chunk rock all around it."
The Pittsburgh angler traveled quite a distance down to his location which meant he had to be very cautious of time and strategy. In the big bass format, determining which hour is best to weigh in can determine whether or not they'll be able to cash a check.
"We ran forty miles south to this particular ledge. We only got to fish about three hours both days, but it ended up paying off for us pretty well," said Colberg. "There are only two of us here from our university so being able to represent our club in a strong way like this is pretty awesome."
Klaes Takes Fifth Overall
University of Dubuque freshman, Jonathan Klaes earned fifth place overall from the Day 2 Session 4 Weigh in Presented by the Association of Collegiate Anglers and Costa Sunglasses by weighing in a 6.81lb largemouth. Like many others throughout the event, Klaes found bass with a rattle trap around chunk rock.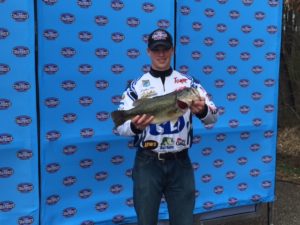 "We started the day in a place called Bass Bay where we caught one early. We quickly moved to Big Sandy which is where I caught mine around eleven o'clock, about four feet off the bank," said Klaes. "We had four fish total today in our boat, but we had a total of twenty fish weighed in between our whole team."
With a main focus on earning points for the Cabela's School of the Year race, Klaes and the University of Dubuque club came motivated to way in as many fish as they could to ensure they could earn as many points as possible.
"We really want to push for the School of the Year Title, but we also came into this event wanting to get a lot of the new guys some experience up on stage so we wanted to way a lot of our fish in for that purpose as well. It was also a great way to get additional exposure for the club," added Klaes.
While many anglers dream of weighing in a fish in the top five at an event with over 430 anglers, Klaes was able to accomplish this feat at his very first bass fishing tournament.
"This is my first tournament ever and it was quite a shock for me. I didn't come with any expectations so to place so highly, it feels great and it makes me feel really excited about my fishing career in the future," Klaes said. "I thought the tournament was really cool how everyone was able to win a prize and I enjoyed the whole thing. It was a great experience."
The remaining top ten are listed below.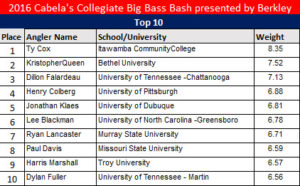 Be sure to check out the From the Water Live Blog for the complete Session Results and event highlights!
Also, follow us on Facebook throughout the day for coverage and pictures from the water!
https://www.collegiatebasschampionship.com/wp-content/uploads/2016/06/CBFC_Button-e1480444540195.png
300
300
Shelley
https://www.collegiatebasschampionship.com/wp-content/uploads/2023/03/2022_CBFS_JM-White-300x194.png
Shelley
2016-03-17 15:44:20
2016-11-18 16:00:52
Rounding out the Top Five