The University of Kentucky Looks to Capitalize at the 2016 Collegiate Bass Fishing Open Presented by Cabela's
By Cody Levy
SAN ANTONIO, Texas – Finishing in second at the 2015 Collegiate Bass Fishing Open Presented by Cabela's was a great accomplishment for the University of Kentucky Bass Team, but this year the team wants more – they want it all; they want the victory. Though on a different body of water this year, the University of Kentucky is heading into Lake Dardanelle with the intention of heading home as Open Champions.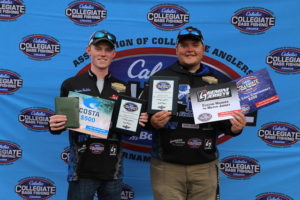 Sean Stephenson and John Hirdt of the University of Kentucky are making the nine and a half hour tow down to Russellville, Arkansas for the 2016 Collegiate Bass Fishing Open Presented by Cabela's to carry on their team's prior success at this event, but also to improve upon it. The team of Ryan Collins and Hunter Fulcher led Day 1 of the 2015 event and fell to second on the final day by six pounds to Northern Kentucky University. This year, the team of Stephenson and Hirdt hope that their practice and fishing knowledge will help them become victorious on the new body of water.
"Well it goes without saying, we enter in every tournament in hopes of winning but unfortunately it doesn't always work that way. We hope to duplicate what our guys did last year and finish towards the top of the field. This would help us out a lot this year's Cabela's School of the Year standings. With John and I being the only guys from the team able to go, it would be huge to pull out a top finish," said Stephenson.
"The finish last year was great for the team, it helps attract sponsors and helped with School of the Year points, but this year it's on Lake Dardanelle which is a lake I've never fished before. I think you have to go into every event hoping to win and having the confidence that you are going to do well. We have confidence in our fishing abilities and expect to do well at Lake Dardanelle this year," Hirdt added.
While the duo feels confident in their ability to break down new waters, Lake Dadanelle poses new challenges and new opportunities, but the team expects to maximize their practice on the lake by eliminating similar waters and patterns and focusing on their previously researched target areas.
"Fishing on a new lake can be challenging. You don't know what to expect besides the research that you have done, so you use your practice days to figure out a plan to execute come tournament time," said Hirdt. "On Lake Dardanelle I think flipping jigs and soft plastics could be key, as well as fishing riprap and transitions."
"I know Lake Dardanelle is an incredible fishery and I am anxious to get down there and see what it's all about. However, we have a lot of work to do. You can only do so much prep work without actually being on the water," said Stephenson. "We plan on getting down there as early as possible to get some quality practice in. I like to take most of the first day doing a ride around and getting to know the lake, marking spots on my graph I think would be worth hitting. Then the rest of practice running and gunning finding what works and what doesn't. I know John and I have done our homework with monitoring weather and studying lake maps, we're ready to get down there and try to put together a winning pattern."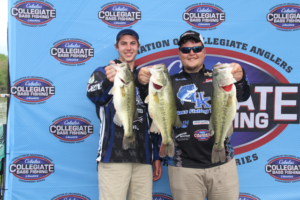 Stephenson added that the club goals far exceed just winning a single tournament, but getting in range of a much bigger title.
"As a team, we aim to better ourselves every year and try to finish better than the year before. This year we are making a big push to crack that top ten in School of the Year standings. We are trying to build the reputation of the UK Bass fishing team as one that is always at the top," Stephenson said.
To register for the 2016 Collegiate Bass Fishing Open Presented by Cabela's, click HERE 
About the ACA
The Association of Collegiate Anglers, a division of Careco TV, is a sanctioning body developed to facilitate growth, development, and structure within competitive collegiate bass fishing. The ACA provides support to dozens of school operated regional events nationwide and owns the Cabela's Collegiate Bass Fishing Series, the largest participatory collegiate tournament circuit in the country. With dedicated collegiate fishing programming on several television networks, three nationally televised collegiate bass fishing events, and thousands of members, the ACA is the leader in competitive collegiate bass fishing. For more information on the ACA, or the Cabela's Collegiate Bass Fishing Series, visit www.CollegiateBassChampionship.com. For more information on Cabela's visit Cabelas.com, for more information on CarecoTV, visit www.carecotv.com.
https://www.collegiatebasschampionship.com/wp-content/uploads/2016/06/CBFC_Button-e1480444540195.png
300
300
Shelley
https://www.collegiatebasschampionship.com/wp-content/uploads/2023/03/2022_CBFS_JM-White-300x194.png
Shelley
2016-03-17 14:01:44
2016-11-29 18:44:20
The University of Kentucky Looks to Capitalize at the 2016 Collegiate Bass Fishing Open Presented by Cabela's