RESCHEDULED:  Big Bass Bash
New Dates will be October 4-5, 2019
The Association of Collegiate Anglers and the Bass Pro Shops Collegiate Bass Fishing Series have reached a decision, after communications with the host area and marina, regarding the status of the 2019 Bass Pro Shops Big Bass Bash presented by Berkley.  Tournament officials have decided that due to the flooding, marina being closed currently, and possible unsafe boating conditions, that it's best to reschedule the event.  The new tournament dates will be October 4th-5th on Kentucky Lake, out of Paris Landing State Park Marina in Henry County, TN.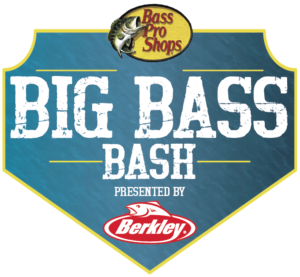 High water levels continue to plague Kentucky Lake.  As of Sunday morning, the lake continues to rise.  Paris Landing State Park Marina continues to remain closed, and it doesn't appear that there is much relief in sight for the surrounding areas.  Downstream on the Tennessee River numerous lakes are experiencing near historic levels of flooding due to high rains over the past weeks.   Being one of the northern most bodies of water on this river system, Kentucky Lake is unable to release much water downstream to relieve the current flooding.
"Safety is of an utmost concern for not only our anglers but those in the area affected by the flooding.  At this time I can't see anyway that we can have this event as scheduled with what we know right now and what projections are for that area of Kentucky Lake.   We've also looked at a wide range of other dates in an effort to have the event as soon as possible. However, many of the dates we found in the near future would impact other scheduled collegiate events so we've made the decision to host the event this fall when fishing should be great!" – Wade Middleton Director of ACA and President of CarecoTV.
With the rescheduling of the Bass Pro Shops Big Bass Bash presented by Berkley, the 2019-2020 season is quickly shaping up to be one of the most busy, and competitive seasons in ACA history.  More specifically, the month of October will bring a great deal of excitement to the fall season.  Along with the Big Bass Bash, October is also when the AFTCO Collegiate Bass Open will take place on Lake Dardanelle in Russellville, AR.  For a look at the updated tournament schedule, click HERE.
Note from ACA Staff: We appreciate your patience and understanding through this current situation.  Our goal is to ensure safe boating conditions for all participants.  We believe that rescheduling is the best option at this time, and we look forward to seeing everyone at the BoatUS Collegiate Bass Fishing Championship presented by Bass Pro Shops in May in Florence, Alabama.  Registration for that event will open soon.