The 2016 Championship Registration Banquet Exceeds Anglers' Expectations
By Cody Levy
SAN ANTONIO, Texas – With the last day of practice in the books for the 2016 BoatUS Collegiate Bass Fishing Championship Presented by Cabela's, anglers headed over to the Marriott Conference Center in Florence, Alabama for a night full of comraderie, free gear from the industry's top companies and manufacturers, seminars from the legends of the sport, and a free meal presented by Ranger Boats!
As many anglers walked in to the conference center slightly fatigued from four days of practice on the Tennessee River, eyes got a little wider, and some pep was put back in their step when anglers saw the Marriott Shoals Conference Center lined with the Cabela's Collegiate Bass Fishing Series sponsors, who were waiting to give away thousands of dollars worth of gear.
The following sponsors were present at the Registration Banquet and gave anglers product that will help them exceed on and off the water when it comes to the sport of bass fishing. Cabela's gave out a $25 gift card to each angler, Berkley Fishing and Big Bite Baits each gave out bait samples, and clothing and samples of a wide variety of product from companies such as Ranger Boats, Yamaha Marine, Garmin, RAM Trucks, Costa, Sebile, Abu Garcia, BoatUS, BUFF®, Power Pole, Gill, Sqwincher, Lucas Oil, Gemini, Mustang Survival, HydroWave, Sunline, Super Clean, Sawyer Products, Arctic Ice, Sure Life, Gemini Jerseys, Temple Fork Outfitters, and Florence/Lauderdale Tourism.
Anglers were also treated to a guest appearance from Cabela's and Ranger Pro, David Walker. Anglers listened with full focus as the B.A.S.S. Elite series angler talked about how he got into professional bass fishing through dedication and perseverance.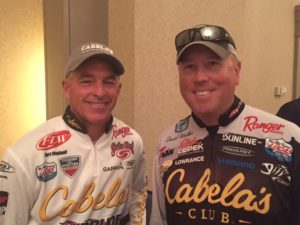 Just before drawing boat numbers for the event at the last part of the evening, anglers were given an opportunity to win even more free gear in a raffle, including prizes such as Abu Garcia reels, Sunline, Mustang Lifejackets, Arctic Ice, BUFF®, and Lucas Oil Products. After the raffle, anglers received their boat number and a $50 American Express Gift Card for anglers to purchase anything of their choosing, whether it is gas, food, or last minute tackle for the tournament.
Anglers left the event with shoulders held high, smiles on their faces, and determination to fish to their absolute best abilities in the morning in Day 1 of the 2016 BoatUS Collegiate Bass Fishing Championship Presented by Cabela's.
To find out more information on the action-packed week of events scheduled for the 2016 BoatUS Collegiate Bass Fishing Championship Presented by Cabela's, including live coverage from all the events visit www.CollegiateBassChampionship.com or click here: More Details
To see additional coverage on our Facebook, click here: https://www.facebook.com/CollegiateBassChampionship
Also, follow us on Instagram and Twitter at @CollegiateBass
About the ACA
The Association of Collegiate Anglers, a division of Careco TV, is a sanctioning body developed to facilitate growth, development, and structure within competitive collegiate bass fishing. The ACA provides support to dozens of school operated regional events nationwide and owns the Cabela's Collegiate Bass Fishing Series, the largest participatory collegiate tournament circuit in the country.  With dedicated collegiate fishing programming on several television networks, four nationally televised collegiate bass fishing events, and thousands of members, the ACA is the leader in competitive collegiate bass fishing.  For more information on the ACA, or the Cabela's Collegiate Bass Fishing Series, visit www.CollegiateBassChampionship.com. For more information on Cabela's visit Cabelas.com, for more information on CarecoTV, visit www.carecotv.com.
https://www.collegiatebasschampionship.com/wp-content/uploads/2016/11/IMG_4021.jpg
480
640
Shelley
https://www.collegiatebasschampionship.com/wp-content/uploads/2023/03/2022_CBFS_JM-White-300x194.png
Shelley
2016-05-25 17:19:57
2016-11-17 17:25:42
The 2016 Championship Registration Banquet Exceeds Anglers' Expectations