The 2016 BoatUS Collegiate Bass Fishing Championship Presented by Cabela's:
SEC Showdown Style
After Day 1 of the 2016 BoatUS Collegiate Bass Fishing Championship Presented by Cabela's, it is clear that the SEC came to play for keeps. Currently sitting in first place is Louisiana State University's JP Kimbrough and Devine Deramus, followed by John Davis and Payton McGinnis from the University of Alabama in second, and Auburn University's Cole Burdeshaw and Mitchell Jennings in third. In a rivalry that not only exists on the water, these three SEC schools now have an extra bragging rights incentive, on top of Cabela's School of the Year points and thousands of dollars in prizes, to claim the top spot in this Championship event.
Weighing in right at 23.06lbs, Louisiana State University (LSU) laid it all on the line to claim the Day 1 lead. Using their practice days to locate schools of fish along the miles of ledges that Pickwick Lake has to offer, LSU used this morning as a true judgement of their graphing in practice, which just so happened to be right down the lake from their SEC rival and second place team, the University of Alabama.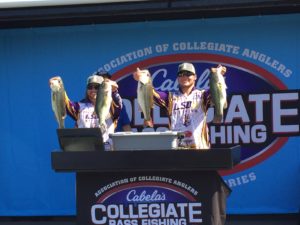 "It's hard to judge how you're going to do in practice because basically you idle every day, but we had one school marked in particular and pulled up to it first thing this morning and caught a four pounder on the first cast," said Kimbrough. "It's not really the best thing to fish right next to your competitor because of the mental games it can play but, that's our only spot and we'll be there all day tomorrow whether we see anyone else there or not."
Kimbrough added that "no one over west has really won this Championship before and all these teams in this region think that Louisiana guys only know how to throw a frog, so we want to show everyone that we know what we're doing and we're here to stay."
"It means a lot to be on top right now. Being on top is always nice and it's a feeling you can't get anywhere else. It's like Friday Night Lights I guess you could say," Deramus said. "It'd definitely be nice to beat Alabama. As far as football goes, we've been rivals for a long time and you always want to beat your rivals."
As the University of Alabama team of John Davis and Payton McGinnis trail first place by less than a pound with 22.19lbs, the SEC rivalry only strengthens the team's competitive nature to position themselves in first place. After fishing just down lake of the Day 1 leaders, Davis and Mcginnis are that much more set on claiming victory on Day 2 over the SEC rival.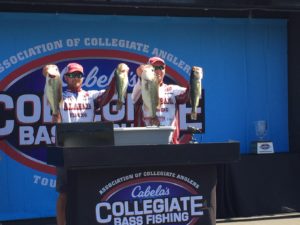 "With the SEC schools being up there with us, we definitely want to be the top SEC school. It's not only a football conference, it's a fishing conference too," McGinnis said.
"It definitely makes a difference fishing next to your competitors, especially when they're LSU and Auburn," added Davis. "LSU is definitely our biggest football rival and we can't let them win on the water either, so it gives us a little more motivation to pass them in the standings tomorrow."
While also leading the Cabela's School of the Year race, the University of Alabama now has a different set of bragging rights they are looking to obtain at the end of the Championship event.
"School of the year is closing in now and having two teams in the top ten of the Championship really can help make our goal of winning the School of the Year a reality after the last double points event of the year," said Davis, "but it would also be nice to do it while we beat the other SEC schools here at the Championship as well."
Known across the nation as one of the biggest football rivalries in the nation, the Alabama versus Auburn rivalry takes to the water as the Auburn University team of Cole Burdeshaw and Mitchell Jennings sit right behind the University of Alabama in third place on Day 1 with a weight of 21.56lbs. Being from a large football school, Burdeshaw and Jennings feel the school pride off and on the water.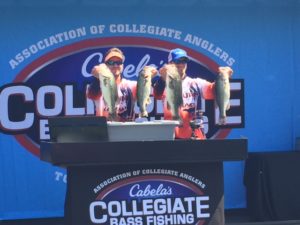 "There's definitely some competition in it between the top three SEC teams aside from everyone else," said Burdeshaw. "We were joking about beating Alabama after weigh in and competition is something we look forward to at each event, but in this one, it's awesome to have all SEC teams at top and you could say it's definitely going to be an SEC Showdown."
"It would mean a lot to us to win the Championship and beat the other SEC teams. Auburn doesn't have any championship wins among any circuit so this would be great for our school and something we'd like to keep in the state too. The rivalry between Alabama and Auburn goes on every year and as far as the SEC showdown goes in the top three, we want to be the ones to take home the trophy," said Jennings.
As many thought that conference rivalries solely exist on a playing field, clearly, they've never seen three SEC collegiate bass fishing teams battle it out for the 2016 BoatUS Collegiate Bass Fishing Championship Presented by Cabela's. The famous conference rivalries exist not only on land, but on water as well, and this rivalry continues on Pickwick Lake in Florence, Alabama tomorrow morning.
The Top Ten from Day 1 are as follows:
| | | | |
| --- | --- | --- | --- |
|   | Team | School | Total Wgt |
| 1 | James Kimbrough-Devine Deramus | Louisiana State University -Shreveport | 23.06 |
| 2 | John Davis-Payton Mcginnis | University of Alabama | 22.19 |
| 3 | Cole Burdeshaw-Mitchell Jennings | Auburn University | 21.56 |
| 4 | Koby Littrell-Martin McCravy | University of North Alabama | 21.05 |
| 5 | Evan Owrey-John Garrett | Bethel University | 20.35 |
| 6 | John Maner-Colby Harville | University of North Alabama | 20.06 |
| 7 | Adam Neill-Anderson Aldag | University of Alabama | 18.56 |
| 8 | Nick Ratliff-Ben Riggs | Campbellsville University | 18.22 |
| 9 | Zach Ziober-Dakota Ebare | Tarleton State University | 17.88 |
| 10 | Brody Mcwilliams-Tony Cress | Indiana University | 16.76 |
For the full Day 1 Results, click here!
To watch these three teams battle it out on Pickwick Lake tomorrow, be sure to check out our Live Blog for updates throughout the day! You can also watch the final weigh in live at www.collegiatebasschampionship.com to see who will be crowned the 2016 BoatUS Collegiate Bass Fishing Champions!
To see additional coverage on our Facebook, click here: https://www.facebook.com/CollegiateBassChampionship
Also, follow us on Instagram and Twitter at @CollegiateBass
About the ACA
The Association of Collegiate Anglers, a division of Careco TV, is a sanctioning body developed to facilitate growth, development, and structure within competitive collegiate bass fishing. The ACA provides support to dozens of school operated regional events nationwide and owns the Cabela's Collegiate Bass Fishing Series, the largest participatory collegiate tournament circuit in the country.  With dedicated collegiate fishing programming on several television networks, four nationally televised collegiate bass fishing events, and thousands of members, the ACA is the leader in competitive collegiate bass fishing.  For more information on the ACA, or the Cabela's Collegiate Bass Fishing Series, visit www.CollegiateBassChampionship.com. For more information on Cabela's visit Cabelas.com, for more information on CarecoTV, visit www.carecotv.com.
https://www.collegiatebasschampionship.com/wp-content/uploads/2016/06/CBFC_Button-e1480444540195.png
300
300
Shelley
https://www.collegiatebasschampionship.com/wp-content/uploads/2023/03/2022_CBFS_JM-White-300x194.png
Shelley
2016-05-27 17:00:13
2016-11-18 13:16:09
The 2016 BoatUS Collegiate Bass Fishing Championship Presented by Cabela's: