The University of North Alabama Takes Big Lead on Day 1 of the Collegiate Bass Fishing Open Presented by Cabela's
Louisiana Tech University and University of Wisconsin – Platteville Trail in Second and Third Respectively 
By Cody Levy
Day 1 of the Collegiate Bass Fishing Open Presented by Cabela's started as a clear, chilly morning with fog rolling across the dead calm Lake Dardanelle in Russellville, Arkansas. As some anglers saw it, it was a totally different lake than what they saw the day before with twenty five mile an hour winds and a cloud covered sky.
For the University of North Alabama team of Caleb Dennis, Sloan Pennington, Triston Crowden and Makenzie Henson, they didn't believe conditions could be so good after such a rough practice in the brutal weather; however, the four man team was able to overcome the change in conditions and weigh in the heaviest bag of the day at 23.71lbs. The team planned on fishing completely different patterns, but thanks to the drastic change in conditions, they were able to adjust and bring a solid six fish limit to the stage.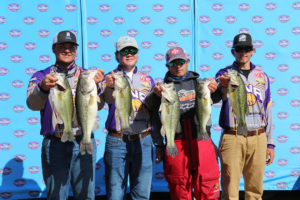 "This morning got a lot colder than I thought it would and the weatherman thought it would," said Henson, the only sophomore among a team of all freshman. " We didn't expect it to go this good today."
On the same boat as Henson, Crowder added that even though the weather was a lot nicer than the days prior, "It was still tougher than we expected with the change in weather, and we caught all our fish in the last two hours of the day. We were able to make good decisions and adjustments that helped us end our day strong."
Fishing in the other boat, Dennis and Pennington were able to grind the day out to find their fish deeper than they found them in practice. Rather than finding the fish up shallow relating to cover, the team found them out a little deeper on a flat next to main channels.
"We didn't expect the weather to be so perfect today and it actually changed the pattern we had figured out in practice so we had to adjust. We started throwing spinnerbaits and chatterbaits and started catching better quality fish. The bigger the spinnerbait, the bigger the fish," said Dennis.
When the UNA Lion Bass Team comes to mind, the Cabela's School of the Year title is almost synonymous as they are the reigning two-time Cabela's School of the Year. Though a very young team, all four anglers know the importance of every single fish in every tournament, especially in a double points event like the Collegiate Bass Fishing Open Presented by Cabela's.
"Our team is a legacy based on our history of being number one in the Cabela's School of the Year race now for the past two years and winning this event could really help us out being double points," said Dennis.
"We all feel good about tomorrow," added Henson. "Knowing that this could possibly jump us into first place in the Cabela's School of the Year rankings is a big deal for our team and winning that title three years in a row will be hard to beat."
Louisiana Tech University Ranks Second
Additionally competing as a four man team, the Louisiana Tech team of Adam Forester, Scott McClellan, Elijah Cain, and Tyler Moses weighed in 18.09lbs for second place on Day 1 of the Collegiate Bass Fishing Open Presented by Cabela's.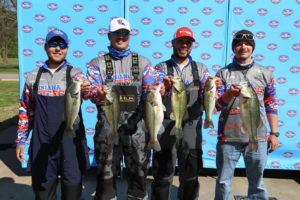 With the weather being a factor in everyone's game plan, Louisiana Tech decided to continue their pattern of fishing rip rap, despite the drastic changes, with only minor adjustments.
"Our two boats fished in different locations today, but we all fished reaction baits near rock," said Forester. "We already had a tough practice so the change in conditions didn't really do much to us."
"Our primary bait was a square bill in a specific color," said McClellan. "We fished in Illinois Bayou and Piney Creek while the other half of our team fished in Spadra. Overall we were able to stick with the pattern we figured out earlier in the week and we're hoping for a good finish tomorrow."
Looking forward to the final day of competition, the Louisiana Tech team hopes for a strong finish to gain valuable points in the Cabela's School of the Year race.
I'm very happy with my team's performance today," said Cain. "We all fished hard and managed to catch som pretty good fish. I hope tomorrow goes just as well so we can climb in the standings."
Moses added that "while today's results do not affect our School of the Year points, a good finish here should put us in the top ten!"
University of Wisconsin – Platteville Takes Third
Differing from the top two teams in the Collegiate Bass Fishing Open rankings, the University of Wisconsin – Platteville team sitting in third place with 16.65lbs is comprised of only two members fishing out of the same boat – Alec Garrison and Aron Pontillo. Similar to the University of North Alabama, however, this young UW – Platteville team is comprised of two freshmen who are hungry to become the Collegiate Bass Fishing Open Presented by Cabela's Champions.
With weather also heavily affecting the information they collected during their practice, Garrison and Pontillo chose to stick with the areas they found in practice for the event.
"The cold front in the morning made for a slow bite, but it ended up getting better as the day went on," said Garrison. "We covered as much water as possible fishing anywhere that had cover."
"We fished mainly outside of Spadra and in Illinois Bayou," added Pontillo. "It was about a twenty mile run, but it was worth it. We fished swim jigs and crankbaits throughout the day and that was key. The fish we were on were chasing moving baits."
The freshman team stated that while they did have a solid limit to end the day, they had a few more that would have helped the cause.
"I think overall we did, but we could've done better," said Pontillo. "We lost some key fish that would've helped cull from each of our three fish and we believe they would've helped us jump in the rankings, but we're looking forward to fishing again tomorrow."
The remaining top ten in the Collegiate Bass Fishing Open Presented by Cabela's are as follows:
4. Murray State University – 15.64lbs
5. University of Texas – Tyler  -15.08lbs
6. Louisiana State University – 14.79lbs
7. Louisiana Tech University – 14.63lbs
8. Oklahoma State University – 13.83lbs
9. Arkansas Tech University – 13.61lbs
10. Dallas Baptist University – 13.00lbs
Be sure to check out the From the Water Live Blog for the complete Session Results and event highlights!
Also, follow us on Facebook throughout the day for coverage and pictures from the water!
To watch the Live Weigh-in Powered by Ram Trucks, click here: https://www.collegiatebasschampionship.com/live-video.html
https://www.collegiatebasschampionship.com/wp-content/uploads/2016/06/CBFC_Button-e1480444540195.png
300
300
Shelley
https://www.collegiatebasschampionship.com/wp-content/uploads/2023/03/2022_CBFS_JM-White-300x194.png
Shelley
2016-03-26 16:55:57
2016-11-29 18:38:46
The University of North Alabama Takes Big Lead on Day 1 of the Collegiate Bass Fishing Open Presented by Cabela's