Live Blog: Wednesday, May 23rd – Final Practice Day!

Wednesday, May 23 1:45 P.M.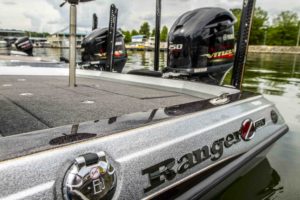 Ranger Boats was also on hand last night as part of Yamaha Angler Appreciation Night.  This year is a milestone year for Ranger Boats.  The company is celebrating their 50th anniversary.  Matt Raynor, Marketing Director for Ranger Boats, was on hand for last night's festivities.  Raynor acknowledges that 50 years in the boat business is a major achievement, "We're just fortunate as a brand to have such a rich history and heritage started by Forrest Wood in 1968.  All of the work that has gone in over 50 years to build this brand into what it is today, I don't think the fishing industry would be here if it wasn't for Forrest and the folks at Ranger over that time."
During the angler appreciation night, Ranger provided boats powered by Yamaha outboards for the college competitors to take a test ride in.  The boats provided were the 50th anniversary Ranger Z Comanche L Series.  The L Series continues the Ranger legacy of "still building legends one at a time."
Ranger's support and involvement in college fishing is a key component of their business.  By being involved in college fishing, Ranger is able to develop relationships with young anglers that can last a lifetime.  "One of the things that I think is most appealing about college fishing, high school fishing for that matter, to a company like Ranger is the snapshot this gives you for the future of the sport. It's an amazing opportunity to get them in our product, get first hand experience, and develop that relationship early as they go about a career of fishing themselves."
As part of their dedication to collegiate anglers, Ranger offers the Ranger Cup University incentive program.  For further details on this program and to get qualified follow this link.
Wednesday, May 23 11:45 A.M.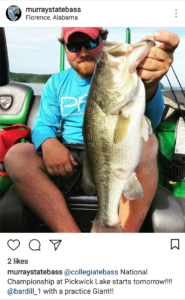 Murray State University is checking in with a nice largemouth caught during practice!  That is one good looking fish.  We have received numerous pictures throughout the week of fish this size.  There are teams that are piecing the puzzle together.  We are looking forward to seeing what is brought to the scales over the next few days!
Wednesday, May 23 11:25 A.M.
At last night's Yamaha Angler Appreciation Night, Garmin and professional angler Brock Mosley set up on the dock at McFarland Park and provided product demos showing the capabilities of Garmin PanOptix.  PanOptix is a game changing technology that Brock says can make you a better angler, "Garmin is staying ahead of the game, like with this PanOptix.  Being able to see what is out in front of you before you get to it, it really helps out and makes you a better angler."
Garmin PanOptix has two separate settings that offer different perspectives for the angler.  LiveVu forward and LiveVu Down are the settings at which Garmin PanOptix can be ran.  The real time image gives anglers a live view of what is going on in the water around them.  Mosley says that on a lake such as Pickwick, this technology is extremely helpful, "It definitely makes you better aware, especially when you get to see how the fish is reacting to your bait.  If you're on a school of fish, like here on Pickwick, you can tell if they're reacting good to a crankbait or if they need something slower like a worm or a jig."
Another issue encountered when fishing offshore structure is wasted time.  From casting blindly to an expansive area, to idling endlessly for hours in search of schools of fish, offshore fishing can be a time consuming endeavor.  With Garmin PanOptix, professional angler Brock Mosley says he is a more efficient angler, "Being able to see exactly where that school is, is really important.  You're not casting around searching for it.  You know that this one cast right here, that's where the fish are."
Brock has spent a good bit of time on Pickwick Lake throughout the years.  He is very familiar with this body of water during the summer months.  In the video posted above, watch as Brock gives his analysis of what is going on out on Pickwick this week.
Wednesday, May 23 9:00 A.M.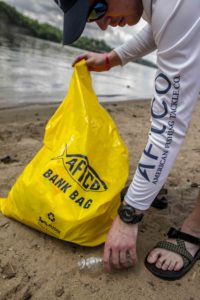 This portion of today's blog is presented by AFTCO.  One of their main initiatives is conservation and preserving the very resources we enjoy.  At this week's event, AFTCO is implementing the Bank Bag program.  The goal is for each competitor to take one of these bags, and over the next few days collect trash and debris to fill the bag.  By the end of competition, anglers can turn in these bags to receive a $25 AFTCO gift card.  If an angler turns the bag in directly to Wade Middleton, they will receive an additional $25 Cabela's gift card.  For further details into this partnership click here.
Wednesday, May 23 7:55 A.M.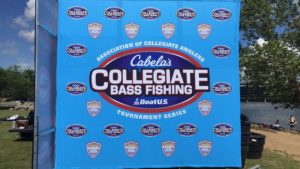 The final day of official practice is underway!  Things are setting up well for a good final day of tournament preparation.  Weather should not be an issue for today.  Highs are projected to reach near 90 degrees, with winds light and variable out of the north, northeast.
Once again, these are perfect conditions for the anglers to get out on the ledges to graph around and fish.  The ledges will definitely be a key player over both days of tournament competition.  Several anglers shared images from their electronics that they grabbed while out on the water during practice.  Fish are definitely stacked up out deep.  From the images shared, schools of 40-50 fish are congregating out deep on Pickwick's storied ledges.  Finding the right size fish will clearly be the difference maker beginning tomorrow.
As we receive more reports and pictures today, we will continue to provide further insight into tournament preparation.  The Angler and Sponsor Banquet is tonight, with registration beginning at 2:30 pm.
https://www.collegiatebasschampionship.com/wp-content/uploads/2018/02/AFTCO-Joins-the-ACA.jpg
600
1000
Amanda
https://www.collegiatebasschampionship.com/wp-content/uploads/2023/03/2022_CBFS_JM-White-300x194.png
Amanda
2018-05-23 05:00:09
2018-05-23 14:50:07
Live Blog: Wednesday, May 23rd – Final Practice Day!