Live Blog: Tuesday Afternoon, May 22nd – Yamaha Angler Appreciation Night!

Tuesday, May 22 10:10 P.M.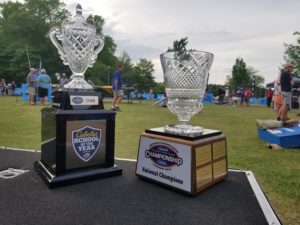 Dock talk was in full force tonight at Yamaha Angler Appreciation Night.  All of the anglers are focused on hoisting the championship trophy at the end of the day Friday.  For the schools with a shot at the Cabela's School of the Year presented by Abu Garcia, the other focus is on taking home that hardware.
What pattern will prevail for the winning team to separate themselves from the field?  The one word being mentioned most frequently tonight was "ledges".  The fish are several weeks removed from spawning and are making the annual migration out to deep water.  As is evident with many anglers reporting they feel as though the fish are coming to them.  The amount of fish being caught has grown each day.
The winning weight was another key discussion.  In years past, it has consistently taken two days of over 20 lbs to win.  Anglers seem to agree that the same should be true for this year.  There are starting to be whispers that if the current sets up right, this event could turn into a slugfest.
In just a few short days we will see how things play out, and some lucky college anglers will be hoisting these trophies high!
Tuesday, May 22 7:40P.M.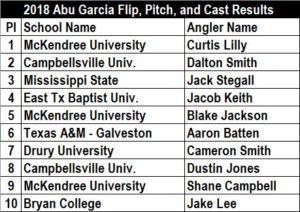 Yamaha Angler Appreciation Night has concluded!  The final results for the Abu Garcia Flip, Pitch, and Cast contest are posted above.  The anglers walked home with hands full of prize, and grins on their faces.
With all of the anglers concentrated in one area, we had an opportunity to speak with several of them.  Tonight we will provide further insight to the patterns producing out on Pickwick, and the possible weights it could take to place well.
Tuesday, May 22 7:20P.M.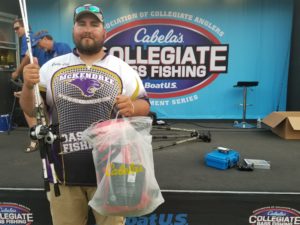 The Abu Garcia Flip, Pitch, and Cast contest is now complete!  Curtis Lilly from McKendree University takes home 1st place!  We will post a leaderboard with the final results shortly.
Tuesday, May 22 6:35 P.M.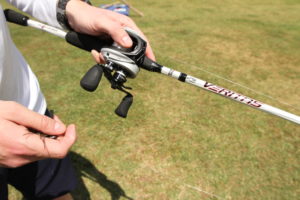 The Abu Garcia Flip, Pitch, and Cast contest is coming to an end.  Anglers are competing to win various prizes!  This has been a fun, and exciting competition that the anglers all enjoy.  Who will win?  We should find out shortly!
Tuesday, May 22 6:15 P.M.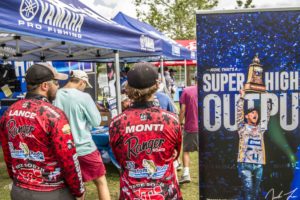 Yamaha Angler Appreciation Night is a chance for the sponsors to show their appreciation and support for these college anglers.  Hunter Bland, a Yamaha pro staff member and touring angler, is a former college fisherman himself and is proud to be here in support of this event.  "When I fished this event in college, the red carpet gets rolled out for these anglers.  Now, being a pro on the other side of it, it's just incredible."
Yamaha provides tons of resources to the anglers participating in this event, and to collegiate bass fishing as a whole.  From promoting conservation, to discount programs, all the way to engine care and maintenance, Yamaha supports the sport of bass fishing to the fullest.
Tonight's event is significant both to Yamaha and the sport of collegiate bass fishing, and Bland shares this same sentiment, "From a Yamaha standpoint, we are so proud to support and be a tile sponsor of this event.  It's another way for us to give back to these young anglers coming up."  Thanks to Yamaha and all of our sponsors who helped make tonight possible!
Tuesday, May 22 5:30 P.M.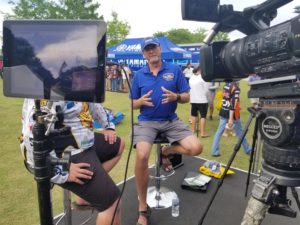 Be sure to check out the livestream from Yamaha Angler Appreciation Night.  Wade Middleton is interviewing anglers and sponsors here live on stage.  View the livestream by visiting our Facebook page.
Tuesday, May 22 5:00 P.M.
Dinner is served!  The traffic is picking up here at McFarland Park in Florence, Alabama.  Yamaha Angler Appreciation Night is getting cranked up.  Anglers are able to do test rides in Ranger Boats powered by Yamaha Outboards, try on outerwear from Gill, as well as check out Garmin PanOptix.
Tuesday, May 22 4:05 P.M.
Yamaha Angler Appreciation night is officially underway.  Anglers are beginning to roll through, talking to sponsors and getting signed up for prize giveaways.  More details and information to follow as the night goes on!
Tuesday, May 22 3:20 P.M.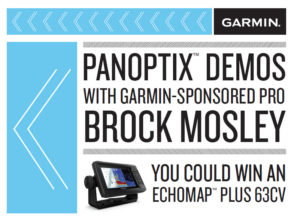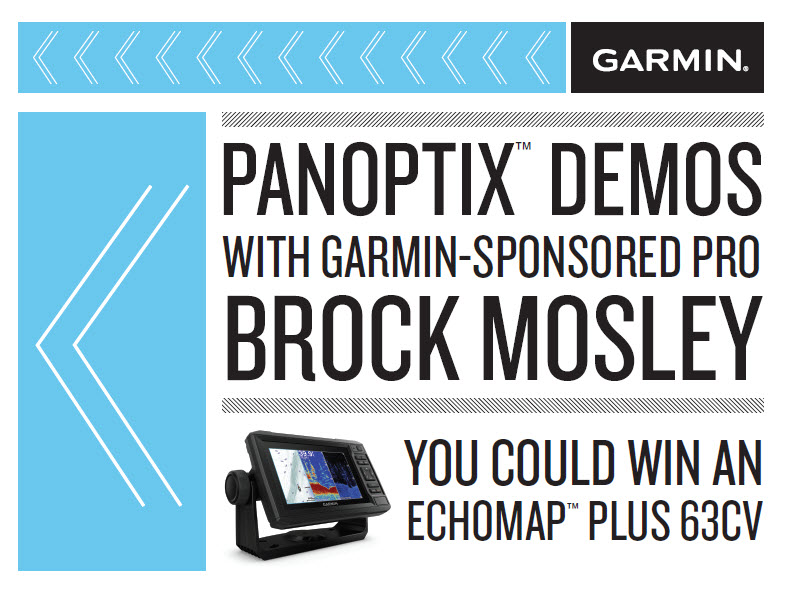 Yamaha Angler Appreciation Night is just about 45 minutes away from getting kicked off.  Garmin will also be on hand to support the anglers.  They will be providing PanOptix demos for the anglers to see how this game changing technology works.  For more info on tonight's festivities from Garmin click here.
Tuesday, May 22 3:00 P.M.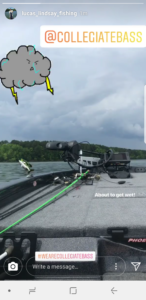 The chance for afternoon showers are increasing.  It looks like there could be some storms in the area throughout the afternoon, but likely it will all miss the event site here in Florence.  Forecasts show similar conditions for the rest of the week.  So there is a chance anglers will see some rain throughout the week.
Tuesday, May 22 2:35 P.M.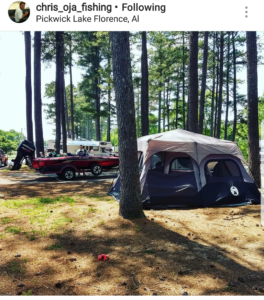 Championship week is one of the most important times of the year for college anglers, and they will get here by any means possible.  Chris Oja from Ferris State is "roughing it" this week by camping out in a tent.  Chris placed well at the Big Bass Bash presented by Berkley back in March on Kentucky Lake.
Tuesday, May 22 1:45 P.M.
During this year's event, anglers will have the opportunity to lock up to Wilson Lake.  In order to make the morning window to lock up, anglers will have to be in the lock by 7 am.  Once the afternoon rolls around, 1 pm is the deadline to be back in the lock to return down to Pickwick.  Boats locking through will be required to have two mooring ropes, and two buoys.
Locking up to Wilson Lake can be a huge gamble.  Just a few years ago, FLW Tour pro Clark Wendlandt made the decision to lock up on the first tournament day, "Last time I fished here on Wilson, I locked up and was doing pretty good."  When the afternoon rolled around, a barge ended up getting stuck in the lock and the 27 competitor boats got stuck up on Wilson Lake.  By the time the anglers made it back down to Pickwick Lake, most all of them were late for their check in times and were not able to weigh in.
Clark does not believe this tournament will be won by locking through to Wilson Lake, "Word is, Pickwick is fishing really good and I have a hard time believing Pickwick will be beat by Wilson."  Wilson has played a factor in this championship only one time in the past.  Anglers made the long drive all the way up to the Wheeler Dam and were catching quality fish in the tailrace as the current was moving swiftly.  I have yet to speak to any anglers planning on locking up, but we should get a better idea of the importance of Wilson Lake as the event nears.
Tuesday, May 22 12:15 P.M.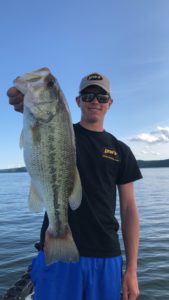 Hayden Lee from Missouri State University just sent in this nice fish from out on the water.  It's beginning to warm up here in Florence, and there is no doubt that the fish are going to be hanging out on those deep ledges.  The action should continue to pick up as the afternoon goes along.
https://www.collegiatebasschampionship.com/wp-content/uploads/2018/05/Blog-8.jpg
600
1000
Amanda
https://www.collegiatebasschampionship.com/wp-content/uploads/2023/03/2022_CBFS_JM-White-300x194.png
Amanda
2018-05-22 12:15:22
2018-05-22 23:18:33
Live Blog: Tuesday Afternoon, May 22nd – Yamaha Angler Appreciation Night!