Live Blog: Wednesday, May 23rd – 2018 Angler & Sponsor Banquet!

Tuesday, May 23 9:25 P.M.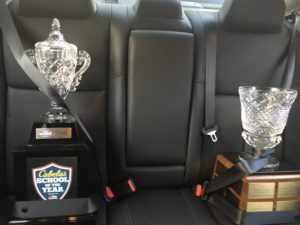 The trophies are on their way home to get some rest tonight.  In two short days these two items will be at the center of college bass fishing as winners are crowned for both the championship and the school of the year race.
It's going to be interesting to see how good the fishing truly is tomorrow.  Predictions from the anglers tonight range from 46-53 lbs for the two day winning total.  During this event it usually takes a two day average of more than 20 lbs to claim the title.  I would not expect this year to be any different.
We will resume coverage on the live blog beginning bright and early in the morning!
Tuesday, May 23 8:20 P.M.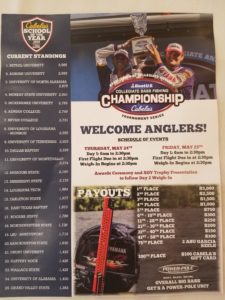 In our final coverage of the Cabela's School of the Year presented by Cabela's for today, we focus now on the team in the top spot.  Bethel University holds a commanding lead entering this event leading by over 600 points.  Tonight we spoke with team member John Garrett and he says the team is feeling good about their lead, "Everybody is thrilled to be ahead by what we are, and have a chance to be here and win."
Heading into tomorrow Bethel all but has the SOY title wrapped up.  By weighing in limits of fish both days, there is a good chance Bethel leaves Florence with the trophy in hand.  When it comes to catching fish the next two days Garrett feels confident in the patterns they are running, "We've all found schools of fish offshore.  We've all found some decent sized fish, it's just getting on them and getting them to bite."
A member of our crew will be going out with a team from Bethel to start the morning.  As on the water reports come in, we will provide updates on their day on the water.
Tuesday, May 23 6:40 P.M.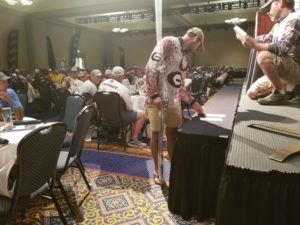 Boat numbers are being handed out as the Angler and Sponsor Banquet wraps up.  It was a great turnout here in Florence!  We are excited to get things started in the morning!
Tuesday, May 23 6:15 P.M.
Second place in the current Cabela's School of the Year presented by Abu Garcia is Auburn University.  Auburn currently sits just over 600 points behind Bethel University entering this event.  This has been a great year for the school as a whole and club member Sean Murphy is proud of the team's efforts this year, "As a school, we're ecstatic to be second in school of the year.  It's really big for us.  We've been able to send more people this year than we ever have to these tournaments."
Starting tomorrow morning, Auburn will begin the final leg in the chase for the Cabela's School of the Year.  Murphy feels confident in the pattern they found in practice and is looking forward to starting the event, "We're on something.  We're hoping to bring five to the scales each day.  We're going to work hard to have whatever it is we have."  As weigh-in begins tomorrow, we will keep an eye on the teams involved in the race for Cabela's School of the Year presented by Abu Garcia.
Tuesday, May 23 6:00 P.M.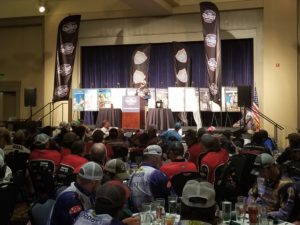 Ranger Boats pro and Forrest Wood Cup Champion Justin Atkins is addressing the crowd now.  A former college angler himself at Mississippi State University, Justin is not far removed from fishing at this level.
Tuesday, May 23 5:20 P.M.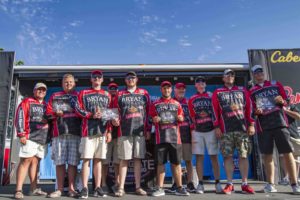 At the end of this week's event, a new champion will be crowned in the Cabela's School of the Year presented by Abu Garcia.  Bryan College is the reigning champion, and their claim to the title will be relinquished by the end of the week.  The chase to win a year long title is a true challenge.  Cole Sands, a member of the Bryan College fishing team, knows this to be true, "It was huge to finally accomplish it.  We just worked so hard for it and our team wanted it so bad."
This year, Bryan sits further out of the race, and as a team are not as focused on claiming the Cabela's School of the Year title.  Sands says this is helping to ease their nerves, "Last year we had a lot of pressure leading school of the year coming into this tournament to do good. This year we can focus on winning this tournament and not have as much pressure on us."  Having some of the pressure off could help the team to fish more freely.  On the eve of this championship Cole and his partner are feeling good about their chances, "We're actually really excited about this one.  This has been one of our best practices we've ever had.  I think we've got just as good a shot at winning this as anyone else does."
Tuesday, May 23 4:55 P.M.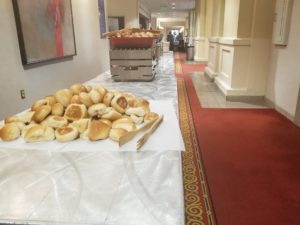 Dinner starts at 5:00 pm!  The food sure does look good.  Here shortly, all of these rolls will be gone, along with the other food being provided.
Tuesday, May 23 4:15 P.M.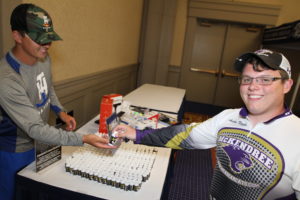 Fish care will be front and center this week during the BoatUS Collegiate Bass Fishing Championship presented by Cabela's.  With warm temperatures, and some of these anglers driving long distances to get back to the boat ramp, the quality of the water in the livewells is very important.  At tonight's banquet, TH Marine is handing out G-Juice Livewell Treatment and Fish Care Formula.  Each angler will receive one bottle as they come through the booth tonight.  These samples will come in handy as the anglers prepare to bring fish in to weigh-in tomorrow.
Tuesday, May 23 3:55 P.M.
Out on Pickwick and Wilson Lakes this week anglers have access to tow boats courtesy of BoatUS.  If a tow boat is required, the angler is responsible for any payment required.  The contact number for each service is listed below:
Wilson Lake: 954-372-6281                       Wilson Lake: 731-607-3172
Tuesday, May 23 3:25 P.M.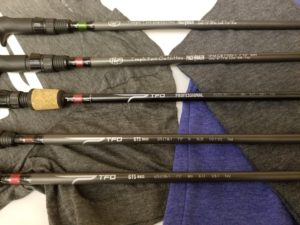 One of the sponsors set up for tonight's banquet is Temple Fork Outfitters.  TFO Rods offers a wide variety of rods designed for freshwater, and bass fishing anglers.  Representing TFO here tonight is pro staff member, and former Bassmaster Classic Champion Cliff Pace.  Pace and TFO are proud to be associated with college bass fishing, "We're just glad to be here.  We're glad to be a part of what this is and what it is to the industry itself.  It's a great opportunity for us to meet a lot of up and coming anglers."
As a professional touring angler, Cliff Pace has spent plenty of time on the Tennessee River.  Given the time of the year, he believes this tournament will be won on the ledges, "It should be an offshore tournament.  By now the fish are done spawning, they're going to be out in that current and it's going to be an offshore deal."  This prediction matches what we are hearing from the anglers this week.  Pace believes it will take 40 lbs for two days to win this event.
Tuesday, May 23 2:30 P.M.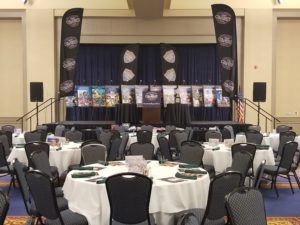 The stage is set and things are ready to get going here in Florence for the Angler and Sponsor Banquet.  Registration officially opens right now!  College anglers will be coming through shortly to kick off a fun-filled night!
https://www.collegiatebasschampionship.com/wp-content/uploads/2018/05/Blog-10.jpg
600
1000
Amanda
https://www.collegiatebasschampionship.com/wp-content/uploads/2023/03/2022_CBFS_JM-White-300x194.png
Amanda
2018-05-23 13:00:49
2018-06-06 14:32:07
Live Blog: Wednesday, May 23rd – 2018 Angler & Sponsor Banquet!