Live Blog: Tuesday Morning, May 21st – More Practice!

Tuesday, May 21st 8:00 AM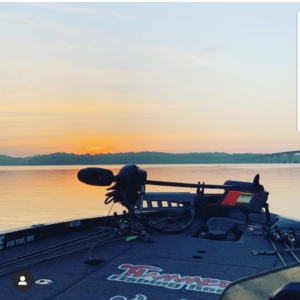 Official practice day #3 is under way.  We received this on-the-water picture from Ty Cox of Blue Mountain College this morning.  Blue Mountain enters this week in fifth place for the Bass Pro Shops School of the Year presented by Abu Garcia.
The School of the Year Race will come to an end on Friday with a winner being announced following weigh-in.  This year's chase for the number one spot has been hotly contested.  McKendree University enters this week in the number one spot.  Last season's School of the Year, Bethel University, is currently in third place.
Team's will be allowed to earn 'double points' this week.  That means that teams will be able to earn points for their highest two finishing teams inside of the top 100. First place will earn 1,000 points.  Given these parameters, that means a good majority of the teams inside of the top 10 have a realistic chance at claiming first place come Friday afternoon.
Tuesday, May 21st 9:25 AM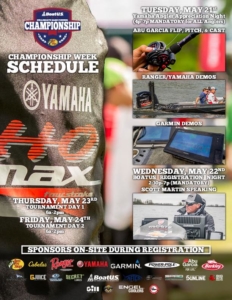 Yamaha Angler Appreciation Night begins today at 4:00 PM and will go until 7:00 PM.  Take a look at the top right of this graphic to view a list of activities set to take place tonight.
Tuesday, May 21st 10:20 AM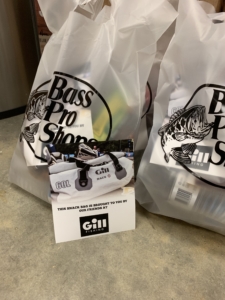 Snack packs for day two of competition are brought to you by Gill.  These bags will be available for anglers to pick up starting at 4:30 AM on Friday.  The pack will include water, muffins, snack items, and cookies.  Quite the treat for anglers to have out on the water!
Tuesday, May 21st 11:30 AM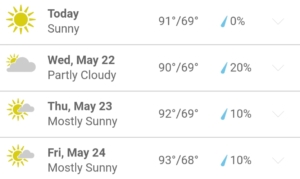 One word sums up the weather pattern for this week: hot.  High temperatures this week in Florence, AL will be nearing record highs towards the end of this week.
How will this factor into the bite out on Pickwick Lake?  I would be lead to believe that it will play right into these angler's game plans.  If these bass weren't yet out on the main river ledges, extreme heat will send them deep seeking cooler water temperatures.  For the anglers set up on main river ledges, this heat should be sending fresh fish their way.
Stay hydrated, wear sunscreen, and practice safe fish care!
https://www.collegiatebasschampionship.com/wp-content/uploads/2017/09/BOBS-MACHINE_MUSTANG_HAT_PFD.png
1080
1920
Shelley
https://www.collegiatebasschampionship.com/wp-content/uploads/2023/03/2022_CBFS_JM-White-300x194.png
Shelley
2019-05-21 04:00:11
2019-05-21 12:29:03
Live Blog: Tuesday Morning, May 21st – More Practice!