Live Blog: Tuesday Afternoon, May 21st – Yamaha Angler Appreciation Night

Tuesday, May 21st 12:15 PM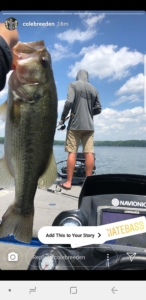 Here's a nice one from Cole Breeden representing Drury University.  There appears to be plenty of bites to be had from fish in the 3.5-5 lb. range.  The key will be finding five of those size bites on tournament day.
20 lbs. is the magic number here for a five fish limit.  Over the last few years at Pickwick Lake, a two day average of 20 lbs. has proven to be good enough to land a team inside of the top 10.
Tuesday, May 21st 1:15 PM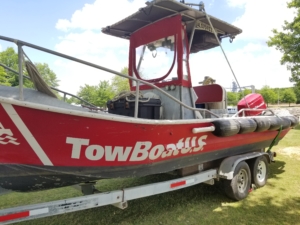 BoatUS is on site this week providing towing services with a tow boat.  Full towing services will be available to anglers competing in the Championship.  BoatUS is offering free towing services to all competitors this week.
BoatUS has been a proud sponsor of this Championship event for many years. That support continues this year at the 2019 BoatUS Collegiate Bass Fishing Championship presented by Bass Pro Shops.
Tuesday, May 21st 2:25 PM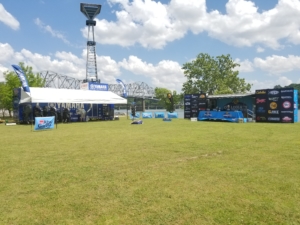 Preparations are being made, and things are set up for Yamaha Angler Appreciation Night.  Anglers are required to be off the water by 3:30 PM and the event will begin at 4:00 PM.  Anglers will be provided food, as well as activities including Garmin demos, Ranger boat rides, and the Flip, Pitch and Cast Contest.
We will be providing live coverage from the event throughout the evening!
Tuesday, May 21st 3:10 PM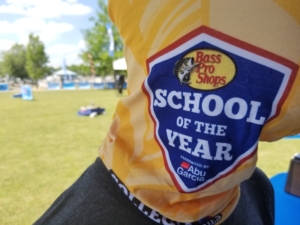 Here is a sneak peak at the special issue Buff Headwear: 'Yellow Jersey'.  This was specifically designed for the Bass Pro Shops School of the Year presented by Abu Garcia.  The leading team in the School of the Year race will sport these  during tournament competition.  That team this week is McKendree University.  McKendree anglers will be presented with these tonight, and will wear them for the rest of the week.
Tuesday, May 21st 4:45 PM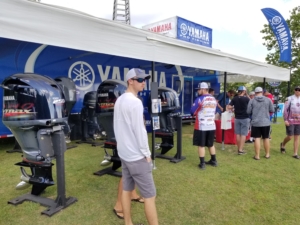 Yamaha Angler Appreciation Night has begun!  Anglers are making their way to McFarland Park in Florence, AL.  Here you can see competitors signing up for demo rides.  Ranger boats powered by Yamaha engines are powering them around Pickwick Lake.
Tuesday, May 21st 5:45 PM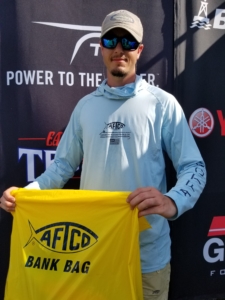 AFTCO is offering the Bank Bag Program again this year at the Championship.  Anglers can fill up this yellow bag with trash and receive a $25 AFTCO Gift Card.  This initiative will run all week, so be sure to help clean up and conserve such a valuable resource!
Tuesday, May 21st 7:55 PM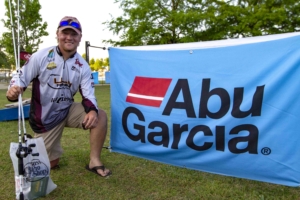 Taylor Kolb is the winner of the Flip, Pitch, and Cast Contest.  The angler from the University of Louisiana-Monroe won the final round on two casts.  He takes a home great prize package comprised of several rod and reel combos.
Tuesday, May 21st 8:55 PM
Day three of official practice and Yamaha Angler Appreciation Night are in the books.  It was a great day out at McFarland Park in Florence, AL.  Anglers ate pizza, competed in games, and some even took home a few prizes!
We also had the opportunity to talk to several of the teams competing.  As is the case each year, some teams are on them while others appear to be struggling a great deal.  There were also several mentions of Wilson Lake.  So that could be another player to keep an eye on tournament day.
Tomorrow afternoon will be the Angler & Sponsor Banquet.  There are a lot of great things in store for that event.  We will also have an opportunity to talk to more competitors about how the lake is setting up.  Wednesday promises to be a great day, and we will have more coverage on the live blog as well as across social media.
https://www.collegiatebasschampionship.com/wp-content/uploads/2017/05/Yamaha_1.jpg
3456
5184
Shelley
https://www.collegiatebasschampionship.com/wp-content/uploads/2023/03/2022_CBFS_JM-White-300x194.png
Shelley
2019-05-21 13:00:36
2019-05-21 21:56:45
Live Blog: Tuesday Afternoon, May 21st – Yamaha Angler Appreciation Night