Monday, May 20th 2:00 PM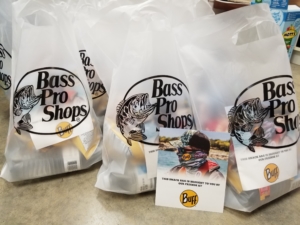 The crew is hard at work today preparing items for later in the week.  Right now we are filling snack bags for the anglers.  Each participating boat will receive a bag full of snacks and water to take with them for each day of competition.  The Day 1 snack bags are being brought to you by Buff USA Headgear!
Monday, May 20th 3:50 PM
Electronics will be key out on the ledges of Pickwick Lake this week.  We received this image of a Garmin unit from one of the anglers competing in the Championship.  You can see a school of fish holding pretty tight to the bottom in a little under 20 ft. of water.
This is what a school of bass will look like as these anglers scan around.  Pickwick is known for giant "mega-schools" of bass.  Such schools could be comprised of 100-200 fish.
Monday, May 20th 6:00 PM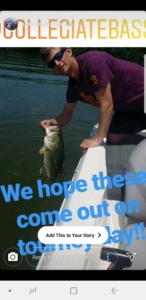 University at Buffalo found a good one on the second day of official practice!  That's definitely a quality looking fish.  Five of those on tournament day, and they'll be sitting in a good spot.
Monday, May 20th 8:50 PM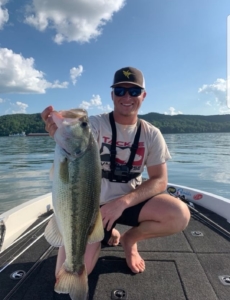 Jordan Thompson from Calhoun Community College earns big bass honors on the blog today!
The second official practice day for the BoatUS Collegiate Bass Fishing Championship presented by Bass Pro Shops is now in the books.  Tomorrow's practice schedule is different than the past two days.  Anglers will be allowed to practice from safe light until 3:30 PM.  Yamaha Angler Appreciation Night will run from 4:00 PM to 7:00 PM.  This will be a fun filled night of food, activities and prizes.
Thank you for following along with the blog today!  We will be back at it again tomorrow morning bringing you the latest from Pickwick Lake and Florence, AL.  Continue to check back to the website and social media channels for further coverage.
https://www.collegiatebasschampionship.com/wp-content/uploads/2018/11/SPRO_ARUKU-SHAD_EXPORT.jpg
800
800
Shelley
https://www.collegiatebasschampionship.com/wp-content/uploads/2018/11/2019-Bass-Pro-Shops-Collegiate-Bass-Fishing-Series-Association-of-Collegiate-Anglers-Boat-US-2-300x179.png
Shelley
2019-05-20 12:00:49
2019-05-20 21:54:55
Live Blog: Monday Afternoon, May 20th - Practice Day!