Live Blog: Thursday, May 25th – Day 1 From The Water

We're switching the live blog over to our weigh in coverage blog for those of you looking for updates for the rest of the afternoon.   Be sure and check that one out where you'll see updates as the day winds down to include a couple of GIANTs that have been recently caught as well as notes from the anglers at the weigh in.  Thanks for following us so far.
Thursday, May 25th 11:00am
Wanted to take a second and give a huge thank you to our camera crew for getting all the content for this BLOG, Facebook, Instagram, and for the Nationally Televised TV Show that will air in the coming months.
Thursday, May 25th 10:00am
Let's take a look at some of the decisions a tournament angler has to make before they even make their first cast. Should they make a long run first thing or stay close to take off, do they go for a limit first or start looking for the big bite. Do you go finesse with a drop shot or shakey head, do you drag a carolina rig, maybe throw a big jig, pull out the deep diving crankbait, maybe go shallow with a square bill, bring the alabama rig out, or throw a big topwater bait to draw them up? Next you have the five million color choices to pick from, what size weight to use, fish the bait fast or slow, do you have a constant retrieve or stop and go retrieve, maybe twitch the rod for some action or just keep it still, how heavy of line to use, do you use braid, fluorocarbon, or mono? Do you want to use spinning reels or bait casters, medium, medium-heavy, heavy, extra-heavy rods, are they going to use a short rod, medium length rod or a long rod?
Thats just some of what every angler on the water today had to ask themselves before they even made that first cast. Not many other sports that you have so many choices to make before you even begin the day and if you make the wrong one it could cost you the tournament. Now with being four hours into day one of the Championship you can bet these college anglers are all thinking along those lines.
Thursday, May 25th 8:03am
As we get just past 8:00AM on day one of the BoatUS Collegiate Bass Fishing Championship presented by Cabela's we're seeing quite a few fish catches being reported from the teams we've got coverage of. Our video camera teams started on the top four teams as ranked in the Cabela's School of the year race so our early coverage will feature early catches from Bryan College, Tennessee, North Alabama and Bethel while also bringing you a few shots from other random teams we come across. One thing for certain early just like any bass fishing tournament some teams are already culling while others are searching for the first bite of the day.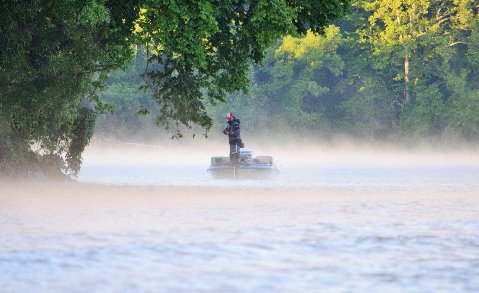 In practice it was mostly shorts and sandal weather with occasional needs to don rainwear.  Today, it's vastly different with all the anglers bundled up in sweatshirts and outerwear.   Those anglers going on long runs we're even bundled up even more.
This weather change has the anglers dealing with a late May cold front that has left the sky cloudless which will help some anglers and hinder others.    This could slow the bite considerably for many of the teams and very possibly make for a tougher day on the water early on than expected.   Already those anglers that stopped short of the far away ledges are starting to scratch their heads and wonder if they made the right call or not.
Thursday, May 25th 7:10am
Thursday, May 25th 6:50am
Thursday, May 25th 6:30am
Thursday, May 25th 6:10am
https://www.collegiatebasschampionship.com/wp-content/uploads/2017/05/Entry7_Pic.jpg
600
1000
Shelley
https://www.collegiatebasschampionship.com/wp-content/uploads/2021/05/2019-BPS_CBFS_logo-300x179.png
Shelley
2017-05-25 06:10:59
2017-05-25 18:09:45
Live Blog: Thursday, May 25th – Day 1 From The Water