Thursday, October 3 – 6:50 PM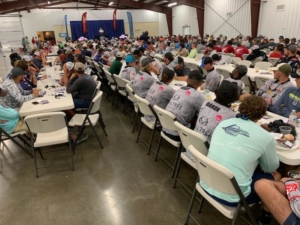 Registration is complete and anglers are headed back to prepare for the first day of competition tomorrow.  We will be closing down the blog for the night.  A thorough preview of the tournament will be posted to the website later tonight.  Also, the live blog will start up bright and early in the morning prior to 7:00 AM take off!
Thursday, October 3 – 1:50 PM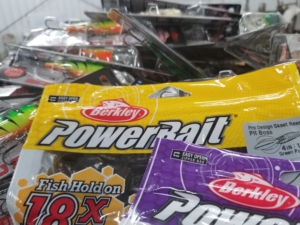 At tonight's registration dinner anglers will be able to pick out Berkley product to use in this weekend's event.  On day two of competition, anglers will be permitted to use only Berkley products while fishing.  A more in-depth description of those rules are available on our website.  Berkley has a wide range of products including crankbaits, topwater, various soft plastics, and much more.
Thursday, October 3 – 11:50 AM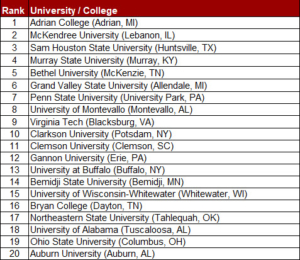 Here is a look at the current top 20 in the Bass Pro Shops School of the Year presented by Abu Garcia.  Adrian College continues to hold on to the top spot.  Several powerhouse schools are lurking close behind, and Sam Houston State managed to crack the top five.
This week at the Big Bass Bash will be a great opportunity for teams to improve upon their standing.  Since this is an ACA ran event, teams will receive points for their top two highest finishing anglers.  1,000 points will be awarded to the winner.  So if a team can place two anglers high up in the standings, they could earn well over 1,000 points.
Thursday, October 3 – 9:40 AM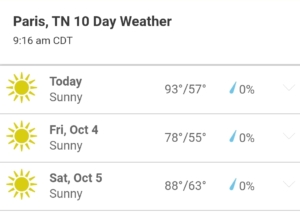 Weather is always an interesting factor during the fall.  Here is a look at the projected forecast for the next three days.  Though it is warm today, tomorrow's temperatures look to be considerably cooler.  Right now at Paris Landing State Park and Marina, it is very warm.  There is no breeze to speak of either.  That will make for a very warm and dry final day of practice.
Thursday, October 3 – 7:00 AM
Good morning on the final day of official practice!  Anglers have until about 3:00 PM today to find that winning pattern.  On today's blog we will share more details about the fishing conditions and projected weather forecasts.  We will also look at the School of the Year standings, talk about Berkley baits, and much more as we get ready for the tournament to begin tomorrow.
Stay tuned to the blog today for the latest updates from Paris, TN and Kentucky Lake!
https://www.collegiatebasschampionship.com/wp-content/uploads/2019/05/IMG_3938.jpg
3456
5184
Shelley
https://www.collegiatebasschampionship.com/wp-content/uploads/2018/11/2019-Bass-Pro-Shops-Collegiate-Bass-Fishing-Series-Association-of-Collegiate-Anglers-Boat-US-2-300x179.png
Shelley
2019-10-03 07:01:45
2019-10-03 19:42:42
Live Blog: October 3 - Final Practice Day