Live Blog: April 9 – Day 1

Saturday, April 9 2:25 PM
Stand by for weigh-in to begin in just over 30 minutes!  Following the conclusion of weigh-in we will have a complete article breakdown of tournament action from Day 1 of the Barnett Reservoir Rumble!
Saturday, April 9 1:35 PM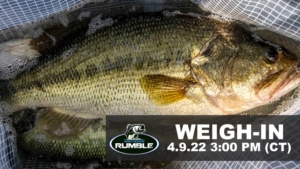 Live weigh-in coverage of the Barnett Reservoir Rumble from Madison Landing in Ridgeland, MS will begin at 3:00 PM today. Download and stream the free
Outdoor Action TV
app to view complete coverage: https://linktr.ee/Outdooractiontv
#TeamOutdoors
#BassProShops
#Fishing
#BassFishing
#VisitRidgeland
#OutdoorActionTV
#StreamTheOutdoors
#WeAreCollegiateBass
Saturday, April 9 1:30 PM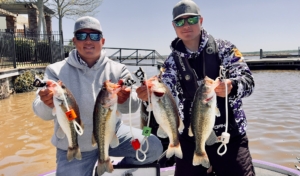 Collin & Reagan from 16th ranked Tarleton State University check in with a limit of fish.
Saturday, April 9 12:50 PM
The reports from off the water have slowed over the course of the past 45 minutes or so.  Weather conditions have been good so far today, and the wind has seemed to level out.  Just over two hours remain until the first flight of boats is due back in at 3:00 PM.  With temperatures warming nearly 30 degrees since this morning, look for the bite to heat up as the afternoon progresses!
Saturday, April 9 12:00 PM
Pictured above is Chance from Montevallo with a solid keeper fish!
Garrett McWilliams from Hinds Community College now has roughly 12 lbs.
Saturday, April 9 11:30 AM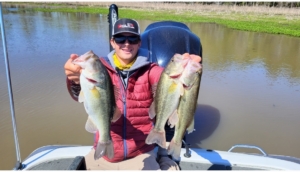 Garrett from Hinds Community College has three fish for 8lbs.
Chance and Merritt from top-ranked Montevallo have a limit for 13 lbs.  This is the first report of a limit that we've received.
Saturday, April 9 10:30 AM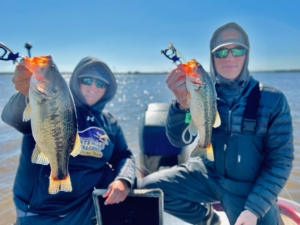 James and Jacob from number one ranked Montevallo have approximately 8 lbs.
Saturday, April 9 8:55 AM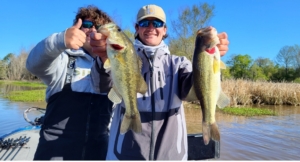 Carson and Rob from Auburn now have two fish 4 lbs.
We've received word of several fish catches this morning. Conditions are setting up well for these anglers today.  Bright sunshine and light winds, along cooler than average temperatures are making for a great day to be outdoors.
From talking with anglers over the last several days, it. sounds like a variety of baits and locations are in play.  Some are flipping shallow cover, blind bed fishing, while others are power fishing their way down the bank with topwaters and spinnerbaits.
Saturday, April 9 7:55 AM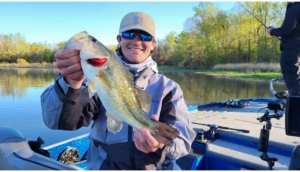 Carson and Rob from 2nd ranked Auburn University have one keeper in the boat.
James and Jacob from number one ranked Montevallo currently have two keepers.
Saturday, April 9 7:45 AM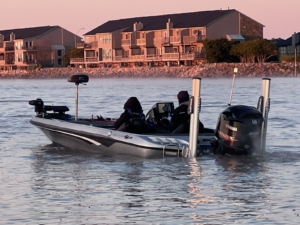 And they're off!  The full field of boats is now out on Barnett Reservoir for Day 1 of tournament competition.  Stand by for updates as we receive them from off the water.
Saturday, April 9 5:00 AM
Good morning from Madison Landing on the shores of Barnett Reservoir in Ridgeland, MS!  Today marks the first day of tournament competition for the 2022 Barnett Reservoir Rumble.  Teams are starting to file through the park in preparation for takeoff to begin at 6:30 AM.  Stay tuned to the live blog today for updates from on the water and other important information regarding the event!
https://www.collegiatebasschampionship.com/wp-content/uploads/2022/04/SATURDAY_BLOG-FEATURE-IMAGE.jpg
1000
1000
zelia zaldivar
https://www.collegiatebasschampionship.com/wp-content/uploads/2023/03/2022_CBFS_JM-White-300x194.png
zelia zaldivar
2022-04-09 05:00:19
2022-04-09 15:24:12
Live Blog: April 9 – Day 1