Inside Their Heads: Championship Edition
What some of Berkley's top touring pros would do at the 2016 BoatUS Collegiate Bass Fishing Championship Presented by Cabela's
When a big tournament rolls around, anglers want every advantage they can get their hands on. Luckily for the 2016 BoatUS Collegiate Bass Fishing Championship field, anglers will be getting some help from three of Berkley's top Elite Series touring pros as to figuring out Pickwick Lake.
It's no secret to anglers competing in this Championship event that ledges and post spawn areas will be a key factor to catching big bags of fish, however, being able to key in on those big schools out deep takes understanding and practice, which is where Berkley Pro Staff Members Josh Bertrand, Ott DeFoe, and Justin Lucas come in.
For anglers wanting to target post spawn bass, Josh Bertrand has a setup that will help you fill your livewell.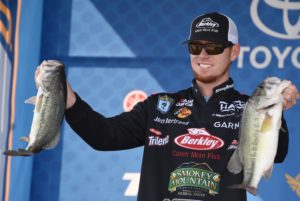 "Throw a 1/2-3/4 ounce football head with a 4″ green pumpkin Chigger Craw," Bertrand said. "That should be a killer right now around areas with shell beds in 6-12 feet outside spawning bays and flats."
Berkley and BUFF® Pro, Ott DeFoe, advises anglers to head a little deeper with a few of his favorite techniques on Pickwick Lake.
"I would be focusing on the main river ledges from the Natchez Trace Bridge to Bear Creek, especially those on the south side of the lake. Twelve to twenty feet of water should be where most of the action is. Where the current hits the hardest and on the upper side of ledges is where you want to be."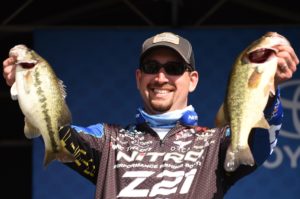 DeFoe always has two specific baits tied on that help him catch fish out of the various schools spread along the ledges.
"My number one choice would be a plum colored ten inch Berkley Power Worm.  I would rig it on a VMC Rugby Head 1/2oz. My second choice would be a five inch Ripple Shad swimbait in Racy Shad rigged on a 1/2 – 3/4 oz. swim bait head."
Along with DeFoe, Abu Garcia and Berkley Pro, Justin Lucas, also recommends fishing the famous Pickwick ledges.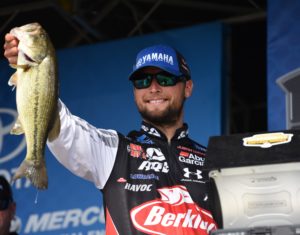 "I would definitely check out the ledge fishing down towards Pickwick dam. That would be my suggestion. The fish will be anywhere from ten to thirty feet deep, depending on current and the location of each spot," said Lucas. "My first choice would be a Texas rigged ten inch Berkley Power Worm with a 1/2oz weight, but I'd also have a moving bait like a Berkley PowerBait Slim Shad with 1 oz. swimbait head. Finally, my all-time standby, a Berkley Havoc Bottom Hopper on a shaky head if conditions are tough and they aren't pulling much current."
Double check all of your tackle boxes and make sure they are loaded down with each of these Berkley baits for the 2016 BoatUS Collegiate Bass Fishing Championship Presented by Cabela's on Pickwick Lake in Florence, Alabama! For any last minute tackle orders, visit www.berkley-fishing.com.
To see additional coverage on our Facebook, click here: https://www.facebook.com/CollegiateBassChampionship
Also, follow us on Instagram and Twitter at @CollegiateBass
About the ACA
The Association of Collegiate Anglers, a division of Careco TV, is a sanctioning body developed to facilitate growth, development, and structure within competitive collegiate bass fishing. The ACA provides support to dozens of school operated regional events nationwide and owns the Cabela's Collegiate Bass Fishing Series, the largest participatory collegiate tournament circuit in the country. With dedicated collegiate fishing programming on several television networks, three nationally televised collegiate bass fishing events, and thousands of members, the ACA is the leader in competitive collegiate bass fishing. For more information on the ACA, or the Cabela's Collegiate Bass Fishing Series, visit www.CollegiateBassChampionship.com. For more information on Cabela's visit Cabelas.com, for more information on CarecoTV, visit www.carecotv.com. 
https://www.collegiatebasschampionship.com/wp-content/uploads/2016/06/CBFC_Button-e1480444540195.png
300
300
Shelley
https://www.collegiatebasschampionship.com/wp-content/uploads/2023/03/2022_CBFS_JM-White-300x194.png
Shelley
2016-05-17 14:52:52
2016-11-17 17:45:38
Inside Their Heads: Championship Edition