Auburn University Nearly Makes History at the 2017 BoatUS Collegiate Bass Fishing Championship presented by Cabela's
The 2016 BoatUS Collegiate Bass Fishing Championship presented by Cabela's winners Mitchell Jennings and Cole Burdeshaw from Auburn University came into the 2017 Championship looking to do what no other team in the history of the BoatUS Collegiate Bass Fishing Championship presented by Cabela's has done. These two anglers had the opportunity to win back-to-back National Championships and when the event was all said and done they came up only 0.61 pounds short of making history, but still were able to take home second place after two days of great fishing. Let's take a look at what these two had to say about the tournament and the event overall.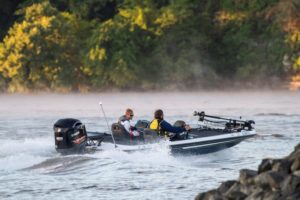 How did you guys catch them?
"Day 1 we caught them on a few different things. The ones we weighed in came off of swimbaits, drop shots, and 10xds. The 24lbs on day two was mostly caught on swimbaits. Everything we caught came off of typical summertime ledges" said Cole Burdeshaw.
"We threw a swimbait, a big crankbait, and a dropshot each day to fill out our limits. On day 1, we caught about 30 bass in 15-20ft. On day 2, we caught close to 60. " said Mitchell Jennings.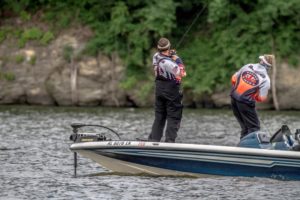 Any key move or decision you made that allowed you to find success?
"We think the biggest key to our success this week was having two schools to ourselves that we caught a majority of the weight from" said Cole Burdeshaw.
 "We were blessed with a great week of fishing. We actually ran a lot of the same ledges we did last year and found success. However, we found 2 schools of fish that we had to ourselves and that was key. In addition, we learned during the first day of the tournament that we had to "wash" our baits to the fish. The Wilson Dam was pushing so much water that the current made it very difficult to present your bait correctly. After not getting bit, we realized the current had to present our baits for us. So we would cast upriver a good ways just to hit a waypoint. At the end of the second day, we ran to a place we hadn't caught one before this week, but we did catch one there last year, and Cole caught a 6lber. That fish anchored our 24lb bag" said Mitchell Jennings.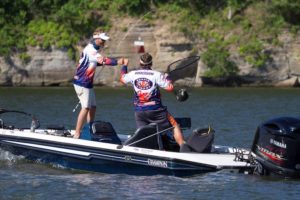 What you felt about your experience during the week?
 "It would have been nice to be back to back National Champions, but we can't complain with a 2nd place finish. We are proud of ourselves for coming back and defending our title and thankful for each opportunity we have been given. Congratulations to UNA for pulling it off; it was a great tournament and a well-deserved win" said Cole Burdeshaw.
 "It's always a pleasure to fish the ACA events. This is my third time fishing the Championship at Pickwick and I tell people all the time that's it's my favorite. I love this event not only for the great fishing, but for the competition and also the tournament relations as well. I enjoy Yamaha Appreciation night and meeting new people and I also really enjoy the registration meeting. Florence is also a really neat place to explore. Lots of good eateries and places to hang out after fishing" said Mitchell Jennings.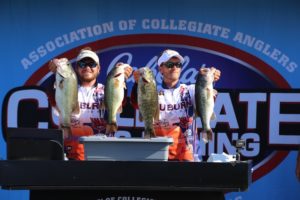 Anyone you would like to thank?
"I would personally like to thank God, my family and my school. In addition, we have great sponsors this year who support us every tournament. I'd also like to thank our team as a whole. We have a big club at Auburn and I'm proud to be able to represent it." said Mitchell Jennings.
"I want to thank all the sponsors that support the Auburn Bass Team. They help us compete each time we are on the water. But, the people I want to thank the most are the Auburn Bass Team families and friends. They are the ones that travel with us, support us, and cheer us on at each tournament and that truly means the world to us!" said Cole Burdeshaw.
https://www.collegiatebasschampionship.com/wp-content/uploads/2017/06/AUBURN_1.jpg
853
1280
Amanda
https://www.collegiatebasschampionship.com/wp-content/uploads/2023/03/2022_CBFS_JM-White-300x194.png
Amanda
2017-06-06 19:27:52
2017-06-06 19:32:25
Auburn University Nearly Makes History at the 2017 BoatUS Collegiate Bass Fishing Championship presented by Cabela's