Tusculum College, located in Greenville, TN is a small Division II school that proved any school can be competitive in the BoatUS Collegiate Bass Fishing Championship presented by Cabela's. With 191 boats from some of biggest schools in the nation competing this year Tusculum was certainly one of the smallest schools in the field thus they had a lot to prove.  Prove it they did at the team of Nick Hatfield and Corey Neece we're the leaders after day one landing an impressive five fish limit of Pickwick bass weighing in at 23.92 pounds.   They followed that up with another impressive limit on day two, 16.15 pounds, and settled into 3rd place overall for the event with 40.07 pounds.
How did you guys catch them?
"We caught our fish out deep on the ledges with a crankbait. It's something that both of us are confident in and we love to throw it. We spent a lot of practice time idling looking for those better schools of fish and hoped we had a few of them to ourselves" said Nick Hatfield.
 "We caught all of our fish out deep on the ledges, mostly cranking with an occasional fish on a worm or jig," said Corey Neece.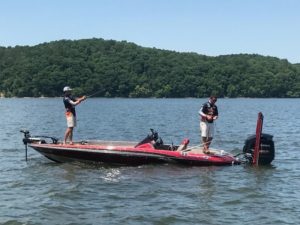 Were there any key moves or decisions that you made that allowed you to find success?
"A strategic move we made was to idle all of practice and find the right schools of fish where we could get bigger bites. 3 of our schools we had to ourselves" said Corey Neece.
 "I would say that a key move we made was to spend all of that time idling instead of fishing. We found 12-15 different schools of fish and we had 3 of them to ourselves" said Nick Hatfield.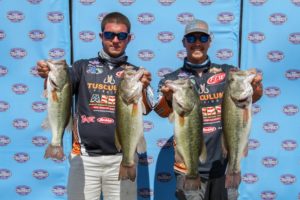 What did you feel about your overall experience during the week?
"We loved our experience this week. We would have loved more than anything to win it, but we are really happy with 3rd. That is a great finish and to have led the first day it was really special" said Nick Hatfield.
 "We had an awesome experience this week just as always when fishing with ACA. Happy with our finish but wish we could have won it" said Corey Neece.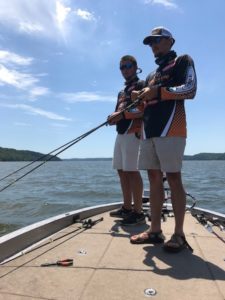 Anyone you would like to thank?
"I'd like to thank our school for allowing us to be there. Also thanks to our sponsors and family because we could not be there without them. Also thanks to ACA for putting on a great trail and championship every year" said Corey Neece.
 "I would like to thank our school for giving us the opportunity to be there, our sponsors for the help getting us there and family. We are blessed to be in the position we are and we have our families to thank for all the support there. We would also like to thank ACA for the numerous tournaments that they hold and the opportunities that they provide! They are great people and it has been a blast to fish with them the past 4 years" said Nick Hatfield.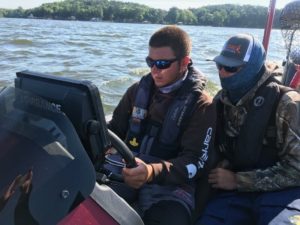 https://www.collegiatebasschampionship.com/wp-content/uploads/2017/06/Tusculum_1.jpg
533
800
Amanda
https://www.collegiatebasschampionship.com/wp-content/uploads/2021/05/2019-BPS_CBFS_logo-300x179.png
Amanda
2017-06-07 08:10:26
2017-06-07 17:02:05
Tusculum College the Small Division II School Competing Among the Giants at the BoatUS Collegiate Bass Fishing Championship Presented by Cabela's