Auburn University Schools Competition to Win the 2016 BoatUS Collegiate Bass Fishing Championship Presented by Cabela's
Louisiana State University at Shreveport and Bethel University Take Second and Third Respectively 
By Cody Levy
SAN ANTONIO, Texas – Day 2 of the 2016 BoatUS Collegiate Bass Fishing Championship Presented by Cabela's brought high winds, scattered schools of bass, and among many other things, a National Championship title for Auburn University. The Auburn University team of Cole Burdeshaw and Mitchell Jennings weighed in a Day 2 total of 22.65lbs for a two day total weight of 44.21lbs – which is almost a six pound lead over the second place team of James Kimbrough and Devine Deramus of Louisiana State University at Shreveport, and a seven pound lead over the third place team of Evan Owrey and John Garrett of Bethel University.
After spending a successful day out on the ledges of Pickwick Lake on Day 1, the Burdeshaw and Jennings kept to the same pattern on Day 2 and found even bigger bass. The two kept a deep diving crankbait in the water from wire to wire throughout this event, with the exception of one key fish.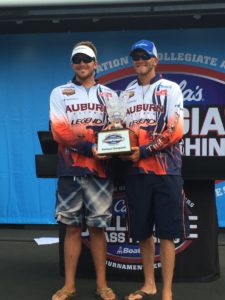 "We threw a 10XD the whole time and it just wore us out, but it was working so we kept at it," said Burdeshaw. "[Mitchell] actually caught our only fish that wasn't on the 10XD in kind of a fluke mistake."
Jennings added that "I was actually starting to cramp up from cranking that 10XD so fast for so long so I decided to make a few casts with a wacky rig and caught our biggest fish of the day on it."
The Auburn team fished next to one of their main competitors and threats on the water, Louisiana State University at Shreveport, but unlike some may think, each team caught fish and remembered that sportsmanship can lead you a long ways.
"We fished next to LSU for probably a total of two and a half to three hours, and it was all really easy and actually really fun on everyone's part, I think," said Jennings.
"These guys were the nicest guys we have ever fished next to," said Burdeshaw. "We were both courteous to each other and gave each other space and we still all caught good fish so it just goes to show that when people are courteous on the water, good things can happen. It's crazy to think how nice they were to us and both of us were at the top of the leaderboard, so I'm just really happy that it worked out well for all of us."
Auburn University has had a very large bass club for many years now, but Jennings believes that adding a National Championship to the team's resume will only lead to bigger and better things ahead.
"Our club is really big so we have a lot of people to share this victory with. This is the biggest title in college fishing, so it is such an honor to win this Championship and something we'll be proud of forever."
Louisiana State University at Shreveport Seizes Second
Fishing close to Auburn University throughout most of Day 2, Louisiana State University at Shreveport had a similar pattern pegged on the upper end of Pickwick Lake. After taking the thirty five minute ride to their first spot, Kimbrough and Deramus picked up an assortment of baits that led them to bring in a two day total of 38.58lbs.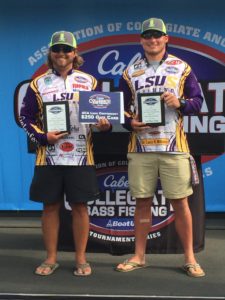 "We had five schools total that we fished today with a big crankbait, a flutter spoon, a jigging spoon, and a drop shot," said Kimbrough. "One of the keys to catching them off the ledges is something that we talked about with Auburn on the water, and that's if you idled over your schools of fish first to see if they were still there then you wouldn't get them to bite. You just had to pull up on your waypoint and in the first ten casts; you'd know if the fish were there or not."
Kimbrough and Deramus had mutual feelings about fishing side by side with Auburn in the fact that though you may have found a spot in practice, others most likely have found it too, and sharing spots can still lead to success.
"It was awesome to fish next to Auburn today. Those guys are really cool," said Kimbrough. "Usually when people fish ledges together, people complain about who found it first and coming to close to other boats, but today they pulled up next to us and asked if they could make a few casts near us and we said absolutely. They caught three of their keepers and we caught two of ours. We didn't argue, we didn't fight, we just helped each other out and tried to catch fish and it turns out we each had a great day."
Coming from a community of shallow water anglers back in Louisiana, Kimbrough and Deramus are happy to prove that Louisiana boys are much more versatile than some may have thought.
"I'm pretty stoked about the turnout. Everyone in the top five lives on ledge lakes like Pickwick, Eufaula, and Guntersville, and we live on the Red River which is about as far from ledge fishing as it can get, so I'm really happy with our finish."
Bethel University Climbs to Third
Making a move on Day 2 from fifth, Bethel University's Evan Owrey and John Garrett ended the 2016 BoatUS Collegiate Bass Fishing Championship Presented by Cabela's with a total of 37.13lbs for third place. Also fishing on the north end of Pickwick Lake, even further than the top two teams, Bethel fished a pattern consistent with Auburn University and Louisiana State University at Shreveport.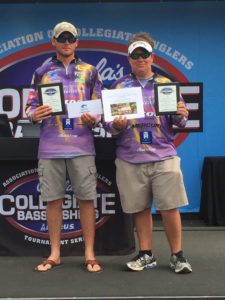 "We actually ended up with one day of practice so we ran a lot of spots that we knew from past experience on this lake," said Owery. "We had a few schools that were there for us, but we had quite a few scatter throughout the tournament, but really, we had two key schools that held up for us during the tournament."
Owery and Garrett ran all the way up down to the Pickwick dam, cutting the team's fishing day down by two hours, but the team believed that what they lacked in time, they would make up for through quality.
"We were throwing a big ten inch plum colored worm and a 3/4oz football jig," said Garrett. "One of the keys we figured out was to turn all our sonar off, don't scan over the fish, and make long casts to stay away from them. These were schools that were just getting out there that really hadn't been hit by anyone else yet, and really the only reason why we ran that far is because once you pass the Tennessee state line, you can usually add a pound and a half to each keeper. That's where the bigger fish seem to live."
Garrett added that the third place finish along with his teammates' twelfth place finish will provide the team with much needed Cabela's School of the Year points.
"We're happy with how it turned out, we always go for first, but we can't complain with a third place in the national championship. It means a lot for us in the Cabela's School of the Year race too, so it will definitely move us up the ranks and we really want to make a push for the title."
To see the complete results from the 2016 BoatUS Collegiate Bass Fishing Championship Presented by Cabela's, click here: Complete Results
To see additional coverage on our Facebook, click here: https://www.facebook.com/CollegiateBassChampionship
Also, follow us on Instagram and Twitter at @CollegiateBass
About the ACA
The Association of Collegiate Anglers, a division of Careco TV, is a sanctioning body developed to facilitate growth, development, and structure within competitive collegiate bass fishing. The ACA provides support to dozens of school operated regional events nationwide and owns the Cabela's Collegiate Bass Fishing Series, the largest participatory collegiate tournament circuit in the country.  With dedicated collegiate fishing programming on several television networks, four nationally televised collegiate bass fishing events, and thousands of members, the ACA is the leader in competitive collegiate bass fishing.  For more information on the ACA, or the Cabela's Collegiate Bass Fishing Series, visit www.CollegiateBassChampionship.com. For more information on Cabela's visit Cabelas.com, for more information on CarecoTV, visit www.carecotv.com.
https://www.collegiatebasschampionship.com/wp-content/uploads/2016/06/CBFC_Button-e1480444540195.png
300
300
Shelley
https://www.collegiatebasschampionship.com/wp-content/uploads/2023/03/2022_CBFS_JM-White-300x194.png
Shelley
2016-05-28 16:37:20
2016-11-17 17:13:46
Auburn University Schools Competition to Win the 2016 BoatUS Collegiate Bass Fishing Championship Presented by Cabela's