From Athlete to Coach: Shawn Combs Named Georgetown College's New Bass Team Coach
By: Cody Levy
Simply put, college fishing has changed over the past eleven years. In the very first collegiate bass fishing event back in 2005 held on Lake Lewisville, most of the anglers showed up to the event all on their own with old boats and tow vehicles. These boats were filled with hand me down gear and just a few rod and reel combinations and some anglers even slept in their trucks or camped out to save money. While those scenarios still happen today, the college bass fishing game is quite different nowadays.
Today, guys and gals are rolling up to the ramp after a good night of sleep at the local hotel, many with newer model boats and trucks filled with the latest and greatest electronics, rods, reels and tackle. Not to be forgotten is fact that many schools now have coaches that are a common entity in the sport of collegiate fishing. These coaches make sure their anglers have everything they need for the event from start to finish. For former Georgetown College angler, Shawn Combs, the transition between competing and coaching has become all too real.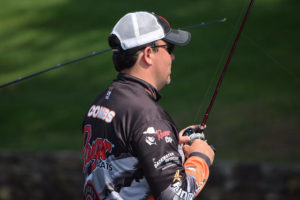 Shawn Combs fished competitively for Georgetown College for four seasons, in which he competed in many of the biggest tournaments that exist in college fishing. After wrapping up his last event this past spring, he was able to assume a role that he never dreamed about four years prior. Knowing that fishing is a large part of his life along with his family, work, and school, Combs always wanted to stay close to his roots as a college angler and he knew he wanted to help grow the sport of fishing. Combs has found that opportunity by being named the new Georgetown College Bass Fishing Team Coach. While many college anglers head to college right after high school, Combs took a different approach to get to where he is today.
"I went straight to work after high school, got married, had kids, and got into that lifestyle," said Combs. "When my wife went to school, she asked me if I would ever want to go to college, and I never thought that was for me, but I actually ended up enrolling in community college. I was about to get my associates degree but I was going to have to transfer my credits to keep on with a major. I met the guys over at Georgetown and it just fell into place, almost like it was meant to be. Then in the spring of 2013, I joined the school and started my career in college fishing.
Combs' first year at the university gave him a look into something that he would later have a career in, which as he stated, was meant to be.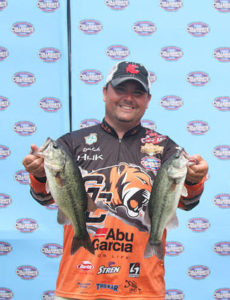 "When I started at Georgetown, the backbone of the team was about to go away and I felt like I was getting ready to lose the team, but I wasn't going to let that happen," said Combs. "I sent proposals to the school and all over and with the help of social media to raise funding and membership."
With a knack for marketing and business, Combs was able to grow the club and keep it competitive each year. Combs was so successful that it led to Georgetown College to offer the recent graduate the Head Coaching position over the Georgetown College Bass Fishing Team.
"Starting this year, I'm going to be leading the program – booking hotels, taking care of promotion, social media, and lots of recruiting. My main objective is to make the team grow in social media, sponsorships, and recruits. I want to make sure that all these guys and gals on the team are taken care of and I'm excited to be part of Georgetown College," said Combs.
While Combs' on-the-water college fishing career might be ending, a whole new chapter of college fishing has just materialized for the Kentucky native. Combs looks to the future of college fishing now with a similar but different mindset as a coach.
"What's always been exciting to me, is watching the growth in college fishing," said Combs. "What people don't understand is how fast it's growing. Like I've said on stage at the BoatUS Championship before is that soon we'll have a three hundred boat field. Watching all the changes in this sport is awesome, and still being a part of it, is something that I am very grateful for."
About the ACA
The Association of Collegiate Anglers, a division of Careco TV, is a sanctioning body developed to facilitate growth, development, and structure within competitive collegiate bass fishing. The ACA provides support to dozens of school operated regional events nationwide and owns the Cabela's Collegiate Bass Fishing Series, the largest participatory collegiate tournament circuit in the country.  With dedicated collegiate fishing programming on several television networks, four nationally televised collegiate bass fishing events, and thousands of members, the ACA is the leader in competitive collegiate bass fishing.  For more information on the ACA, or the Cabela's Collegiate Bass Fishing Series, visit www.CollegiateBassChampionship.com. For more information on Cabela's visit Cabelas.com, for more information on CarecoTV, visit www.carecotv.com.
https://www.collegiatebasschampionship.com/wp-content/uploads/2016/11/SC_1.jpg
427
327
Shelley
https://www.collegiatebasschampionship.com/wp-content/uploads/2021/05/2019-BPS_CBFS_logo-300x179.png
Shelley
2016-07-20 15:27:15
2016-11-17 15:44:06
From Athlete to Coach: Shawn Combs Named Georgetown College's New Bass Team Coach