Staying Competitive in the Offseason
By Cody Levy
Throughout the summer, college fishing tournaments tend to slow down, but teams that want to stay competitive in the Cabela's School of the Year Race means staying at the top of your game throughout the year. For many college anglers, including Tarleton State Senior Dakota Ebare, practicing and competing are always on their mind, no matter what season it is.
"Right now I'm fishing about four local tournaments a week," said Ebare. "I'm taking every chance I can get to learn and get as much experience that I can. These weekly tournaments are only three hours long so you have to be really efficient which I think it helps a ton when you get to the regular tournaments like each of the ACA events. Anytime we can get on the water and learn it's always a great experience."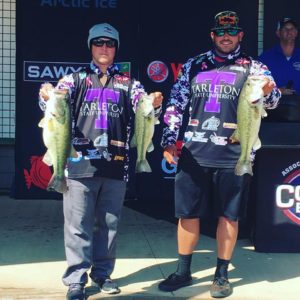 Ebare fished his first season with the Cabela's Collegiate Bass Fishing Series this past year and helped Tarleton State earn a second place finish while at the Collegiate Bass Fishing Open Presented by Cabela's on Lake Dardanelle. Unlike any other collegiate tournament, the Collegiate Open is a team format and one of the three double points events of the 2016 season.
"I was pretty skeptical about the format coming into the event. Honestly, I didn't think it was going to be a benefit to have another team competing with you, but the Open turned out to be such a great event and we ended up second which gave Tarleton a big surge in the Cabela's School of the Year Rankings, which was the icing on the cake," said Ebare.
Cabela's School of the Year events are crucial to finish well in, but Ebare's tournament mindset is the same at each event, with a desire to win.
"I take each tournament very seriously in the sense that I look at each one as if it were a national championship," said Ebare. "I want to stay mentally tough, and it's not to say that we don't have fun, but we want to take these tournaments as practice for the bigger tournaments throughout the year to help us earn more School of the Year points."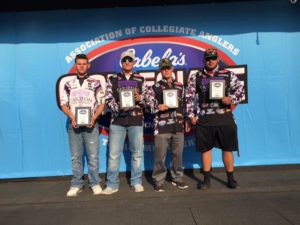 Known as the most prestigious title in college fishing, the Cabela's School of the Year title takes every event from FLW, B.A.S.S., and the ACA and breaks down a point system for over 350 schools across the nation. It is easily the most difficult title to win as a college bass team, but Ebare and the Tarleton State Bass Team are eager to start competing for the 2017 title.
"I just became president of the team, and the School of the Year title is something that I would really like to set our main focus on this year. It's a pretty prestigious title and there aren't many guys out west that aren't too competitive in this race like us, but I would really like to set our goal as a club to make a strong run for that. I think it would really help out our school and our club's recognition as a strong competitor," said Ebare. "I'm hoping to try and fish more tournaments this fall to earn more points. It always seems that the spring is a crunch for time with different breaks, tests, and tournaments so I think the more points we earn in the fall the better."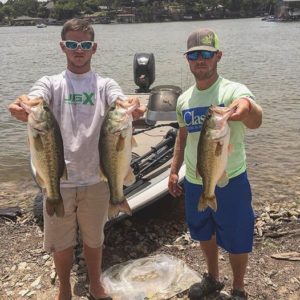 Though only in his second year as a competitive collegiate bass fisherman, Ebare stated that "college fishing has been so great to me in the past year that I've been part of it. It's something that I want to see grow and if there is something that I can help with, I would love to be a part of it to help the sport wherever I can."
To see additional coverage on our Facebook, click here: https://www.facebook.com/CollegiateBassChampionship
Also, follow us on Instagram and Twitter at @CollegiateBass
About the ACA
The Association of Collegiate Anglers, a division of Careco TV, is a sanctioning body developed to facilitate growth, development, and structure within competitive collegiate bass fishing. The ACA provides support to dozens of school operated regional events nationwide and owns the Cabela's Collegiate Bass Fishing Series, the largest participatory collegiate tournament circuit in the country.  With dedicated collegiate fishing programming on several television networks, four nationally televised collegiate bass fishing events, and thousands of members, the ACA is the leader in competitive collegiate bass fishing.  For more information on the ACA, or the Cabela's Collegiate Bass Fishing Series, visit www.CollegiateBassChampionship.com. For more information on Cabela's visit Cabelas.com, for more information on CarecoTV, visit www.carecotv.com.
https://www.collegiatebasschampionship.com/wp-content/uploads/2016/11/TarletonState_Story_22july16.jpg
960
960
Shelley
https://www.collegiatebasschampionship.com/wp-content/uploads/2023/03/2022_CBFS_JM-White-300x194.png
Shelley
2016-07-26 15:14:24
2016-11-17 15:39:53
Staying Competitive in the Offseason