College Anglers Head to ICAST: The Land of Opportunity
By Cody Levy
As a college angler who is passionate about the sport of fishing, it is only natural to find the biggest fishing expo in the world to be more than just appealing. For anglers wanting to move forward in their fishing careers after college, working with different businesses and learning to market your very own brand is over half the battle, and that is where ICAST 2016 has come into play for many collegiate anglers.
The International Convention of Allied Sportfishing Trades, or ICAST, is the world's largest Sportfishing trade show, in which you can find the latest and greatest fishing products, meet some of the top pros in the industry, and get acquainted with fishing companies, both big and small. With companies like Garmin, Pure Fishing, Costa, and Big Bite Baits in attendance, anglers get to experience that "kid-on-Christmas-morning feeling and now have a way to get face to face with some of the decision makers of various companies and gain a new world of opportunity.
Ole Miss angler, Jared Hulbert, stated that he believes ICAST is one of the best opportunities for a college angler to gain access into the world of fishing on and off the water.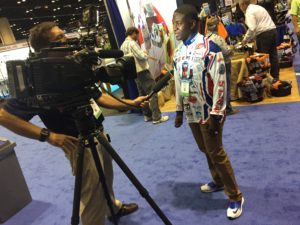 "ICAST is amazing, I mean I can't even explain it," said Hulbert. "Everybody in the fishing industry including the owners of the companies showing off their new products and all the pros are under one roof and I'm blessed to be a part of it and have this opportunity to meet with everyone."
JP Kimbrough, Louisiana State University at Shreveport bass team member and recent second place finisher at the 2016 BoatUS Collegiate Bass Fishing Championship Presented by Cabela's, is also at the event enjoying the latest and greatest that the fishing industry has to offer, but also meeting with various pros who are teaching him the business side of the sport.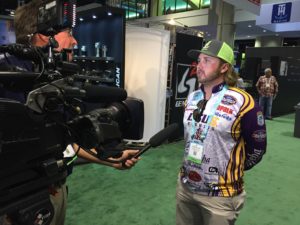 "There aren't many times where you get to meet some of these pros and really get inside their brains. Some of these pros have taken me under their wing and have shown me how to work different sponsor demos, how to close deals, and how to approach people, and that is the biggest key is learning how to approach different companies and try to create a partnership," said Kimbrough.
Cabela's Collegiate Big Bass Bash Presented by Berkley Champion and Itawamba Community College Bass Team President, Ty Cox, is also at ICAST for the very first time and explained what it's like.
"Man, it's pretty awesome, especially being my first time here of course," said Cox. "It shows that there is so much more out there after college fishing, but it's also really cool to see all of the companies that back college fishing and what they have to offer – just talking to them. Everyone has treated us college anglers so well and it's great to be able to meet more people from the industry."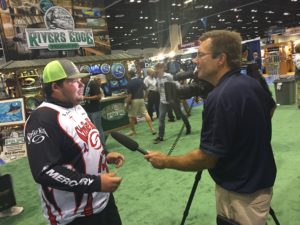 Whether you're looking to find the best rated products of 2016, get inside the minds of the pros, or start planning a career after college, ICAST has proven to be a wealth of opportunity for many college anglers. For more coverage of collegiate anglers at ICAST, visit our Facebook or Instagram pages for live updates!
To see additional coverage on our Facebook, click here: https://www.facebook.com/CollegiateBassChampionship
Also, follow us on Instagram and Twitter at @CollegiateBass
About the ACA
The Association of Collegiate Anglers, a division of Careco TV, is a sanctioning body developed to facilitate growth, development, and structure within competitive collegiate bass fishing. The ACA provides support to dozens of school operated regional events nationwide and owns the Cabela's Collegiate Bass Fishing Series, the largest participatory collegiate tournament circuit in the country.  With dedicated collegiate fishing programming on several television networks, four nationally televised collegiate bass fishing events, and thousands of members, the ACA is the leader in competitive collegiate bass fishing.  For more information on the ACA, or the Cabela's Collegiate Bass Fishing Series, visit www.CollegiateBassChampionship.com. For more information on Cabela's visit Cabelas.com, for more information on CarecoTV, visit www.carecotv.com.
https://www.collegiatebasschampionship.com/wp-content/uploads/2016/11/Andrew-Hulbert_Ole-Miss.jpg
2448
3264
Shelley
https://www.collegiatebasschampionship.com/wp-content/uploads/2023/03/2022_CBFS_JM-White-300x194.png
Shelley
2016-07-14 15:42:30
2016-11-17 15:47:56
College Anglers Head to ICAST: The Land of Opportunity