AFTCO Collegiate Bass Open Kicks Off with a Top Notch Field
4 of the Top 5 Cabela's School of the Year Represented

Registration has concluded and anglers are prepared to take to Lake Dardanelle beginning bright and early at 7:00 AM tomorrow morning.  Close to 400 hundred of college fishing's best anglers are set to compete in the AFTCO Collegiate Bass Open.  West central Arkansas and the city of Russellville offer a gorgeous backdrop for this event as fall weather has settled in across the area.  As the first fall tournament fished as a part of the Cabela's Collegiate Bass Fishing Series, the AFTCO Collegiate Bass Open promises to be an exciting event with plenty of fish being brought to the scales.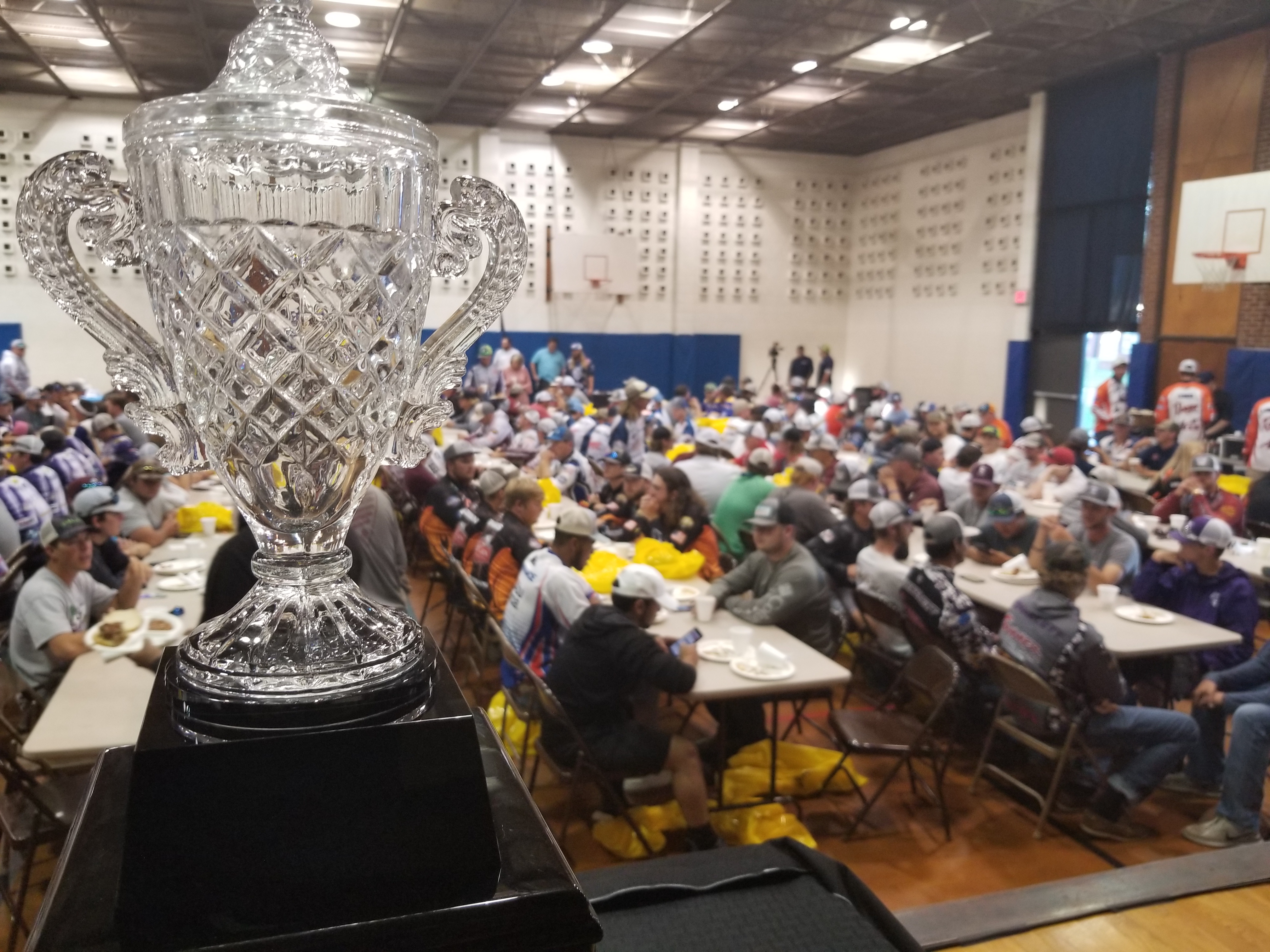 This week's field is littered with loads of talent ranging from defending champs of this event, to national champions, local sticks, and Bethel University, the reigning Cabela's School of the Year Presented by Abu Garcia.  Not to mention, four of the top five teams in the Cabela's School of the Year standings are also represented here at Lake Dardanelle.  Given the strength of this field, combined with opportunity for double points, anglers will be scratching and clawing to find a way to reach the top of the leaderboard come Saturday afternoon.
One team familiar with the top of the leaderboard at this event is Murray State University, the defending champions from last year's event hosted on Lake Dardanelle.  Throughout practice this week, Boris Moskoff and his fishing partner Daniel Young, have been able to use this past  success to their advantage.  "We've kind of got a little pattern figured out.  We're running way up the river again, that's what we've done the past two years that we've been here," says Moskoff.
After talking with the two Murray State anglers, the pair sounds very confident in their gameplan for the next few days.  From flipping grass and laydowns, to fishing rock, Moskoff and Young are going to fish a variety of structure in order to find the right bites.
While it is great to have a plan entering an event, some members of the field say that Lake Dardanelle is one of those places where the fish can change at a moment's notice.  "This lake is real unpredictable.  I'll have ten rods on the deck, and so will my partner," says Bennett Pierce from Arkansas Tech University located here in Russellville.  Pierce is an expert at unlocking the code to Lake Dardanelle as he and a partner won the 2017 Arkansas Collegiate Series Championship, a two day event hosted on Lake Dardanelle last December.  Over the course of that event, the pair from Arkansas Tech battled tough conditions to win with 24.34 lbs.
Throughout the week conditions have changed drastically.  On Monday the sun was shining with temperatures in the mid to upper 80's, and today the high barely reached 60 degrees.  In between then and now the area has seen heavy rain, winds, and even tornado warnings.  Once tournament action begins in the morning, forecasts call for cloudy skies, light winds, and temperatures in the upper 50's.  While this week has seen a roller coaster ride of weather conditions, added cloud cover and more stability could benefit the fishing out on Lake Dardanelle.
Many members of the nearly 200 boat field have taken the changing conditions into consideration as they prepare to fish in the AFTCO Collegiate Bass Open beginning tomorrow.  2018 Bassmaster College Series Classic Bracket Champion, and 2019 Bassmaster Classic qualifier Nick Ratliff from Campbellsville University is aware of the inconsistent variables in play this week.  "We're going to be fishing on the fly.  There's stuff that we probably didn't look at in practice.  It's hard to be consistent on a place like this because it changes so much," says Ratliff.  Growing up fishing around Kentucky and Indiana, the angler from Campbellsville University is using a lot of strategy, but also hoping to cash in on some of the similarities this lake shares with his home waters.  Ratliff has spent a lot of time on the Ohio River, and he is not afraid of the challenges a complex river system can present.  "I'm excited for it.  I love fishing river systems like this.  I kind of grew up fishing like this.  It's super fun," say Ratliff.
Needless to say, this is going to be an exciting next two days as these anglers compete out on Lake Dardanelle.  Winning weight predictions have range from 25 lbs all way up to 40 lbs for a two day total.  There's a chance fish will be caught on a variety of different baits ranging from topwater, crankbaits, down to jigs, and everything in between which will make this event very interesting to follow.  Take off will begin at 7:00 am with the first flight of anglers due back in to the ramp at 3:00 PM.  To keep up with all of the on the water action as it unfolds, follow along with the live blog beginning bright and early tomorrow morning.
For more information about the Cabela's Collegiate Bass Fishing Series, please visit www.CollegiateBassChampionship.com.
Stay up to date and Follow Us!
Facebook –  https://www.facebook.com/CollegiateBassChampionship
Instagram – https://www.instagram.com/collegiatebass/
Twitter – https://twitter.com/collegiatebass
Subscribe to our videos!
YouTube –  https://www.youtube.com/user/CollegeBassFishing
About the Association of Collegiate Anglers
The Association of Collegiate Anglers (ACA), a division of CarecoTV, is a tournament organization created to facilitate growth, development, and structure within competitive collegiate bass fishing.  The ACA created the original BoatUS Collegiate Bass Fishing Series,14 seasons ago, which is now the Cabela's Collegiate Bass Fishing Series, and the longest running collegiate bass fishing series in existence.  The ACA provides support to dozens of school operating regional events nationwide, and owns the Cabela's Collegiate Bass Fishing Series, Cabela's School of Year Program, and associated assets.   The ACA also provides the largest amount of televised coverage of any collegiate fishing series with dedicated programming on several television networks ranging from Discovery Channel, CBS Sports, NBC Sports, Pursuit Channel, World Fishing Network, as well as other regional and national networks.  For more information on the ACA or the Cabela's Collegiate Bass Fishing Series, visit www.CollegiateBassChampionship.com. For more information on Cabela's, visit www.Cabelas.com.  For more information on CarecoTV, visit www.CarecoTV.com.
https://www.collegiatebasschampionship.com/wp-content/uploads/2018/10/Aftco-Reg.jpg
3024
4032
Shelley
https://www.collegiatebasschampionship.com/wp-content/uploads/2021/05/2019-BPS_CBFS_logo-300x179.png
Shelley
2018-10-11 20:27:01
2018-10-17 16:45:00
AFTCO Collegiate Bass Open Kicks Off with a Top Notch Field