Live Blog: October 11 – Final Practice Day!

Tuesday, October 11th 8:00 AM
Good morning from Russellville, AR and Lake Dardanelle!  Today marks the final day of practice for the AFTCO Collegiate Bass Open as over 400 of the nation's top college anglers prepare to compete in this prestigious two day event.  Today is a beautiful day in "The Natural State".  High temperatures will reach close to 70 degrees, with clear skies and light wind.  Over the course of the tournament, weather conditions will change slightly which could potentially have a positive impact on the fishing conditions.
We are just getting started with the live blog, and will continue to provide more information about this event throughout the day.  Fishing should be really good the next few days!  This will be an exciting event, and we will work to provide you as much coverage as possible!
Tuesday, October 11th 9:30 AM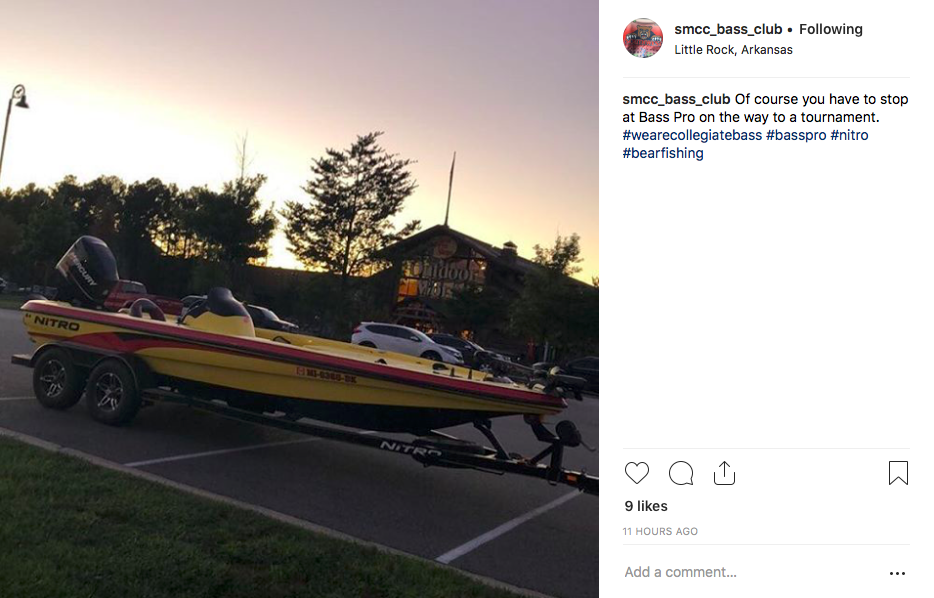 Today marks the final practice day for the AFTCO Collegiate Bass Open, and some teams are still traveling to Lake Dardanelle today.  Anglers are coming from near and far to participate in this two day event.  This group of anglers from Mississippi are making a stop by Bass Pro Shops on their way into town this morning.
Fall fishing conditions are beginning to take shape out on Lake Dardanelle.  A variety of worms, jigs, topwater, and crankbaits should all be players here this week.  That is how typical fall fishing goes, a variety of baits can work at anytime. For the competitors running to stock up on last minute tackle, grab one of everything and get ready to go fishing!
Tuesday, October 11th 10:40 AM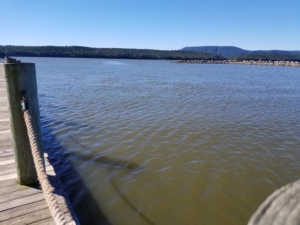 Weather will be a note to keep an eye on leading up to the tournament.  At the beginning of the week, temperatures were in the mid 80's and as we sit here at the dock this morning we are looking at blue bird skies with temperatures hovering around 60 degrees.  There is a brisk breeze blowing which makes it feel considerably cooler.
During the two tournament days, temperatures look to be even a bit cooler than they are today.  For tomorrow we are looking at a high of 58 degrees with light winds and considerable cloud cover.  The added cloud cover should help the bite.  These fish have seen a drastic change over the past 5 days, and it appears there is even more change in the forecast.
Tuesday, October 11th 11:50 AM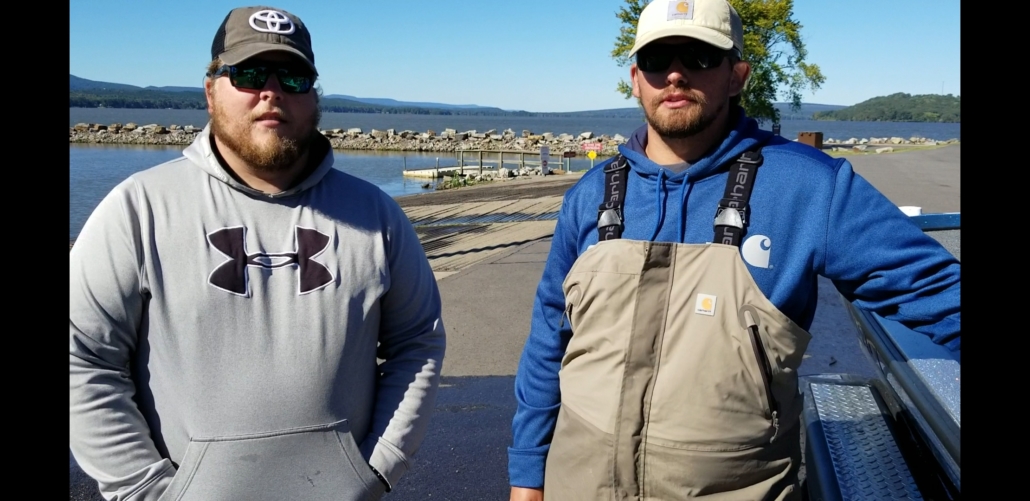 Several of the anglers are beginning to load up and head back to begin their final preparations of the week.  Registration will begin this afternoon here in Russellville.  Our crew managed to catch up with two anglers from Campbellsville University.  Pictured on the right is Nick Ratliff.  Nick won the 2018 Bassmaster College Series Classic Bracket and will be fishing the 2019 Bassmaster Classic.  The duo is feeling strong about their chances at placing well this weekend.
To watch the full video, click here.
Tuesday, October 11th 3:20 PM
Registration is set to begin in Russellville at 4:00 pm.  Competitors will start to file in and register, receive free items, and eat dinner.  We will talk to various anglers and provide updates as well as a final recap leading up to the start of tomorrow's event.
https://www.collegiatebasschampionship.com/wp-content/uploads/2018/05/IMG_7200.jpg
3456
5184
Shelley
https://www.collegiatebasschampionship.com/wp-content/uploads/2021/05/2019-BPS_CBFS_logo-300x179.png
Shelley
2018-10-11 05:00:05
2018-10-11 16:21:56
Live Blog: October 11 – Final Practice Day!