Tusculum College Takes Narrow Lead After Day One
Tarleton State and University of North Alabama Sit in 2nd and 3rd
Day one of the 2017 BoatUS Collegiate Bass Fishing Championship presented by Cabela's is in the books.  There was no question this would be a great day of bass fishing featuring 192 of the best collegiate fishing teams in the country, representing 91 colleges and universities on the water.  The field included the top 20 ranked teams in the Cabela's School of the Year presented by Abu Garcia to make it arguably the toughest field ever assembled in college fishing.
As the day kicked off here on the shores of Pickwick Lake in Florence, Alabama anglers arrived to find snacks and drinks provided by Bob's Machine and ice provided by Russell Marine Products to fill their boats.   At daybreak Pickwick Lake greeted anglers with calm winds, cool air temperatures and sunny skies.   Anglers had to decide to make the long early morning run to the west, or head east and gamble on catch a quick limit in the tail race below the Wilson Lake Dam.  It didn't take long to see that making that long early morning run paid off with reports of numerous fish catches coming in first thing.
The most popular pattern was t0 target the schools of Pickwick Lake bass that had moved out to the ledges after the spawn.   Anglers were using a wide variety of baits ranging from finesse style presentation using drop shots and shakey heads, to anglers that went with more reaction baits like swimbaits, crankbaits, and flutter spoons. Anglers had the added bonus of having a strong current from Wilson Lake that helped get the fish active throughout the day.
When day one was all said and done, the top five teams heading into day two of the Championship are giving the fans a little bit of everything.  In first place, the small school that is leading a field of the best teams in college fishing is Tusculum College – their team of Nick Hartfield and Corey Neece brought in an awesome five fish bag that topped the scales at 23.92 pounds.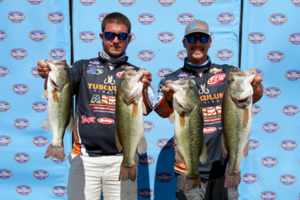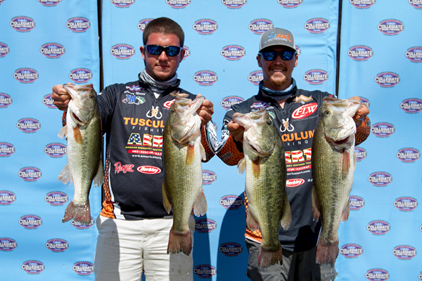 "Were doing the same thing everyone else is, we just got on a school with big ones in it," said Neece and Hatfield.
The second place team is from Tarleton State in Texas, the only school to have two teams sitting in the top five after day one.  This team of Dakota Ebare and Justin Seeton came across the scales with 23.76 pounds and had the big fish of day one with an 8.38 pound monster Pickwick Lake bass.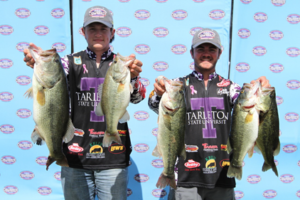 "Really stout competition in this event and sitting second is awesome. We are going to have to fish clean tomorrow and bring our best," said Dakota Ebare and Justin Seeton.
The third place team of Sloan Pennington and Hunter McCarty brought in 23.31 pounds today.They are representing the hometown favorites from the University of North Alabama located right here in Florence, Alabama.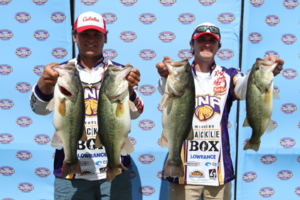 "We're actually the underdogs of the team, the other guys on the team are ledge hammers, they are just really good. We are from Smith Lake and the Coosa River that two polar opposites with Pickwick lake right in the center." said Sloan Pennington and Hunter McCarty.
Complete top ten are:
Nick Hatfield & Corey Neece – Tusculum College, 23.92 pounds
Dakota Ebare & Justin Seeton – Tarleton State University, 23.76 pounds
Sloan Pennington & Hunter Mccarty – University of North Alabama, 23.31 pounds
Wyatt Young & Tucker Sargent – Tarleton State University, 20.84 pounds
Mitchell Jennings & Cole Burdeshaw –Auburn University, 19.60 pounds
Patrick Walters & Hunter Buice – University of South Carolina, 18.90 pounds
Evan Owrey & Kristopher Queen – Bethel University, 18.74 pounds
Tyler Ellis & Hayden Lee – Missouri State University, 18.47 pounds
Joshua Butts & Reid Conner –Wallace State Community College, 18.37
Cody Salzmann & Justin Thomas – University of Arkansas-Pine Bluff, 18.03 pounds
There will be coverage from all the boats in the top five as well as other teams in contention all day on Friday.  You can find the coverage at www.collegiatebasschampionship.com.
We would like to invite everyone out to launch at 6:00am at McFarland Park in Florence, Alabama.  We will also Live Stream Launch at https://www.collegiatebasschampionship.com/live-video/.  You can also see the weigh-in starting at 2:30 pm CST.
To see additional coverage on our Facebook, click here: https://www.facebook.com/CollegiateBassChampionship
Also, follow us on Instagram and Twitter at @CollegiateBass
About the ACA
The Association of Collegiate Anglers, a division of Careco TV, is a sanctioning body developed to facilitate growth, development, and structure within competitive collegiate bass fishing. The ACA provides support to dozens of school operated regional events nationwide and owns the Cabela's Collegiate Bass Fishing Series, the largest participatory collegiate tournament circuit in the country.  With dedicated collegiate fishing programming on several television networks, four nationally televised collegiate bass fishing events, and thousands of members, the ACA is the leader in competitive collegiate bass fishing.  For more information on the ACA, or the Cabela's Collegiate Bass Fishing Series, visit www.CollegiateBassChampionship.com. For more information on Cabela's visit Cabelas.com, for more information on CarecoTV, visit www.carecotv.com.
https://www.collegiatebasschampionship.com/wp-content/uploads/2017/05/Day-1_1st-17.png
281
422
Amanda
https://www.collegiatebasschampionship.com/wp-content/uploads/2021/05/2019-BPS_CBFS_logo-300x179.png
Amanda
2017-05-25 21:30:06
2017-05-26 10:21:54
Tusculum College Takes Narrow Lead After Day One