Corban Rood and the Tusculum College Bass Team Look to Hold on to Big Bass Title Champion
Tusculum College Bass Team member Corban Rood knows what it takes to be successful at the Cabela's Collegiate Bass Fishing Series Presented by Berkley. After bringing in an 8.58lb bass to the scales, Rood won the 2015 event by over half a pound and has full plans of defending his title down on Kentucky Lake in Paris, Tennessee for the 2016 Cabela's Collegiate Bass Fishing Series Presented by Berkley.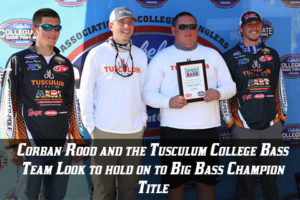 Rood and the rest of the Tusculum College Bass Team spent their entire Spring Break in Paris, Tennessee in preparation for the 2015 event.
"We spent our whole spring break down in Paris. I liked it better than any other spring break I've ever had. It helps that I won," Rood added, "but even if I didn't, it's a great time to fish and hang out with your buddies doing something you love."
Although Rood came out victorious in the event, he and the rest of his teammates had to overcome some tough conditions during the first few days of practice.
"The practice was rough up until the last day of practice," said Rood. "I had one bite on an A-rig the first day and then nothing until the third day of practice, which is when we started beating the bank. We liked what we were fishing at that point so we left it until the tournament and ended up catching quite a few off the same bank."
With one Big Bass Bash win under his belt, Rood looks towards keeping his title in the 2016 event by using the information that he gained throughout his experience on Kentucky Lake from last year.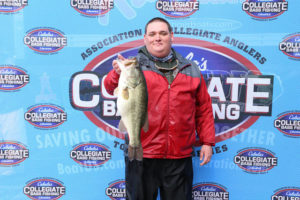 "I hopefully expect the same thing," Rood said with a laugh. "I feel like if the bass are in the same pattern, we'll have a head start on the tournament this year. I think they'll be around the same pattern, maybe a little deeper or shallower, but I feel like we'll be able to really dial it in in our practice this year."
Rood's win at the 2015 Cabela's Collegiate Bass Fishing Series Presented by Berkley meant a lot to not only himself but for Tusculum College as well.
"It was a really big win for our school, we're a smaller school and it really helped to gain some support from our community and we're really pushing for another Top 20 or higher in the Cabela's School of the Year Rankings."
Rood added that competing in the 2015 Big Bass Bash "was a great experience. The town's hospitality – everyone cared about us being there. The sponsors, meals, and everything was great and the ACA does a fantastic job hosting these events throughout the year and I can't wait to get down to Paris again this year."
About the ACA
The Association of Collegiate Anglers, a division of Careco TV, is a sanctioning body developed to facilitate growth, development, and structure within competitive collegiate bass fishing. The ACA provides support to dozens of school operated regional events nationwide and owns the Cabela's Collegiate Bass Fishing Series, the largest participatory collegiate tournament circuit in the country. With dedicated collegiate fishing programming on several television networks, three nationally televised collegiate bass fishing events, and thousands of members, the ACA is the leader in competitive collegiate bass fishing. For more information on the ACA, or the Cabela's Collegiate Bass Fishing Series, visit www.CollegiateBassChampionship.com. For more information on Cabela's visit Cabelas.com, for more information on CarecoTV, visit www.carecotv.com.
https://www.collegiatebasschampionship.com/wp-content/uploads/2016/06/CBFC_Button-e1480444540195.png
300
300
Shelley
https://www.collegiatebasschampionship.com/wp-content/uploads/2023/03/2022_CBFS_JM-White-300x194.png
Shelley
2016-02-23 14:16:03
2016-11-29 15:38:07
Corban Rood and the Tusculum College Bass Team Look to Hold on to Big Bass Title Champion