The University of Montevallo Doubles Its Lead in Bass Pro Shops School of the Year presented by Abu Garcia
Mckendree University Moves into 2nd Place, Adrian College is in 3rd place
SAN ANTONIO, TX (March 10, 2021) – In just three days, the third double points event of the season, the Bass Pro Shops Big Bass Bash presented by Berkley, is set to be contested on Kentucky Lake in Henry County and Paris, TN.   The latest update to the School of the Year rankings includes a college Championship, two major college events, and one school run event.
The University of Montevallo continues its dominance atop the rankings by earning a total of 1,840 points since the previous update.  By amassing nearly 2,000 points over the course of one month based on several top finishes, Montevallo expanded its lead over second-place from 915 points to a whopping 1,840 points now.  This month-long stretch helped to double the lead over  2nd place, now occupied by McKendree University and gives Montevallo a commanding lead entering the Bass Pro Shops Big Bass Bash presented by Berkley.  Montevallo has been in first place in the Bass Pro Shops School of the Year presented by Abu Garcia since the middle of November in 2020.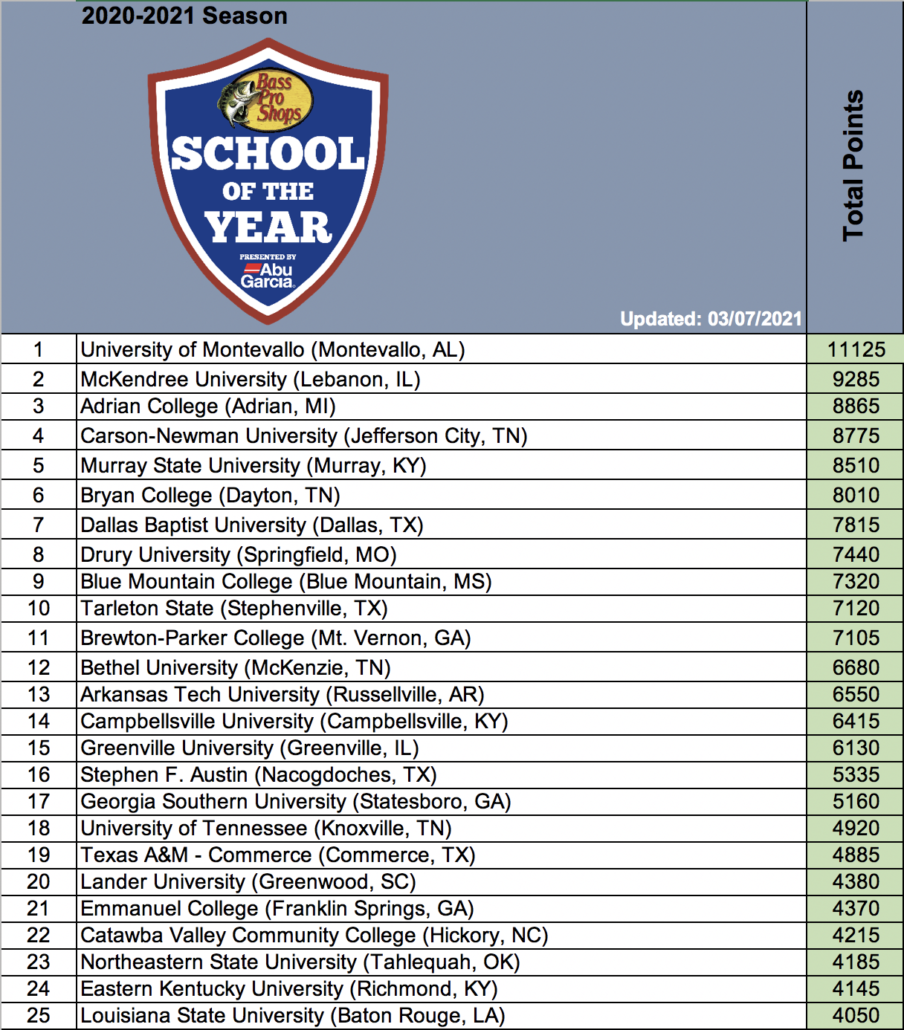 A total of three major events were contested over the course of the past month with the winner of each tournament earning at least 750 points.  Drury University claimed a college fishing National Championship last weekend that netted them 1,000 points which helped them move into the top 10 as they settle into 8th overall.   Other movers into the Top 10 include Bryan College who moved from 13th place to 6th place with several top finishes.  McKendree University is looking to make history and become the first-ever school to three-peat as School of the Year winners.  McKendree moved up one spot into second, 1,840 points behind top-ranked Montevallo.
Here are some of the top movers in the latest update:
6) Bryan College – Previously Ranked 13th
20) Lander University – Previously Ranked  28th
21) Emmanuel College – Previously Ranked 30th
22) Catawba Valley Community College – Previously Ranked 29th
This weekend's Bass Pro Shops Big Bass Bash presented by Berkley will be a key event to determining the 2021 Bass Pro Shops School of the Year presented by Abu Garcia.  The winner of the event will earn 1,000 points for their respective school, and schools will earn points for their highest two finishing teams inside of the Top 100.  The maximum number of points a given school can earn at the conclusion of this event is 1,995.
To put Montevallo's dominance into perspective, the team could not weigh in a fish this weekend, and the worst that could happen is they trail first place by 155 points.
https://www.collegiatebasschampionship.com/wp-content/uploads/2021/03/0310-SOY.jpg
1000
1000
Kyle Curry
https://www.collegiatebasschampionship.com/wp-content/uploads/2023/03/2022_CBFS_JM-White-300x194.png
Kyle Curry
2021-03-10 15:46:26
2021-03-10 15:46:26
The University of Montevallo Doubles Its Lead in Bass Pro Shops School of the Year presented by Abu Garcia