The Tarleton State University Fishing Team sent four teams that had to travel over 700 miles from Stephenville, Texas to Florence, Alabama to compete in the 2017 BoatUS Collegiate Bass Fishing Championship presented by Cabela's. One of those teams featuring Dakota Ebare and Justin Seeton was not only far from home, but also far from being a favorite on Pickwick Lake.
Keeping an open mind, these two did not let any of that get in their heads as they wrapped up day one in with 23.76 pounds, putting them in 2nd place, and they were able to back up their day one limit with an impressive second day limit of 15.73 pounds giving them a two-day total of 39.49 pounds and a 4th place finish. Let's take a look at what these two Tarleton State anglers said about their overall thoughts on the event.
How did you guys catch them?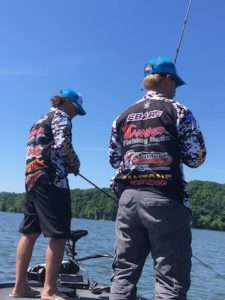 "We used 10.5 inch Zoom Worms and Strike King 5xd's to target the fish. Our fish were post spawn and heading out to their summer homes," said Dakota Ebare. 
 "We were using Strike King 5xd Crankbiats which run a lot shallower than the 10xd's lots of the teams were using. When we needed to slow down we would throw big worms in the same areas," said Justin Seeton.
Any key move or decision you made that allowed you to find success?
 "One key move in the tournament came early on day one. We decided to basically scrap the spot where we caught our biggest fish in practice and to go "fill a limit" on a different spot and there were big ones there! It was the same set up, shallow bars with current breaks, but it was farther down the lake. It paid off," said Justin Seeton.
 "The key to our success was using our Lowrance electronics to find current breaks on shallow bars around 10 ft.  The fish were post spawn and staging there before heading out to the summer ledges," said Dakota Ebare.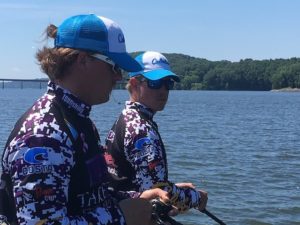 How did you feel about your experience during the week?
 "Overall it was an awesome experience! Coming all they way from Texas, it was a blast to fish this lake and awesome having the City of Florence open their doors and allow us all to come to their city for this event," said Justin Seeton.
 "This event was a blast, from Yamaha Angler Appreciation night to the final day weigh-in. The ACA really makes us all feel special and they put on an amazing event," said Dakota Ebare.
Anyone you would like to thank?
"I would like to thank Cabela's for allowing us to be a part of their program, as well as Yamaha and all of the other supporters of the ACA!  Also thanks to Hammer Rods, Santone Lures, WOO tungsten, and Kelly Farms for supporting the Tarleton State University Bass team! Finally, I would like to thank my family for all the support they gave us this season," said Dakota Ebare.
 "I can't thank Cabela's and BoatUS enough for sponsoring this! All of the sponsors that support the Tarleton State University Team and also I want thank my family for all the support they give us!" said Justin Seeton.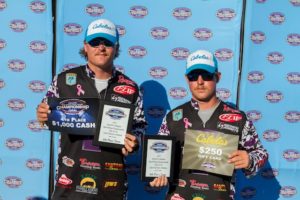 https://www.collegiatebasschampionship.com/wp-content/uploads/2017/06/Tarleton_1.jpg
427
640
Amanda
https://www.collegiatebasschampionship.com/wp-content/uploads/2021/05/2019-BPS_CBFS_logo-300x179.png
Amanda
2017-06-20 16:05:35
2017-06-20 16:31:38
Tarleton State University Rolls in from the Wild West to take home 4th Place at the 2017 BoatUS Collegiate Bass Fishing Championship presented by Cabela's