Russellville, AR (10/26/19) – The scales are closed and anglers are back at their hotels making preparations for the final day of competition in the 2019 AFTCO Collegiate Bass Open.  While making those preparations for tomorrow, you bet they're thinking about how a finicky Lake Dardanelle greeted the elite field comprised of nearly 350 top college anglers today.  With cold and rainy weather being the theme this week, it's taking what's normally a great fishery and turning it into a very tough body of water.  Bottom line, you've got the makings for a very challenging final day which means it's anybody's tournament to win.
As day one came to a close, Garrett Warren and John Owens from Snead State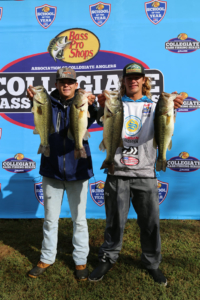 Community College brought in a five fish limit weighing 17.85 pounds to capture the lead.  Working their way along today in an area, they stumbled across the spot that produced for them on the first day of competition.  "We started to get in a little bit more clearer water and we were both like, 'Dang dude, it's about to happen.'  And we caught those three of our biggest fish, and we went from there," said Warren.
Garrett competed in this event just last year and left Russellville, AR with a second place finish.  This year he is hoping to go home with the win.  One element that could play key in their chances of earning that win is the weather.  The forecast projects tomorrow to be sunny with calmer winds, similar to Wednesday of practice when these two say they had a great bag.  "I really don't think the weather really hurt us. It is supposed to be sunny tomorrow with better conditions for what our first pattern was, so I feel like we can catch them better tomorrow," added Owens.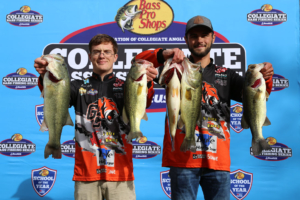 Finishing day one in second place are Hunter Osborne and Jacob Locke.  Representing Georgetown College, they weighed in 17.38 pounds of Lake Dardanelle bass.  They too had to shift plans on day one and adjust to changing conditions.  "We started out in the back of a creek, but the water had cooled down significantly.  So the fish had moved out.  We tracked them back out, found them again, and started catching them," said Osborne.  The weather greatly impacted their pattern.  It dictated both the location of the fish, and the baits that they would bite.  "The cold front backed those fish out and we had to relocate them.  We couldn't get bit slow.  It was all reaction bites," added Locke.  The two protected their area and hope to have saved enough bites to seal the deal on day two.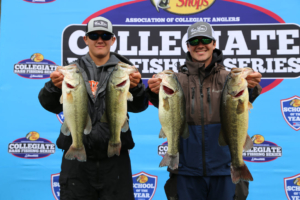 Rounding out the top three is a team representing the number six ranked University
of Montevallo.  Kopeland Rosser and Cade Holcomb weighed in 15.68 pounds to position themselves within striking distance.  Following a difficult practice, they are happy to weigh the fish they brought in.  "We did not have a good practice at all.  We just got lucky.  We were riding in this creek and I was like, 'Man, that looks good.'  We pull up there and he catches a five pounder," explained Rosser.  Once they figured out what to do, things really got rolling.  For several hours during the middle of the day, the Montevallo team got a lot of bites.  "It was pretty tough this morning.  We had about a two hour span where we caught most of our fish.  From about 11 to two o'clock.  It was a good day as a whole," said Holcomb.
The full field of roughly 350 college anglers will take to Lake Dardanelle once again tomorrow beginning at 7:00 AM, with the first flight being due in at 3:00 PM.  Weather conditions are guaranteed to change, and it should impact the fishing.  A total of 22 limits crossed the scales today.  Tune in to the Outdoor Action TV app beginning at 3:00 PM tomorrow to see if the field can catch them even better on day two.
Click here to view the complete standings.
https://www.collegiatebasschampionship.com/wp-content/uploads/2019/10/IMG_6832.jpg
3648
5472
Kyle Curry
https://collegiatestg.wpengine.com/wp-content/uploads/2021/02/CBFS_logo-300x212.png
Kyle Curry
2019-10-26 20:41:15
2019-10-26 21:02:45
Snead State Has Strong Day One