Smith & Breeden From Drury University Take Day 1 Lead at AFTCO Collegiate Bass Open
RUSSELLVILLE, AR (October 10, 2020) – Day one of the AFTCO Collegiate Bass Open on Lake Dardanelle presented the field of 150 elite collegiate fishing teams with ideal fish catching conditions, and these anglers were able to capitalize on those opportunities.  The fish catch reports started early this morning, just after official take-off, and continued all the way up until the last flight of boats were due in at 4:45 PM.  When the scales closed following the conclusion of the last flight weighing in, Cole Breeden & Cameron Smith from Drury University have a commanding Day 1 lead with 19.90 pounds.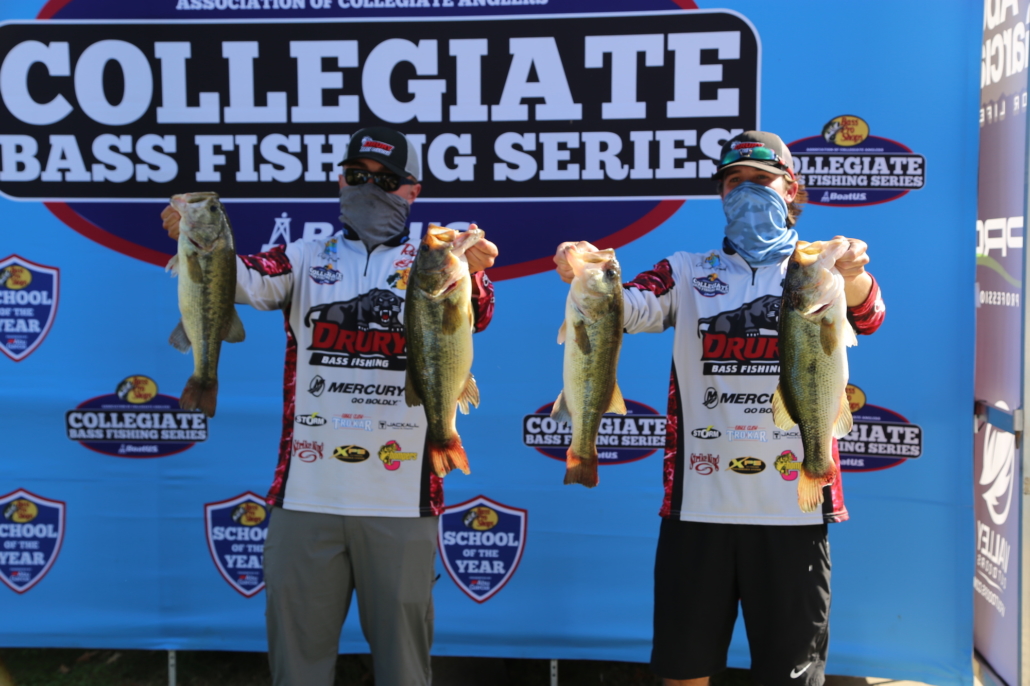 Breeden & Smith, members of the 15th ranked Drury University fishing team, did not build much of a pattern during practice, but used past history on this fishery to their advantage.  "We kind of just stumbled across them.  We didn't have a great practice," explained Breeden.  "We had an area that last year we caught a good average size.  So today we just kind of spent our time in there and just happened to run across five bites."
Around 11:00 AM, the duo from Drury landed its first big bite of the day.  Then between 12:35 PM and 1:05 PM, they landed another two quality bites.  Those three fish alone were good for close to 15 pounds.  Throughout the course of the afternoon, Breeden & Smith were able to complete their limit and threaten the 20 pound mark.  Entering the final day on Sunday, can they go out there and duplicate their day one performance to secure the victory?  "We're going to tell you yes, because we really want it to happen," said Breeden.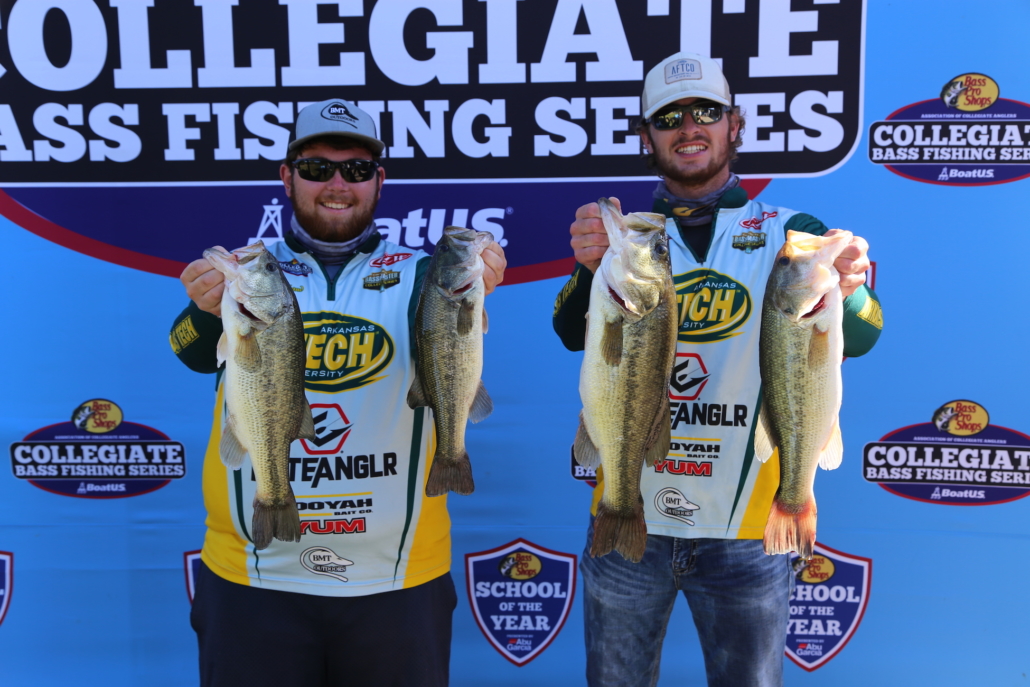 Sitting in second place is the hometown team of Matt Baker & Kory England from Arkansas Tech University.  The pair weighed in 14.98 pounds to trail first by just under five pounds.  Baker & England used a variety of different baits and presentations to catch their day one limit.  "We had about 17 rods strapped on the front deck," noted Baker.  "We made more casts than anybody in this tournament today."  From that statement there, it can be inferred that the ATU anglers covered a lot of water today.  That game plan has them sitting in second place out of the 150 boat field.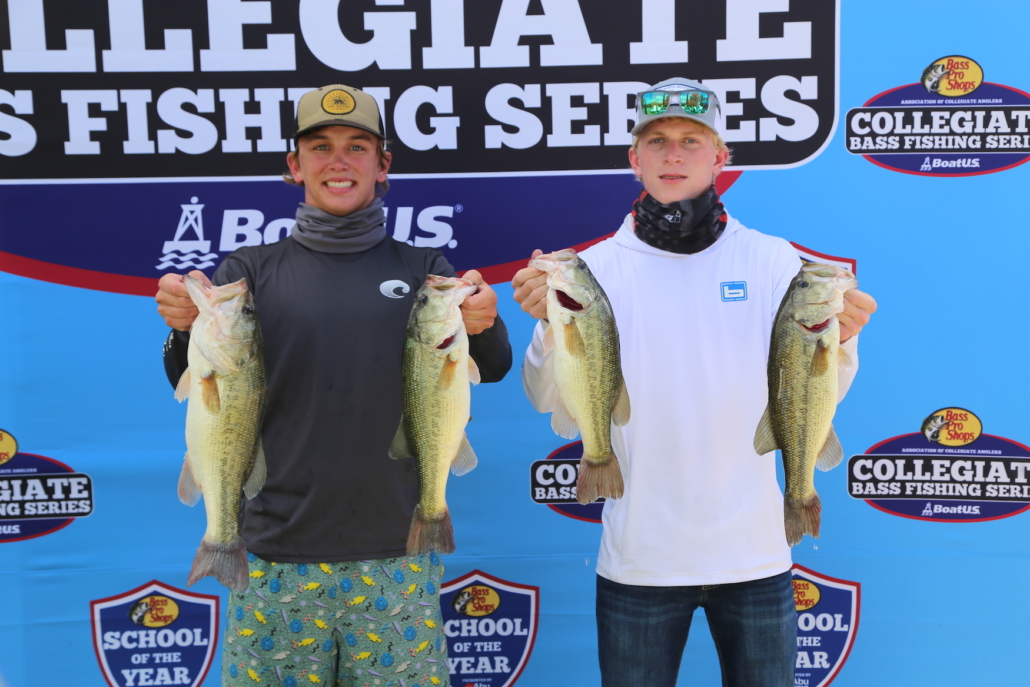 Rounding out the top three is the two angler pairing of Masen Wade and Davis Coleman with 14.76 pounds.  "We didn't have a ton of bites, but the ones we had were the right ones," added Wade.  The two young anglers worked a white spinnerbait on long casts around shallow cover to bag up their day one limit.  "We were throwing a white spinnerbait in the grass," said Coleman.  Going out as boat 55 today, the inverted field on day two should work to their advantage they believe.  "I'm more fine with it being a later day for us.  It's two o'clock tomorrow, so we'll be back at the same time we are today," explained Wade.
Lake Dardanelle provided this group of elite college anglers with a great playing field for day one of the AFTCO Collegiate Bass Open.  Teams reported catching fish in a variety of areas on a wide array of baits.  From shallow grass, to deeper rock banks, these Arkansas River bass were hungry and willing to bite today.  During the pre-tournament breakdowns on our website, we predicted that it would take a kicker fish or two in order for a team to separate from the pack of anglers hovering around the 14 pound mark.  That is exactly what transpired here on this Saturday of tournament action.  Anglers caught a lot of fish in the 2.5 to 3 pound range, and Cole Breeden & Cameron Smith brought in two fish over the 4.5 pound mark to jump to the front of the pack.
Live tournament coverage will resume tomorrow morning leading up to the 7:00 AM official takeoff.  Be sure to follow along on our website and social media to see who can come away with the win and 1,000 points for their school towards the Bass Pro Shops School of the Year presented by Abu Garcia.
https://www.collegiatebasschampionship.com/wp-content/uploads/2020/10/Day-1-Leaders.jpg
1333
2000
Kyle Curry
https://www.collegiatebasschampionship.com/wp-content/uploads/2021/05/2019-BPS_CBFS_logo-300x179.png
Kyle Curry
2020-10-10 19:07:27
2020-10-10 19:07:27
Smith & Breeden From Drury University Take Day 1 Lead at AFTCO Collegiate Bass Open