Do you restock your box like a pro angler? – Big Bite Baits
Now is a great time to take inventory of your soft plastics and restock your boxes.
Big Bite Baits Elite Series Pro Dean Rojas is hard at work preparing for the 2018 season.  One of the items Dean is checking off of his list is restocking, and organizing his soft plastics. Learn here how to restock your box like a pro angler! "Each off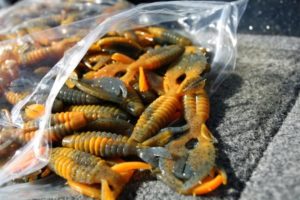 season I go through all of my soft plastics and get them 100% organized.  What I like to do is make up boxes with my 'go to' colors in them.  For example, I will have a box of my 4″ Fighting Frog that contains three of my favorite clear water colors, and three of my favorite stained water colors," said Rojas.  "I've totally gone away from keeping a massive amount of plastics in my boat, simply because they add so much extra weight.  I keep my bulk plastics in my truck, or wherever I am staying at an event and simply add them at the end of a tournament day if I need to.  Just implementing this one strategy with your plastics will help you stay organized and be more efficient" Rojas concluded.
Big Bite Baits remains dedicated to helping collegiate anglers and all qualified college anglers competing on the Cabela's Collegiate Bass Fishing Series can receive a 50% discount off Big Bite Baits.
All teams need to resubmit their roster on our website on the sponsorship tab.  We will then send an email directly to the teams with the new code and information on the program for the new year.  It is important for us to get a roster so that we can monitor who is placing orders and keep the code from being abused.  It also allows us the opportunity to contact the school directly to welcome them to the program. To register as a Big Bite Baits Team – http://www.bigbitebaits.com/sponsorship-application.html
https://www.collegiatebasschampionship.com/wp-content/uploads/2018/01/BBB_26Jan18.jpg
533
800
Amanda
https://www.collegiatebasschampionship.com/wp-content/uploads/2023/03/2022_CBFS_JM-White-300x194.png
Amanda
2018-01-27 10:23:48
2018-02-14 16:26:10
Do you restock your box like a pro angler? – Big Bite Baits