Ranger Cup University Team Challenge Updates!
The 2016 Ranger Cup University Challenge is taking place between the University of South Carolina (Hampton Anderson & Chris Blanchette) and the University of North Alabama (John Maner & Colby Harville) on Fayette County Reservoir. Anglers from the two schools are squaring off in a made-for-TV competition that will be televised nationally on "Americana Outdoors."
Check back for coverage and updates on today's challenge!
4:30pm – FINAL
University of North Alabama takes the win with a final weight of 74lbs! University of South Carolina tried to catch up, but ended the fish-off with 47.5lbs.
Big CONGRATS to UNA team of John Maner & Colby Harville on their win! And a huge THANK YOU to Ranger Boats for another great event!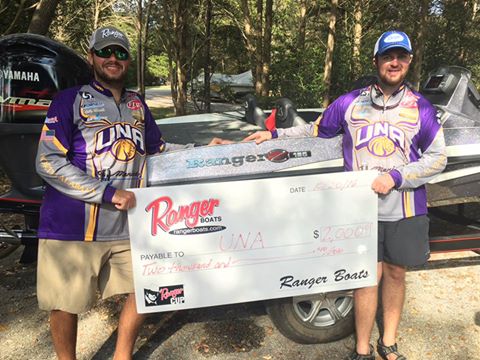 1:50pm – Update #4
With little over an hour of fishing time left UNA has taken an unofficial lead of almost 25lbs. The wind is building making it tough to run around currently. UNA is now milking one area about a 100 yards long, while Univ. of South Carolina is moving around as best they can in search of a big school to give them a shot at a late rally.
This is the last update before weigh-in! Stay tuned to see who takes the win!
11:45am – Update #3 —
UNA charges up the leaderboard with 20 fish for 46lbs to take the lead at mid day, while Univ. of South Carolina now sits with 15 fish for 38lbs. With a little more than 3 hours left, it's a wide open event and it's clear the fish are really biting as a cold front is pushing through the lake now.
8:30 – Update #1 —
Univ. of South Carolina has 8 fish for 19lbs, while Univ. of North Alabama has 1 fish for 3lbs.
7:30am –
Both teams are heading out! University of South Carolina and University of North Alabama will be fishing out of fully rigged Ranger Boats powered by Yamaha Outboards.