Murray State Doubles Points Total to Grow School of the Year Lead
Defending SOY Winner McKendree University moves into 2nd, and 2019 Runner-Up Montevallo Makes Leap into 3rd
San Antonio,TX (9/29/2020) – Fall is typically a slow time of the year in collegiate bass fishing as most major college fishing tournaments are contested during the spring and summer months.  However, the fall of 2020 is proving to be one of the busiest times in the history of the sport as all the major collegiate organizations are playing catch up from events rescheduled due to travel restrictions from COVID-19.  In this update alone, a total of more than 50,000 points were awarded across five different events.  With that many points up for grabs, there was a lot of movement amongst the Top 25 in the Bass Pro Shops School of the Year presented by Abu Garcia standings.
Murray State put together a very strong two week stretch to maintain and grow its lead in the School of the Year standings. Dalton Kelly & Jacob Autry started the hot streak off with a 4th place finish at the FLW Open on Kentucky Lake.  The pair weighed in a three day total of 22 pounds 12 ounces to earn 735 points.  Then just a few days later at the Bass Pro Shops Big Bass Bash presented by Berkley, Dalton Kelly weighed in a 5.53 pound largemouth to claim overall 1st place at the first ACA ran event of the year.  That victory (1,000 points), combined with another top finish, bolstered Murray's total by an additional 1,890 points.
"Obviously all tournaments are important but with this one, being double School of the Year points, it was extremely important to do well to keep our lead," Kelly explained.  "This was huge for Murray as we've had an extremely good month of September. We have a lot of seniors this year and we want the SOY bad."
A strong showing during the month of September now has Murray atop the School of the Year standings with 4,855 points, which is good enough for a 475 point lead over second place.  For comparison regarding Murray's 2020-21 run, Adrian College sat in 1st place at this exact point last season at roughly 4,400 points.  Murray is outpacing the 2019 total by nearly 500 points so far this year.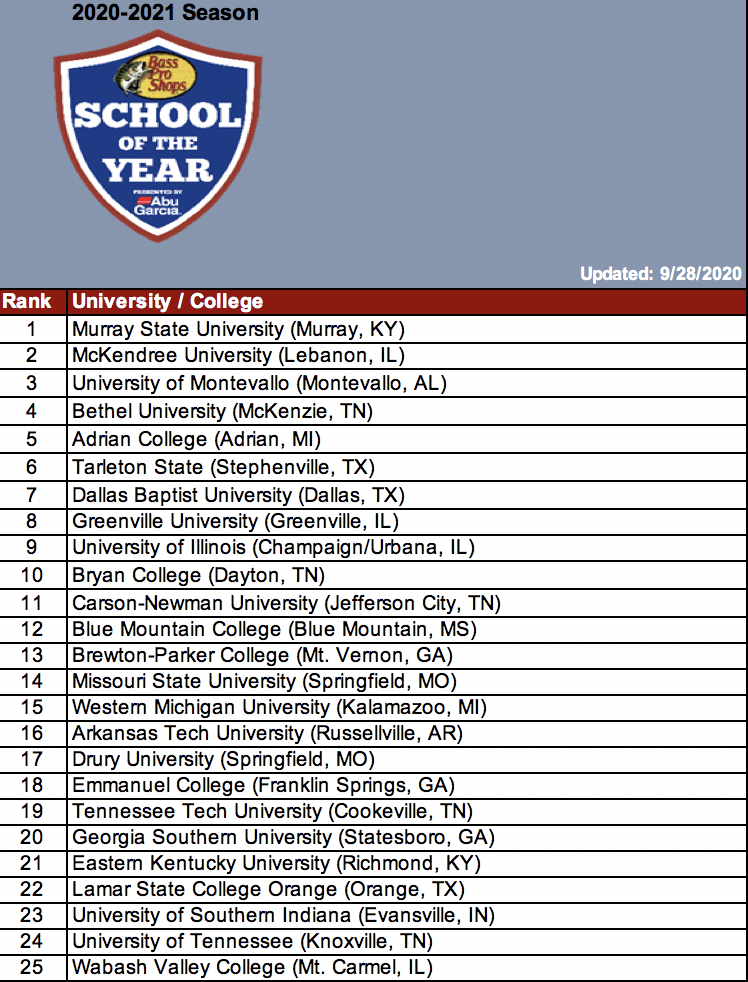 The first ACA ran event of the year awarded a total of 28,400 points to teams that competed in the Big Bass Bash.  This influx of points created a lot of movement amongst the top teams in collegiate bass fishing.  18 of the current Top 25 teams improved their standings, seven of which were not previously in the Top 25.  Here is a look at some of the major movers in this update:
– 25) Wabash Valley College (Previously Unranked)
– 24) University of Tennessee (Previously Ranked: 133)
– 16) Arkansas Tech University (Previously Ranked: 87)
– 12) Blue Mountain College (Previously Ranked: 75)
Tarleton State University made the biggest jump of the teams that were previously in the Top 25.  The team from Stephenville, TX moved from 23rd all the way up to 6th overall.  Seven of the Top 10 teams all moved up from their prior position in the standings.  Look for this trend to continue throughout the fall as numerous tournaments, awarding valuable points, are contested all across the country.  Point totals for the recent FLW Regional on the Chesapeake Bay will be added to the next update prior to the AFTCO Open.
Here is a look at upcoming School of the Year points earning events:
October 1-3: Bassmaster College Series – Lake Hartwell, SC
October 2: FLW Regional – Ouachita River
October 10-11: ACA AFTCO Collegiate Bass Open – Lake Dardanelle
October 18: Clemson Fall Team Trail – Lake Keowee
November 7-8: Arkansas Collegiate Series – Lake Milwood
View the full schedule of qualifying events here.
https://www.collegiatebasschampionship.com/wp-content/uploads/2020/09/SOY-0928.png
1080
1080
Kyle Curry
https://www.collegiatebasschampionship.com/wp-content/uploads/2021/05/2019-BPS_CBFS_logo-300x179.png
Kyle Curry
2020-09-28 15:32:01
2020-09-28 15:32:01
Murray State Doubles Points Total to Grow School of the Year Lead