Murray State University and Arkansas Tech University Claim Fourth and Fifth at the 2016 Collegiate Bass Fishing Open Presented by Cabela's
By Cody Levy
Murray State Grinds to Fourth Place Finish
Many anglers enjoy the Open style tournament format because it essentially allows five different team format options. The team option that Murray State chose was to fish four anglers in two boats. The Murray Stat Bass Anglers have enough members to send approximately seven or eight of these four man teams, the team of Ryan Lancaster, Mike Lowry, Daniel Young, and Boris Moskoff successfully pulled off a fourth place finish.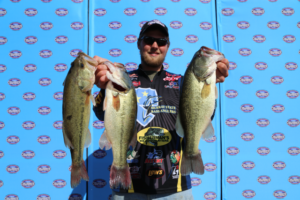 When schools choose to compete in a four man team, they usually want to spread their boats out and cover water; however, Murray State University kept their four man team together along the same area where they caught all twelve of their keepers.
"We ran about twenty five miles north of takeoff to the Morrison Bluff area," said Lancaster. "Even though there was a big cold front that came through Thursday night, the fish stayed consistent from our practice and we caught all twelve of our fish off the same spot."
The teamed cranked their way to a total weight of 32.59lbs with a SPRO Fat Jon in the Chartreuse and Black Back pattern fishing every laydown and any piece of wooden cover they could find. The team made a close call at the end of the day as Moskoff had motor troubles on the last run to weigh in. Mike Lowry was able to find Moskoff's boat and bring their limit back to weigh in on time with less than two minutes to spare.
"I'm proud of our team because we didn't have a great practice, but we were able to do much better on tournament day. This finish is definitely going to help us in the Cabela's School of the Year Race," added Lowry.
For their fourth place finish overall, the Murray State Bass Team won $500 in Cabela's Gift Cards, four Temple Fork Outfitter Rods, and four new Cabela's Collegiate Bass Fishing Series Buffs. The team also won an additional $250 in Cabela's Gift Cards for winning the Cabela's Contingency.
Arkansas Tech University Takes Home Fifth
Differing from the Murray State pattern of fishing their two team boats close together, the Arkansas Tech University Bass Team consisting of Jordan Ogle, Ladd Owens, Ronnie Gray, and Ryan Dorsett covered quite a few areas across Lake Dardanelle that was able to successfully lead them to weighing in 29.31lbs for fifth place.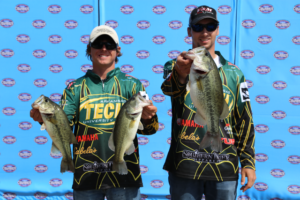 While the team planned on bed fishing at this event, the cold front backed the fish off the beds and put Arkansas Tech's original plan to rest.
"The cold front really impacted our tournament," said Ogle. "We had to adjust and find other ways to catch fish which meant that we had to spread out to find fish. We mainly fished on the lower end, but had to run up to the upper end of the lake to fill a limit the second day. We practiced everywhere and found the best fish close."
Owens added that "at times we ran all the way to Spadra because even though we did find fish in Illinois Bayou, there was just too much boat pressure. We ended up paralleling rip rap banks and finding isolated stumps with square bills to catch most of our fish."
Being the hometown favorite, Arkansas Tech is happy with their finish, but was slightly disappointed that they did not bring home the win.
"We all really wanted to win and felt that we should have, but we didn't make the proper adjustments to win, but overall it will definitely help us in the points race for the School of the Year," added Ogle.
The Arkansas Tech University was able to take home $400 in Cabela's Gift Cards, four Temple Fork Outfitter Rods, and four new Cabela's Collegiate Bass Fishing Series Buffs for their fifth place finish at the 2016 Collegiate Bass Fishing Open Presented by Cabela's.
To see full results of the 2016 Collegiate Bass Fishing Open Presented by Cabela's, click HERE.
https://www.collegiatebasschampionship.com/wp-content/uploads/2016/06/CBFC_Button-e1480444540195.png
300
300
Shelley
https://www.collegiatebasschampionship.com/wp-content/uploads/2021/05/2019-BPS_CBFS_logo-300x179.png
Shelley
2016-03-29 16:08:05
2016-11-29 18:45:27
Murray State University and Arkansas Tech University Claim Fourth and Fifth at the 2016 Collegiate Bass Fishing Open Presented by Cabela's