The University of Arkansas Bass Team's Past and Present Collide on the Water
By Cody Levy
The University of Arkansas Bass Team has been a long standing fishing powerhouse that has produced some great ambassadors to the sport for almost ten years. Recently, former and current members of the club have created an innovative event to combine the past and the present. The first ever student versus alumni University of Arkansas Bass Team tournament is set to take place this spring on Grand Lake.
"Jerid Jones, the former president when I was on the team, approached some of alumni about the idea of a tournament between current anglers and former anglers and they were all really interested and the current club was all for it," said Berry.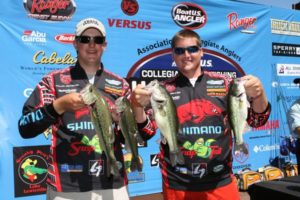 With great interest coming from all sides of the spectrum, a date was set for the first alumni/student event in the Arkansas Bass Team history. Former anglers are coming near and far to this event as it is one they don't want to miss for more reasons than one.
"A lot of the guys from the club are now all over the country, but there are also quite a few of us in town. We wanted to do something fun with the team and help them raise some money in the process," stated Berry. "The alumni are competing with the current team on Sunday, April 24th. It's a friendly competition, until the tournament starts. We don't want to beat those guys too badly and we wish them well, but we know when the boats hit the water, it's game time."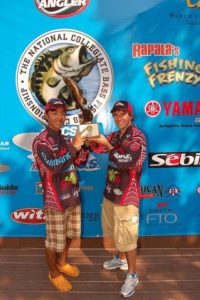 Just like when Berry was a member on the team from 2007-2009, competition was a premise that brought the team together, but the Arkansas Bass Fishing Team had and still has much more to bond over.
"The team was so close when I was on it," said Berry. "I made some friends that I'll have forever and we just had some really good fishermen in the club too. As a team, we did everything together and nothing's changed with the club; from what we've heard the club is still just as close and there are still a lot of really good fishermen for sure."
When asked about what college fishing meant to him, Berry stated that "I think it is a legacy. I've talked to some people about college fishing and they thought it was strange, but the bass fishing team really was like our fraternity. We hung out all the time, had cookouts, went to sporting events, and we really had a setting of a fraternity. We all had that one common thing that brought us together and that was fishing. It was such a great experience and I wouldn't trade my time on the team for anything really."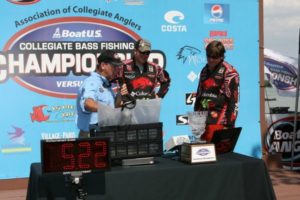 30
"I'm really excited to get to fish with those guys again. Above all, yes it's a competition, but really we want to help them out. We remember what it was like to be a kid fishing in college, trying to get gas money for the boats and trucks. Wherever we can help, that's what we'd like to do," added Berry.
The first ever Alumni event will take place on Grand Lake on April 24th. Berry expects there to be a total of roughly thirty boats at the event with a half and half split of current anglers to alumni anglers. To see more information about the University of Arkansas Bass Team or to see pictures and standings from the event, check out the UARK Bass Fishing Facebook Page at the link below!
https://www.collegiatebasschampionship.com/wp-content/uploads/2016/06/CBFC_Button-e1480444540195.png
300
300
Shelley
https://www.collegiatebasschampionship.com/wp-content/uploads/2023/03/2022_CBFS_JM-White-300x194.png
Shelley
2016-03-30 15:20:24
2016-11-29 18:37:55
The University of Arkansas Bass Team's Past and Present Collide on the Water