Live Blog: Wednesday, May 24th – Final Practice Day!

Wednesday, May 24th 11:30am
Check out some of our favorite post from Instagram where anglers used the tag #wearecollegiatebass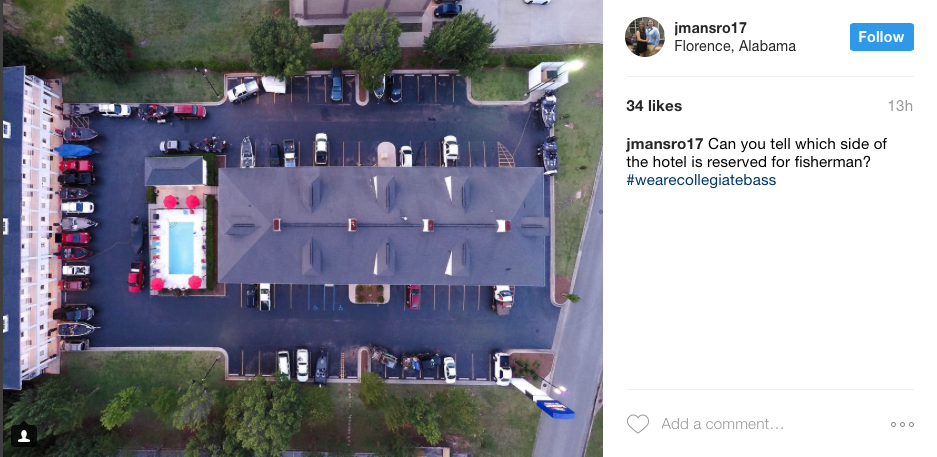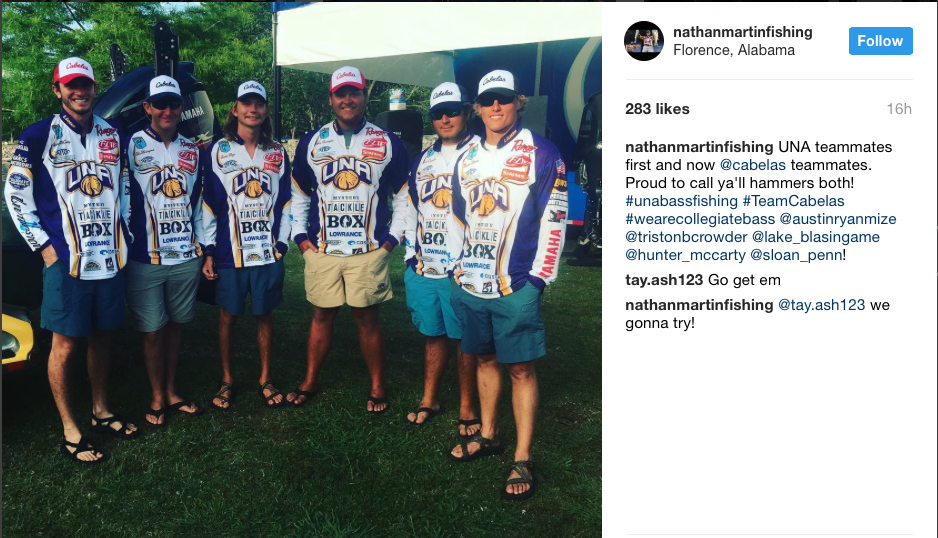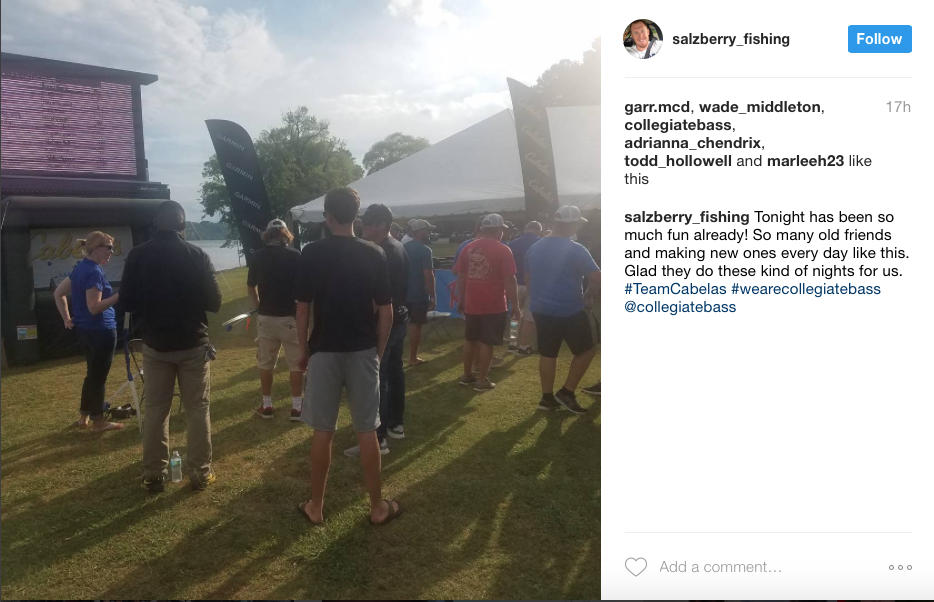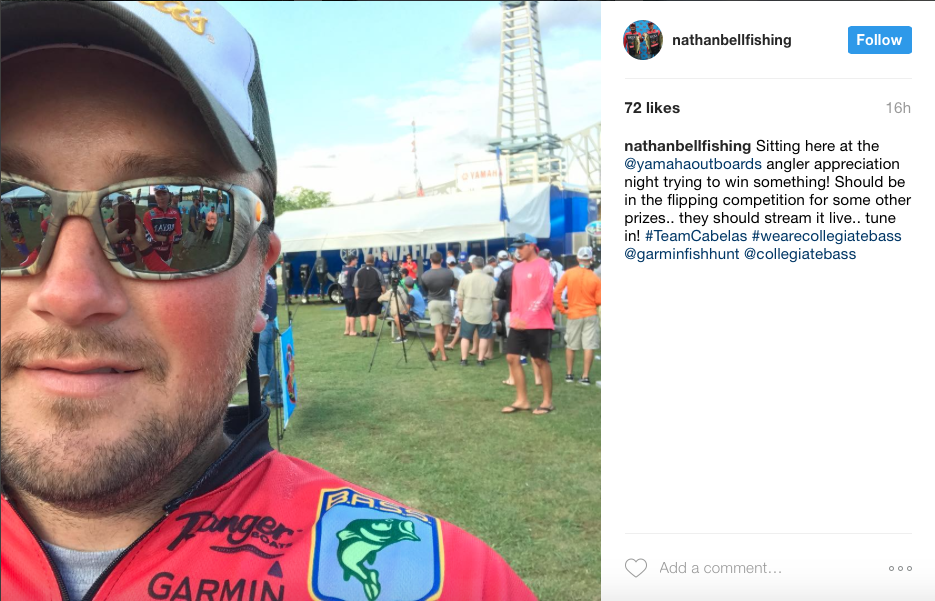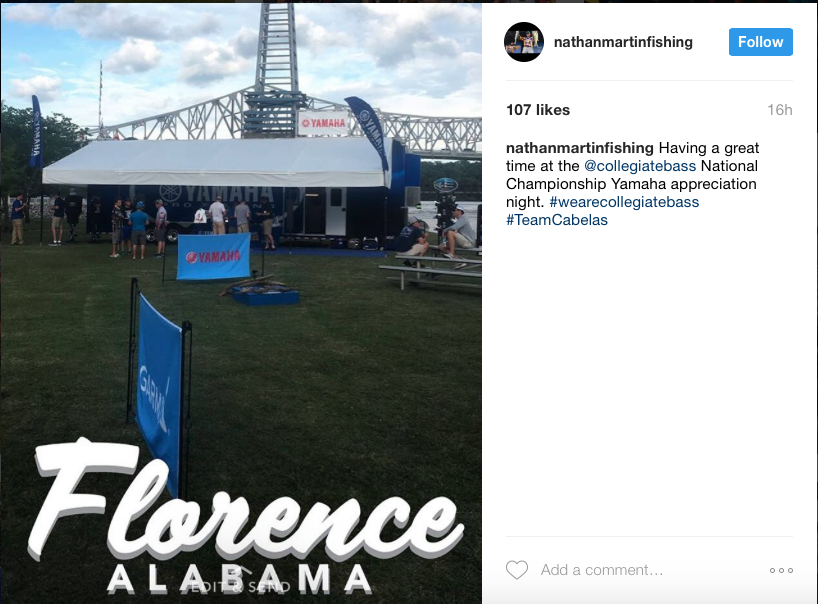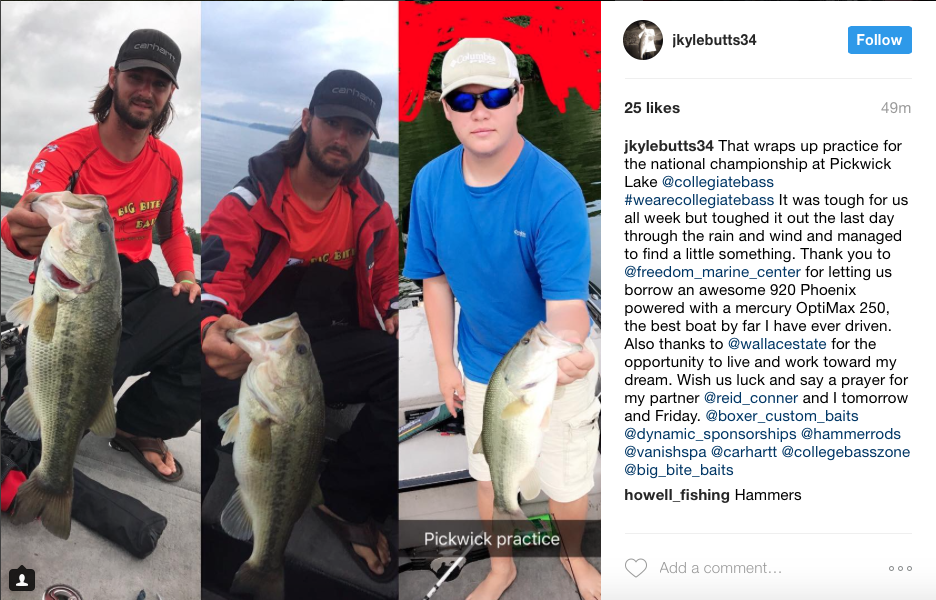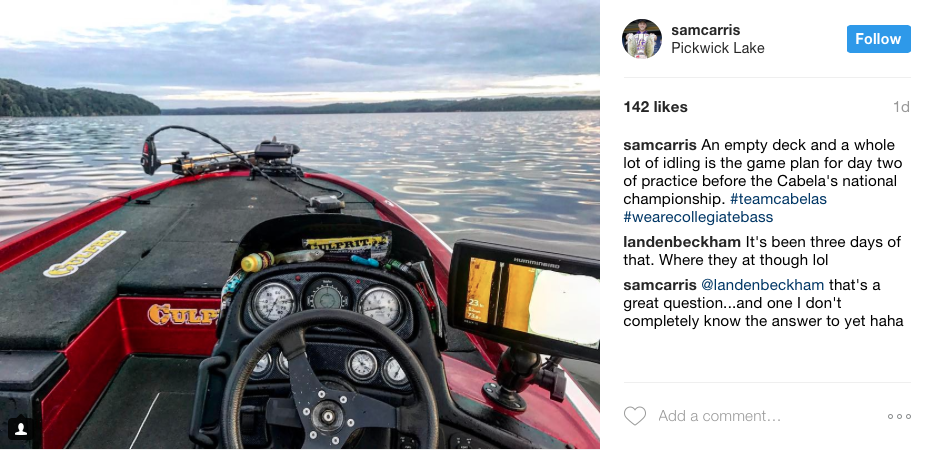 Wednesday, May 24th 10:45am
Wednesday, May 24th 10:16AM
A tip from FLW Angler of the Year Clark Wendlandt about how he would set up his electronics to help find key spots, ledges and areas that might be holding fish.
Wednesday, May 24th 9:45am
Wednesday, May 24th 9:15am
 Wednesday, May 24th 8:56am
Wednesday, May 24th 8:10am
Wednesday, May 24th 7:15am
Wednesday, May 24th 7:00am
This season has been a crazy weather ride for the college anglers fishing the Cabela's Collegiate Bass Fishing Series.   The changing conditions as well as the being given the wrong weather forecasts have left these anglers grabbing everything when packing.   Any angler fishing the series this year has worn everything from  shorts and sandals to insulated underwear.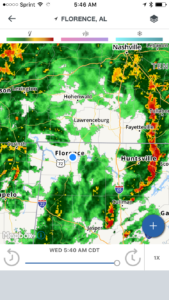 The final day of practice for this year's BoatUS Championship will be no different.  The weather forecast is calling for rain mostly all day long with winds changing to the North-Northwest between 10-15 mph.   Should make for an interesting final day of practice.
A lot of the chatter at last nights Yamaha Angler Appreciation event was how good some areas of the lake we're fishing.   Many of the anglers said they felt it would take up to 45 pounds to win.   That seems ambitious to some but this is Pickwick and big fish live here in large schools.
One angler with a good amount of background in this event and on this body of water said he expects someone to bring in between 25 and 28 pounds on day one.   They'll have to hope to survive on day two he felt however as leaning on a school that hard on day one will leave them scrambling.  Ledge fishing can be a fickle game.   Another angler we spoke to said the schools on the ledges are pretty spooky right now and that even idling over them causes them to scatter.   That's another factor to look at as it appears the ledges are full of boats trying to do the same thing.
We also spoke with several well known shallow water teams that have been in search of fish in that range from 1 to 10 feet.  Seems bites are easy to come by on a variety of baits shallower once you find an area with fish.
Speaking of bad weather fishing.  This year's Cabela's Big Bass Bash presented by Berkley on Kentucky Lake was one for the record books.  The weather man missed the mark on the arrival of a snow storm leaving the over 500 anglers to make a choice between building a snowman or bass fishing at take off.   Here is a link to the action from that event.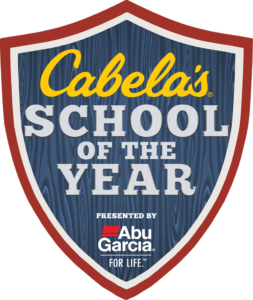 Another topic on the minds of college anglers this week is the Cabela's School of the year race.  The field this week had all of the top 20 entered to compete in hopes of gaining ground in the race for the title.   This is the last event in this year's points system which has been dominated by Bryan College most of the year.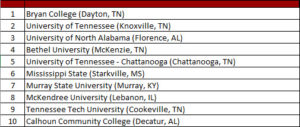 The top ten listed above all have had great years and frankly in our thoughts all of  the teams listed have a chance to win this weeks event.  However, Bryan  College almost total domination of the standings recently has allowed them to build a lead that's going to be tough to beat.   However, anything can and does happen in bass fishing.    But it's our feeling limits by two teams from Bryan College this week will sew it up if it's not already sewn up.    We doubt a little rain has slowed any of those teas listed above on the final practice day.
https://www.collegiatebasschampionship.com/wp-content/uploads/2017/05/Entry5_Pic.jpg
600
1000
Shelley
https://www.collegiatebasschampionship.com/wp-content/uploads/2023/03/2022_CBFS_JM-White-300x194.png
Shelley
2017-05-24 11:25:03
2017-05-24 17:56:56
Live Blog: Wednesday, May 24th – Final Practice Day!