Live Blog: October 4 – Tournament Day 1


Friday, October 4 – 3:35 PM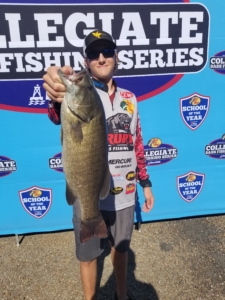 Jacob Welch from Drury University wins Session 4 presented by Garmin with this smallmouth weighing 4.17 lbs.
Friday, October 4 – 2:30 PM
Just 30 minutes remain in the final session presented by Garmin.  Only a few anglers have weighed in thus far, so there is plenty of room for someone to come in and claim one of 10 prizes.
Friday, October 4 – 2:05 PM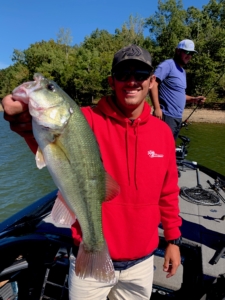 Here's another fish catch that's been sent in over the last hour or so.  We are expecting to see quite the run as anglers bring in fish during the final session.
Friday, October 4 – 1:35 PM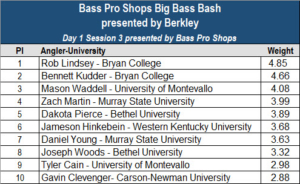 Take a look at the final standings from Session 3!
Friday, October 4 – 1:30 PM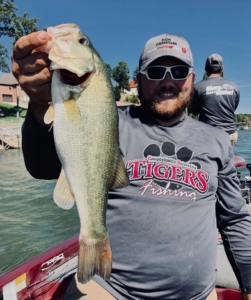 Fishing may be picking up just a little bit in this final session.  We have received several pictures from out on the water of competitors catching fish.  Pictured above as a member of the Campbellsville Fishing Team with a nice one.
Friday, October 4 – 1:20 PM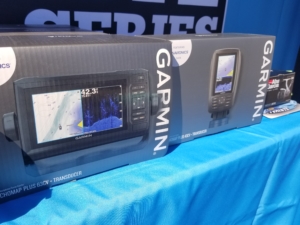 We have now entered the final session of the day.  Day 1 Session 4 is presented by Garmin.  Pictured above are just a few of the items anglers will be able to win over the next 2 hours.

Friday, October 4 – 1:05 PM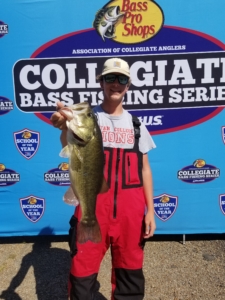 Rob Lindsey from Bryan College wins Session 3 with 4.85 lbs.
Friday, October 4 – 12:40 PM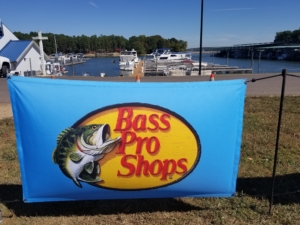 Roughly 15 minutes are left in Day 1 Session 3.  This session is presented by Bass Pro Shops.  The session winner will receive a $1,000 Bass Pro Shops gift card.
Friday, October 4 – 12:30 PM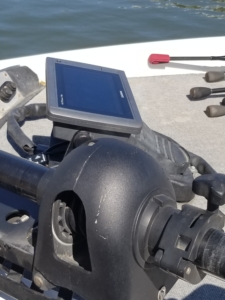 Electronics are very important this time of year.  These anglers are out on Kentucky Lake looking for schools of baitfish, and when you find the bait you know the bass aren't far behind.  Anglers from Carson-Newman University are relying on Garmin Panoptix out there today to find the fish.
Friday, October 4 – 12:00 PM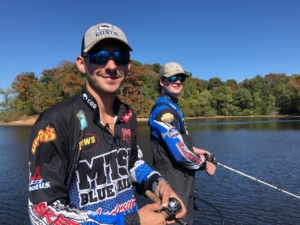 As more anglers come across the stage, we are starting to get a better idea of what baits and presentations are working.  It sounds like the topwater bite was pretty strong this morning until around 9:30 am.  Other competitors have mentioned catching fish on swimbaits and finesse presentations like the ned rig.  Typical fall fishing is taking effect out here today.  A little bit of everything can get a bite, just have to find out where those fish are exactly to trigger that bite.
Friday, October 4 – 11:20 AM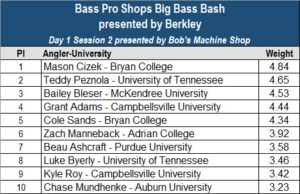 Posted above are the final standings from Session 2.
Friday, October 4 – 11:15 AM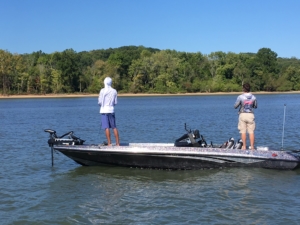 Updates from on the water have been few and far between.  For a majority of the field, fishing appears to be very tough.  Weights did improve during Session 2 as we saw more three pound class fish.  More and more fish should come to the scales as the day progresses.

Friday, October 4 – 11:10 AM
Mason Cizek from Bryan College claims Session 2.  Session 3 is now underway.
Friday, October 4 – 10:40 AM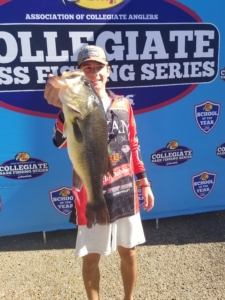 Mason Cizek of Bryan College has claimed the lead in Session 2 with 4.84 lbs.  20 minutes remain in this session.
Friday, October 4 – 10:25 AM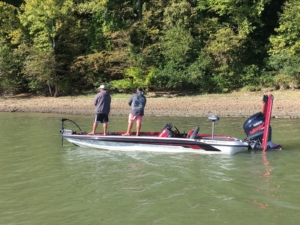 Conditions are tough out there on these anglers today.  The front has blown through and there aren't many clouds in the sky.  Strong winds are also making things difficult as well.  Session 2 has roughly 35 minutes remaining.
Friday, October 4 – 9:50 AM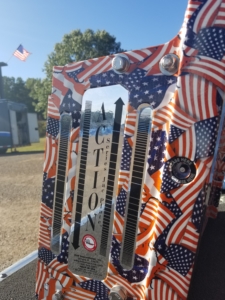 Session 2 is presented by Bob's Machine Shop.  The winner of this session will take home this Action Series Jack Plate pictured above.  Second place will also win a jack plate.  There are some great prizes on the line for session 2!
Friday, October 4 – 9:30 AM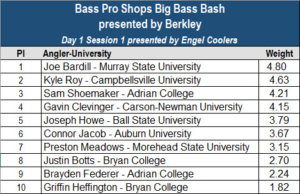 Here is a complete look at the top 10 from Session 1.  Weights were pretty strong towards the top.  I would expect to see more fish like that as the day continues.
Friday, October 4 – 9:25 AM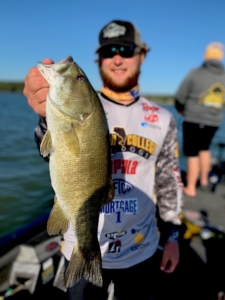 Pictured above is Zach Manneback from Adrian College.  Adrian enters this week in 1st place for Bass Pro Shops School of the Year presented by Abu Garcia.  Zack is pictured wearing the "Yellow Jersey" from BUFF Headwear.  That looks like a quality fish that could have a good chance of placing in the top 10 of a given session.

Friday, October 4 – 9:20 AM
Session 1 has concluded.  Joe Bardil from Murray State University wins Session 1.  Top 10 results for that session will be posted shortly.
Friday, October 4 – 8:50 AM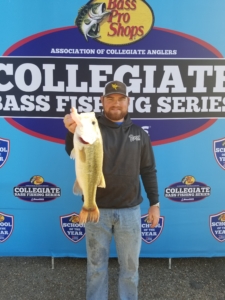 Joe Bardil from Murray State is the current leader of session one with 4.8o lbs.  Only four fish have been weighed in so far for the first session.
Friday, October 4 – 8:15 AM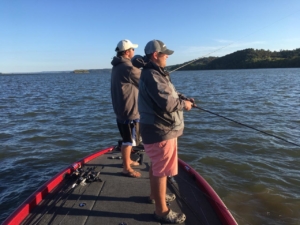 Day one Session one is presented by Engel Coolers.  Anglers have until 9:00 AM to bring in a fish and win a prize.  The top 10 anglers from that session will be awarded prizes.  So far we have not received a report of any fish catches.  As the clock approaches the 9:00 AM mark, we'll begin to find out how well everyone is catching them.
Friday, October 4 – 7:30 AM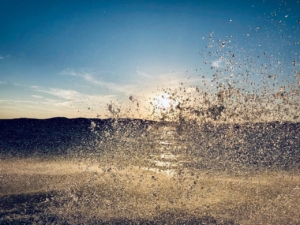 It's go time!  Anglers are running across Kentucky Lake now to get to their first spot of the morning.  With this front blowing in, there is a prevalent wind sweeping across the lake.  As anglers took out from the marina, a decent chop was greeting them out on the main lake.  That wind could play a key factor in the bite today.  For those anglers fishing crankbaits and moving baits, it could be the added element they need to get that big bite.
Friday, October 4 – 6:15 AM
Good morning from day one of the Bass Pro Shops Big Bass Bash presented by Berkley.  Anglers are lined up at the ramp ready to launch their boats out onto Kentucky Lake.  The forecasted cold front has made its way into the area, and a steady wind is blowing across the lake.  Morning temps are in upper 50's to lower 60's.  It will definitely be a pleasant day to be out on the water.  Boats blast off at 7:00 AM, so we will provide updates as we receive more information.
https://www.collegiatebasschampionship.com/wp-content/uploads/2019/05/IMG_3288.jpg
3456
5184
Shelley
https://www.collegiatebasschampionship.com/wp-content/uploads/2023/03/2022_CBFS_JM-White-300x194.png
Shelley
2019-10-04 05:00:46
2019-10-04 16:28:22
Live Blog: October 4 – Tournament Day 1