Lake Preview and Fishing Conditions: Kentucky Lake
Lake Preview and Fishing Conditions: Kentucky Lake
What to expect next week at the Cabela's Collegiate Big Bass Bash presented by Berkley
Beginning next week, many of the top collegiate anglers in the country will be making their way to Kentucky Lake and Paris, TN for the 2018 Cabela's Collegiate Big Bass Bash presented by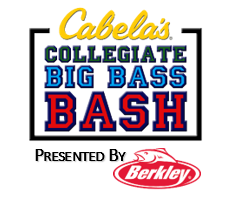 Berkley.  This is one of the most popular events every year and will bring anglers from near and far to fish what is widely considered as the best ledge fishing lake in the country.  The main storyline this week, more than likely, will not revolve around the famed offshore fishing Kentucky Lake is known for.
Significant amounts of rain have saturated a large portion of the state of Kentucky and surrounding areas.  The state's largest city, Louisville, has seen flooding reach near historic levels.  Rain water has had a great impact on the Ohio River, which flows through the heart of the city and winds through the southwest part of the state just northwest of the Kentucky Lake dam.  In the city, the Ohio River crested at over 33 feet.  Normal levels for the river are around 12 feet.  This means a large amount of water is moving downstream at this time, towards the site of next week's Big Bass Bass presented by Berkley in Paris, TN.
With such significant flood events happening throughout the area, you may find yourself asking, "So, what does this mean for Kentucky Lake and what can the anglers expect next week?"  The answer to this question is not black and white, but here are a few things that are known.  Kentucky Lake is designed to hold flood waters from the surrounding areas.  With a flood capacity two and a half times larger than that of any other reservoir in the TVA system, the lake helps reduce flood damage for portions of the lower Ohio and Mississippi rivers.  As of this morning, the lake's elevation is at 358.38 feet.  For reference, minimum winter pool on Kentucky Lake is 354 feet.  Right now, the lake is sitting at just over four feet above that number.  One thing to keep in mind is that there is more water coming from upstream that could drastically change these water levels.  Just in the next two days alone, according to projections on the TVA website, the lake is expected to rise to nearly 363 feet elevation.  A rise of five feet in just 48 hours is very significant, and something to keep an eye on heading into the weekend.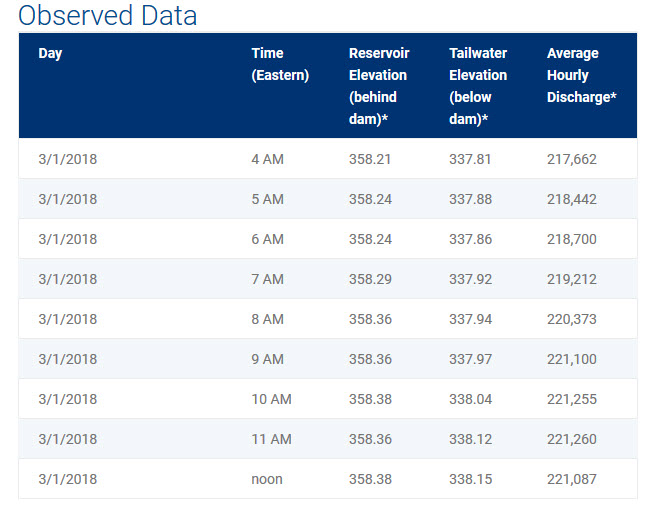 When it comes to the fishing and what the anglers should expect to see from Kentucky Lake, that too is muddied.  The heavy influx of water will have a defining impact on the positioning of the fish.  Last year's event found anglers to be throwing a wide variety of lures.  Alabama rigs, jerkbaits, swimbaits, rattle traps,  and finesse worm presentations were all mentioned by the anglers when targeting these Kentucky Lake bass.  Due to the conditions heading into this event, some of the techniques listed above may not even be options to throw next weekend as the bass flood the shallow cover.
Early spring time fishing is synonymous with red lipless crankbaits, jerkbaits, and other moving baits fished around shallow cover.  With the fresh water making its way into the lake, it is safe to assume a large portion of the lake may well be muddied, maybe even resembling the jug of chocolate milk you have sitting in your fridge.  That being said, it is safe to rule out presentations such as jerkbaits and swimbaits as these are more clear water applications.
The nature of this event will also play a part in deciding which baits and techniques will be put to use.  For two days, anglers will be in search of one bite, one big fish to take home the grand prize.  This will cause competitors to shift their mindsets from regular tournament fishing, where they're used to throwing baits intended to get five bites and catch a solid bag of fish, to a strategy where the goal is to catch one fish, with that fish hopefully being the biggest bass in the lake.  Taking this into consideration, there are two main baits that come to mind, spinnerbait and a jig.  Each of these lures will be effective in muddy water conditions, and are both very productive pre-spawn presentations.  That is not to say fish won't be caught in a number of other ways, but to get the job done on Kentucky Lake in the Cabela's Collegiate Big Bass Bash presented by Berkley, a spinnerbait and a jig will be key players.
One final variable to consider when game planning for attacking the famous waters of Kentucky Lake is location.  Where are the bass located, and where should I start?  For roughly five months out of the year that answer is simple, fish ledges.  We are hitting the lake during the pre-spawn, meaning most all of the bass in Kentucky Lake are beginning to move shallow to find a good spawning area and feed up in the process.  The one word to concern yourself with here, creeks.  Fish will be pushing back into creeks, moving along creek channel bends and targeting rocky banks in their migration from winter haunts.
The water clarity in the backs of these creeks will be something to watch.  Run off and flood waters will be pouring into the lake's major feeder creeks at a high rate.  An angler's best bet to find cleaner water could be targeting main lake pockets that are a little more protected from the elements.  Although it is not a guarantee there will be cleaner water, it could be a good place to start in practice when formulating a plan.
It is safe to say, there is no one correct answer as to what to expect for the fishing conditions during the upcoming event.  With an opportunity to weigh in every two hours, some anglers could fish close and take advantage of the chance to win multiple prizes.  Conversely, some members of the field could run long distances just to weigh in once with the first place winning fish.  Regardless of the strategies, Kentucky Lake is guaranteed to serve these anglers a true test in the coming days.
Stay up to date and Follow Us!
Facebook –  https://www.facebook.com/CollegiateBassChampionship
Instagram – https://www.instagram.com/collegiatebass/
Twitter – https://twitter.com/collegiatebass
Subscribe to our videos!
https://www.collegiatebasschampionship.com/wp-content/uploads/2017/10/BBB_event-logo.jpg
242
303
Amanda
https://www.collegiatebasschampionship.com/wp-content/uploads/2023/03/2022_CBFS_JM-White-300x194.png
Amanda
2018-03-01 12:26:09
2018-05-02 12:46:31
Lake Preview and Fishing Conditions: Kentucky Lake