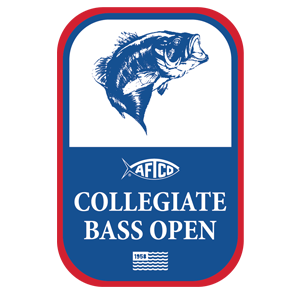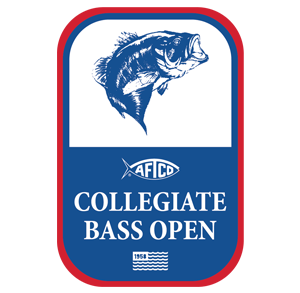 Winning a major event at any level of competitive fishing is a career goal for all anglers that have ever tied on a lure and cast a rod and reel.  Returning to a body of water where you finished second place the year before and you come back the following year in hopes of avenging that runner-up finish, it takes a competitive spirit to complete that task.  For Garrett Warren and John Owens from Snead State Community College, they proved their competitive nature on Sunday as they won the second major ACA event of the season, the AFTCO Collegiate Bass Open.
"We're ecstatic, honestly.  We came in second last year in this tournament, and we were coming back for revenge.  Knew it wasn't going to be an easy one, and today I really didn't think we had it done.  Somehow, we managed to make it happen and fished our freaking tails off till the last minute," said Warren.  After traveling more than seven hours from Alabama to make it to Lake Dardanelle, finishing the weekend with a win is a great way to cap off the 2019 calendar year out on the Bass Pro Shops Collegiate Bass Fishing Series.  It is a feat so great that it just about left Warren's fellow teammate, John Owens, speechless.  "I'm just speechless.  It's just awesome.  Had a good weekend, and executed as much as we could," Owens explained.
The team's journey to the title of 'Tournament Champion' began on day one.  As they worked down a stretch of riprap, they began to get the feeling that something good was about to happen.  "Yesterday, we were lucky enough to fire up a school of them on a riprap bank.  We doubled up on four pounders.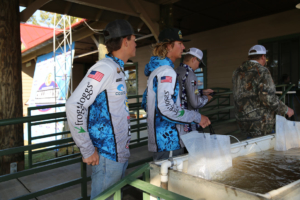 Caught that four sixty-two on a square bill.  That bite kind of died down.  Picked up a spinnerbait, culled up a couple times, and had that big bag the first day that carried us on to today," added Warren.  Those two kicker fish propelled them to a day one weight of  17.85 pounds.  That day one bag gave them a three and a half pound lead overall.
One key to Warren and Owens' success this week is their level of comfort with fishing this body of water.  "We really enjoy fishing this lake.  We currently live on Lake Guntersville, but this lake sets up like our home lake, Lay Lake.  It's a run and gun deal.  You just fish some water until you get around them, and sit down and catch them the best you can," noted Warren.  Changing weather patterns and recent rains threw a loop in many teams' gameplans this week on Lake Dardanelle.  However, these two from Snead State relied on past experiences at similar style bodies of water to crack the code.
Day two was not as fruitful for Warren and Owens as they weighed in a five fish limit totaling only 9.30 pounds.  An early morning fog delay shortened the fishing day to just about four hours in total.  The shorter time window put the pressure on top teams to really go out and execute on every bite they got.  Late in the afternoon on Sunday, Owens was ready when his chance arose.  "I made a clutch catch, probably about an hour ago.  I flipped up a three pounder.  That's what really helped us out today," said Owens.  The fish proved to be the winning fish as they edged out second place by approximately three and a half pounds.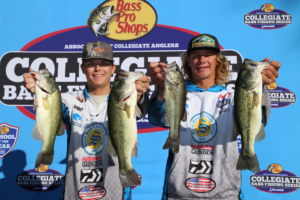 Listening to the two young anglers talk about the magnitude of the win following weigh-in, it was easy to sense their excitement and pride surrounding this victory.  We were coming out here to win.  "We wanted nothing more or less but to win.  It feels awesome.  It feels like a real accomplishment to finally get a win under our belt.  It feels nice to finally get it done," Warren noted.  Not only did they get it done, they bested 350 of college fishing's finest to win the 2019 AFTCO Collegiate Bass Open.  For the anglers representing a local community college from North Alabama, they know that this is quite the accomplishment when you consider the elite field that was chasing them on day two.  "Fishing against the big schools, I mean we only have three boats on our team.  Other colleges have 20 boats…I feel we can compete against them," explained Owens.
The Snead State Community College pairing of Garrett Warren and John Owens set a goal, competed their tails off, and that is why they leave Russellville, AR with a boat load of prizes and a title that will last with them forever: '2019 AFTCO Collegiate Bass Open – Tournament Champions.'
https://www.collegiatebasschampionship.com/wp-content/uploads/2019/10/59452.jpeg
2048
1536
Shelley
https://www.collegiatebasschampionship.com/wp-content/uploads/2018/11/2019-Bass-Pro-Shops-Collegiate-Bass-Fishing-Series-Association-of-Collegiate-Anglers-Boat-US-2-300x179.png
Shelley
2019-10-30 10:58:52
2019-10-30 10:56:59
In-Depth Look at Snead State's Win at AFTCO Open