Heavy Rains Impact Cabela's Collegiate Big Bass Bash Presented by Berkley Practice Days
By Cody Levy
With flash flood warnings out in effect, many collegiate anglers now find rising waters in Paris, Tennessee's Kentucky Lake another factor in this year's Cabela's Collegiate Big Bass Bash Presented by Berkley. Schools from across the nation have ventured down to Paris to spend their spring breaks and while rain may bring many spring breakers to a halt, collegiate anglers won't be giving up quite that easily.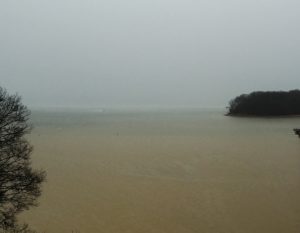 East Carolina University Senior and Bass Team Vice President Mike Corbishley is no stranger to rain at the Cabela's Collegiate Big Bass Bash Presented by Berkley. During the 2015 event, rain did have an effect on the competitors; however, Corbishley was able to rise above the conditions to earn a third place finish overall in the event with a 7.53lb bass. While back down in Paris, Tennessee for the 2016 event, Corbishley was able to shed some light on his spring break so far and how these wet conditions are affecting his practice.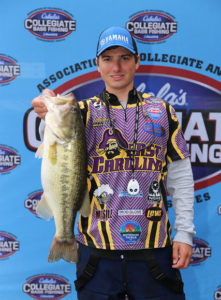 "So far we've had one really good day and one pretty bad day. We've found numbers and eliminated water," said Corbishley. "We've found places around the lake that we can get bites but the bites we've been getting are only resulting in the three pound range and not much bigger than that."
Corbishley stated that two key factors about Kentucky Lake have changed the conditions quite drastically from the year before.
"The water is warmer but also lower than last year. We haven't run any of the old stuff from last year here at Kentucky Lake. There's a deep bite and a shallow bite and it will be interesting to see if the deep bite will hold up with the water rising like it is with all this rain," Corbishley added.
Adding to Corbishley's experience on this lake, his practice time on the water has led him to fish a new pattern that he has been able to follow throughout the change in weather over the past few days.
"Last year we found them on a jerkbait pattern on chunk rock banks on the main lake and in the creeks, but this year it's just not the same," stated Corbishley. "We've been catching them on a crankbait so far and really, the rain and rising water has been a big factor."
When asked what he believes it will take to win on Kentucky Lake, Corbishley stated that knowing the history of the lake will prove that it's going to take more than just keepers to cut a check.
"Kentucky Lake always puts out some giant fish so it really wouldn't surprise me to see an eight to nine pound fish win it. I think we'll see a lot of six pounders and quite few fives like we did last year as well," said Corbishley.
Though the weather may not be ideal spring break weather, Corbishley and many other collegiate anglers still are still eager to compete and spend time with their fellow collegiate anglers over their spring break.
"We always like to come down here for spring break and have done so for the past two years and each year we try to approach the lake differently," said the East Carolina University Senior. "It's a really cool format and a really fun event for everyone. This year we're staying with some guys from Mississippi State and North Carolina State as well and it's a great way for us to spend our spring break."
Tomorrow is the last practice day before the mandatory angler check-in and pre-tournament meeting at the Henry County Fairgrounds. For the complete event details, click HERE.
About the ACA
The Association of Collegiate Anglers, a division of CarecoTV, is a sanctioning body developed to facilitate growth, development, and structure within competitive collegiate bass fishing. The ACA provides support to dozens of school operated regional events nationwide and owns the Cabela's Collegiate Bass Fishing Series, the largest participatory collegiate tournament circuit in the country. With dedicated collegiate fishing programming on several television networks, three nationally televised collegiate bass fishing events, and thousands of members, the ACA is the leader in competitive collegiate bass fishing. For more information on the ACA, or the Cabela's Collegiate Bass Fishing Series, visit www.CollegiateBassChampionship.com. For more information on Cabela's visit Cabelas.com, for more information on CarecoTV, visit www.carecotv.com.
https://www.collegiatebasschampionship.com/wp-content/uploads/2016/06/CBFC_Button-e1480444540195.png
300
300
Shelley
https://www.collegiatebasschampionship.com/wp-content/uploads/2023/03/2022_CBFS_JM-White-300x194.png
Shelley
2016-03-10 14:16:16
2016-11-22 14:28:02
Heavy Rains Impact Cabela's Collegiate Big Bass Bash Presented by Berkley Practice Days