Standing Room Only: The Cabela's Collegiate Big Bass Bash Presented by Berkley Has Record Turnout
By Cody Levy
For some college students, spring break means a week on the beach, to others it means a week skiing in the mountains, but for a large select group of just under 440 collegiate anglers it means fishing on Kentucky Lake in Paris, Tennessee in the 2016 Cabela's Collegiate Big Bass Bash Presented by Berkley.
Anglers from over seventy-eight schools from across the nation arrived at the Henry County Fairgrounds this evening for the angler check-in meeting with some freshly-dried clothes and empty stomachs, but despite the changing weather patterns and the hunger pains, these anglers arrived with competition on their mind.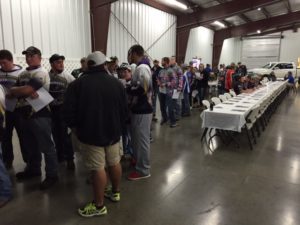 Upon arrival, anglers drew their boat numbers and were then greeted with a plethora of free product from the presenting sponsor, Berkley Fishing, including the all new Bad Shad hard bait, prizes from Buff® Headwear, and product from Sqwincher.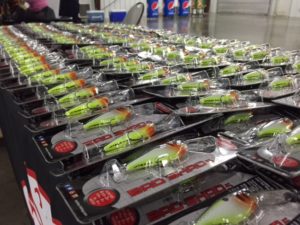 We couldn't forget that these were college students we are dealing with so food is a must. Needless to say, free barbecue was a big hit, but as anglers kept on rolling in, it was evident that even with the massive size of the Henry County Fairgrounds, seating was still lacking as anglers found seating around the hall on the floors or against the walls.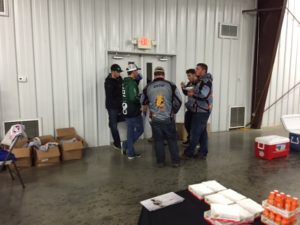 Once the final competitors were through check-in, the count totaled to 436 collegiate anglers which is the largest Cabela's Collegiate Bass Fishing Series event in the eleven year history and is also one of the largest collegiate bass tournaments ever recorded. Anglers competing in this event, aside from even weighing in a fish, have now made history among collegiate bass fishing and now have their sights set on making history yet again on the scales in the morning for over $25,000 in cash and prizes.

To find out more information on the 2016 Cabela's Collegiate Big Bass Bash Presented by Berkley, including live coverage from all the weigh-ins visit www.CollegiateBassChampionship.com or click here: More Details
To see additional coverage on our Facebook, click here: https://www.facebook.com/CollegiateBassChampionship
Also, follow us on Instagram and Twitter at @CollegiateBass
About the ACA
The Association of Collegiate Anglers, a division of Careco TV, is a sanctioning body developed to facilitate growth, development, and structure within competitive collegiate bass fishing. The ACA provides support to dozens of school operated regional events nationwide and owns the Cabela's Collegiate Bass Fishing Series, the largest participatory collegiate tournament circuit in the country.  With dedicated collegiate fishing programming on several television networks, three nationally televised collegiate bass fishing events, and thousands of members, the ACA is the leader in competitive collegiate bass fishing.  For more information on the ACA, or the Cabela's Collegiate Bass Fishing Series, visit www.CollegiateBassChampionship.com. For more information on Cabela's visit Cabelas.com, for more information on CarecoTV, visit www.carecotv.com.
https://www.collegiatebasschampionship.com/wp-content/uploads/2016/06/CBFC_Button-e1480444540195.png
300
300
Shelley
https://www.collegiatebasschampionship.com/wp-content/uploads/2021/05/2019-BPS_CBFS_logo-300x179.png
Shelley
2016-03-11 13:50:25
2016-11-22 14:16:05
Standing Room Only: The Cabela's Collegiate Big Bass Bash Presented by Berkley Has Record Turnout