Gill Technical Fishing Gear Has You Covered
Gill Technical Fishing Gear Has You Covered
Gill Technical Fishing Gear —- It's pretty much a given, if you fish you're going to get wet.  Whether it's a rough boat ride or rainfall, it's likely going to happen.  But when it does, how will it affect your day?  Will you let it affect you to the point that you can't concentrate on the next cast?  That next bite? Will you become so we wet and chilled you call it a day early?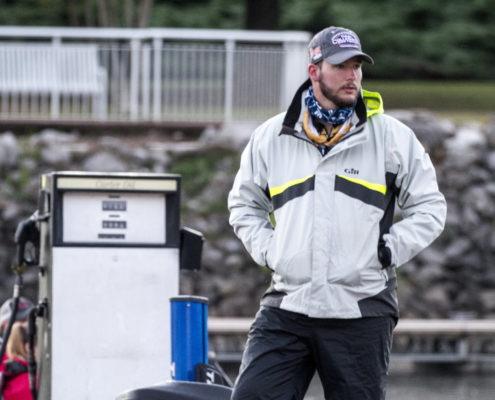 If you're prepared you won't have to worry about any of those questions. Gill Technical Fishing gear is made for the water, so that you'll be ready for those days of fishing where you're as wet as the fish.  Gill products can be worn anywhere as well while being designed to tackle any adventure.
The waterproof outer layer is your shield from the elements, so it needs to be able to perform in the toughest of conditions.  They're offered in a variety of styles to give you protection in all sorts of weather from heavy snow storms to light rain. Gill outer layers are totally waterproof, windproof and boast an array of features designed to aid both comfort and performance. You'll find high levels of breath ability in all Gill outer layer garments so that the moist air can escape.
Pro angler and Gill Pro Staffer, Dean Rojas, lets us know how he gets through the unpredictable weather conditions and stays dry using Gill Technical Fishing gear.
College anglers: Remember to visit the Discount and Incentives page for information about the Gill Discount program. 
Stay up to date and Follow Us!
Facebook –  https://www.facebook.com/CollegiateBassChampionship
Instagram – https://www.instagram.com/collegiatebass/
Twitter – https://twitter.com/collegiatebass
Subscribe to our videos!
YouTube –  https://www.youtube.com/user/CollegeBassFishing
https://www.collegiatebasschampionship.com/wp-content/uploads/2017/11/Gill-Technical-Fishing-Gear-Has-You-Covered_1.jpg
597
1143
Amanda
https://www.collegiatebasschampionship.com/wp-content/uploads/2023/03/2022_CBFS_JM-White-300x194.png
Amanda
2017-11-27 12:40:35
2017-11-27 13:39:59
Gill Technical Fishing Gear Has You Covered