Funding a College Bass Team: What it Takes and How to Do It
Now just over eleven years into the evolution of college fishing, growth of the sport has been exponential each year. It's easy to see the increase in the number of college fishing clubs, members within each club, and numbers of events available to fish, and with all that comes an increased price to play. Gas for trucks and boats, boat ramp fees, jersey costs, lodging expenses, and food expenses all add up to thousands of dollars over the course of the year, and that's without even thinking about the tackle expenses.
While some college clubs across the nation do receive various types of funding from their school, most clubs do not receive any funding at all. Without funding, it's hard to compete at the level most colleges strive to be, thus college anglers need to get creative.  So to start your team's season off with a strong financial base, here are a few tips for club fundraising.
1. Designate yearly or bi-yearly club dues.
While most of the older clubs have a team constitution in place, it is important that each club produces a team constitution which will usually include a section on the member dues. By assigning dues, you create a small financial basis from which you can start planning your tournament season, whether it be for hotels, jerseys, or a means to create a larger fundraiser.
2.Create and sell club clothing and gear.
Going off of club dues, purchasing club t-shirts or hats to sell is a great way to fund your team's expenses. The Mississippi State Bass Team takes full advantage of t-shirt sales each year and uses them as a main source of funding for the club. Previous team president, Joe Marty, stated just how important their t-shirt sales were.

"We funded the top four teams to go to all the big tournaments," said Marty. "We didn't get a ton of funding handed to us, but we averaged $20-25,000 on our own. We sold a ton of t-shirts and hats each semester.  The guys hated me for all the funding I made them do, but we wouldn't have been able to travel without that funding, I know I couldn't have at least."
Making t-shirts for clubs can usually be done within the rec-sports department of each school and clubs should go through their advisor to get permission from the school first. And while t-shirts and club apparel can be a big seller, schools are getting more and more creative with club funding, like the Northwestern State Bass Team who has started shrimp boils at football games.
3. Host a club fundraiser tournament
For many college bass teams, tournaments are the main focus throughout the year. Whether it's a small club tournament or the BoatUS Collegiate Bass Fishing Championship Presented by Cabela's, when anglers hear about a tournament in their area, it's game time! Clubs should use tournaments to their advantage by hosting a fundraiser tournament of their own. Doing so can gain a team funding, notoriety among sponsors, new sponsors, Cabela's School of the Year points, and even a bigger local following, but let's break it down to see how big of an effect a fundraiser tournament can have on a club.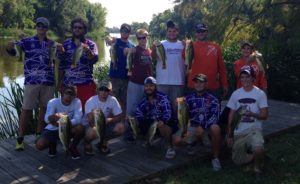 Hosting a tournament, at its sole purpose is to bring teams together to compete, and one way to get a big turnout is to get it sanctioned by the Association of Collegiate Anglers for Cabela's School of the Year points. Doing so will make the tournament a "can't miss" for many of the competitive schools in the Cabela's School of the Year race, which will thus gain a larger pot for those competing as well.
Additionally, by hosting an event on your team's turf, you can use that as a way to promote your team's sponsors by giving away sponsor prize packs, putting up banners at the weigh in for the photo wall, or even inviting your sponsors to the event. Showing that you are working for the people that put their trust in you to promote their brand will have a lasting effect when it comes time to renew a team sponsorship. Promoting your event also offers a way to gain new sponsors as well. Tournaments are great ways to showcase those that help support you throughout the season.
Choosing the right entry fee for your tournament is also very important as you don't want to make it so expensive so it discourages teams to compete, but high enough to make an added value for the top teams. Entry fees will also be a big factor when it comes to funding the host club as well in whatever percent that may be.
As the new season begins, don't forget that fundraising can be a big factor to a team's yearly goals. We hope that these tips will be a great benefit to your club this year. The Cabela's Collegiate Bass Fishing Series wishes a great month back to school and good luck to all clubs in their fundraising efforts!
By: Cody Levy
About the ACA
The Association of Collegiate Anglers, a division of Careco TV, is a sanctioning body developed to facilitate growth, development, and structure within competitive collegiate bass fishing. The ACA provides support to dozens of school operated regional events nationwide and owns the Cabela's Collegiate Bass Fishing Series, the largest participatory collegiate tournament circuit in the country.  With dedicated collegiate fishing programming on several television networks, four nationally televised collegiate bass fishing events, and thousands of members, the ACA is the leader in competitive collegiate bass fishing.  For more information on the ACA, or the Cabela's Collegiate Bass Fishing Series, visit www.CollegiateBassChampionship.com. For more information on Cabela's visit Cabelas.com, for more information on CarecoTV, visit www.carecotv.com.
https://www.collegiatebasschampionship.com/wp-content/uploads/2016/11/FundingStory_2.jpg
588
960
Shelley
https://www.collegiatebasschampionship.com/wp-content/uploads/2021/05/2019-BPS_CBFS_logo-300x179.png
Shelley
2016-08-24 13:36:19
2016-11-17 15:18:33
Funding a College Bass Team: What it Takes and How to Do It