From Buying Lures to Making Lures: How a Former College Angler is Making Headway in the Bass Fishing Industry
Over the years college fishing has become somewhat of a middle ground for anglers wanting to make their way in the fishing industry; it is that source for young anglers to experience big tournaments, meet with industry professionals and various companies, and gain a large network of peers who share the same passion. For University of Louisiana at Lafayette graduate, Zach DuBois, college fishing was the springboard that led him to start his own bait company, Cajun Lures.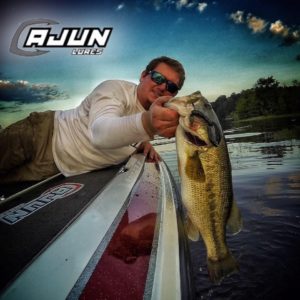 DuBois competed in the Cabela's Collegiate Bass Fishing Series during his college career up until he graduated in 2014. While many anglers, including DuBois, have hopes of fishing professionally after college, it is an extremely difficult path to get there.  DuBois set his sights on a route that could give him an opportunity, not necessarily to compete, but to stay in the industry in a big way.
"Like any college fisherman or any fisherman in general, I wanted to make a run as a pro, but I thought if I couldn't make it as a pro, I thought the next best thing would be to make my own products like lures. I graduated in Industrial Design and I like to look at it as inventing in a sense. You have to look at it like manufacturing from start to finish. I had an interest in seeing how rods, baits, boats, and everything to do with fishing is built, which is what started me off with an idea," said DuBois.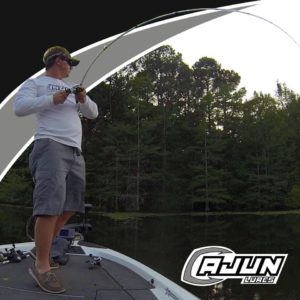 While the interest in manufacturing always appealed to DuBois, the business side of the industry was quite new, but lucky for him he was able to get a feel for it pretty quick.
"When I was in school, I did somewhat of a shark tank type pitch competition and I designed a high strength cooler and I won the opportunity to be in a business class outside of school," said DuBois. "I learned the fundamentals of starting a business, which really gave me a new look at starting my own bait company."
DuBois added that "I think I've always had an interest in business from an early age. I've never had any family members that have owned their own business, but when I got into that business class, it really lit a fire under me to start my own business and make a name for myself."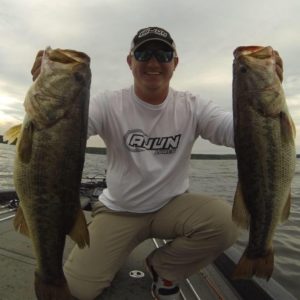 With over two years in the books with Cajun Lures, DuBois' plan for the company is to be a source of information and top quality fishing tackle.
"I look at Cajun Lures as being a resource for anglers. Right now my bread and butter is soft plastics with custom colors, but I would really like to model Cajun Lures after a company like Strike King and have an array of hard bait baits and soft baits," said DuBois. "I also want to use Cajun Lures as a resource to promote the Cajun culture. If I could teach people to speak French through the names of the lures, then I think that'd be pretty awesome. Of course, in the long run I want the company to grow so that I can do this full time, hire employees, and move this company out of my dad's shed!"
DuBois took time to reflect on his college career and how it stood as a base for his current and future endeavors with Cajun Lures along with his hopes of once again being part of college fishing.
"I think I learned a lot from college fishing, both from the business side and fishing side," said DuBois. "Even though we were all competing, we were all buddies and hopefully I can eventually create an incentive program with college fishing. I'd like to give back however I can with the college fishing community because I feel like college fishing truly shaped me. I really see college fishing growing every year from here on out and I would love to be a part of it wherever I can."
To see additional coverage on our Facebook, click here: https://www.facebook.com/CollegiateBassChampionship
Also, follow us on Instagram and Twitter at @CollegiateBass
By: Cody Levy
About the ACA
The Association of Collegiate Anglers, a division of Careco TV, is a sanctioning body developed to facilitate growth, development, and structure within competitive collegiate bass fishing. The ACA provides support to dozens of school operated regional events nationwide and owns the Cabela's Collegiate Bass Fishing Series, the largest participatory collegiate tournament circuit in the country.  With dedicated collegiate fishing programming on several television networks, four nationally televised collegiate bass fishing events, and thousands of members, the ACA is the leader in competitive collegiate bass fishing.  For more information on the ACA, or the Cabela's Collegiate Bass Fishing Series, visit www.CollegiateBassChampionship.com. For more information on Cabela's visit Cabelas.com, for more information on CarecoTV, visit www.carecotv.com.
https://www.collegiatebasschampionship.com/wp-content/uploads/2016/11/CajunLures_3.jpg
959
958
Shelley
https://www.collegiatebasschampionship.com/wp-content/uploads/2023/03/2022_CBFS_JM-White-300x194.png
Shelley
2016-08-27 13:17:40
2016-11-17 15:15:45
From Buying Lures to Making Lures: How a Former College Angler is Making Headway in the Bass Fishing Industry